The ability to build a fire is an essential survival skill, but sometimes, you want modern technology to step in and do the job for you. With the best portable camping heater on your side, you can take the time you would have spent building kindling houses and spend it doing something more useful, like setting up your shelter or spending time with your loved ones.
From essential survival scenarios to fun outdoor excursions in cold temperatures, the right heater can make all the difference in your experience. Whether your life is on the line or not, the heaters featured in this list can prove to be valuable equipment for your safety and comfort.
Note: We get commissions for purchases made through links in this article
Camping Heater Reviews
Lets take a look at some of the best portable camping heaters on the Market:
Tooluze Butane Camping Heater
Weight: 5.4 pounds
Dimensions: 11.6 x 10.9 x 7.9 inches
Specific features: Button ignition, ceramic heating element, butane fueled, safety shut off, adjustable metal body, 100 gm/hour gas consumption
Best use: Car camping, short-term backpacking, emergency survival
The Tooluze Butane Camping Heater offers safety and convenience in a simple, budget-friendly package. Features such as a ceramic heating element and pressure-sensing safety shut-off valve make it a fine choice in a variety of different outdoor settings.
This heater uses standard butane cartridges, the same kind that are often used for portable hot plates and stoves. That makes for a convenient fuels source that can double as fuel for cooking and heating.
Another element of convenience in this heater's corner is the tilt-adjustable body, which can let you direct the heat coming out of the unit for maximum efficiency. This can be especially useful for drying off wet clothes and other emergency situations in which you need directed heat pointed in a specific area of your campsite.
Honeywell Uberheat Ceramic Heater
Weight: 3.9 pounds
Dimensions: 8 x 5.8 x 9 inches
Specific features: Ceramic heating element, electric, safety shut off, thermostat control with 2 settings, cool-touch design
Best use: Indoor personal heating
Offering efficient heating in a compact, stylish design, the Honeywell HCE200B Uberheat Ceramic Heater is best reserved for stationary survival and camping scenarios in which you have access to electric power. You could theoretically power this small heater with a portable battery, but that will ultimately add weight and bulk to your gear.
That could make this setup undesirable for situations that call for efficiency. Due to its small size and limited power, this heater is best for heating small areas only and may not provide ambient heat to warm up an entire room to a comfortable level.
Related: If you're looking for an even smaller heater, the Honeywell Heat Bud Ceramic Heater may be a good option for you. Weighing in at just over one pound, this tiny little heater isn't going to give you much ambient temperature control power, but it can be helpful for making RVs and other electricity-enabled small spaces a little more livable if you don't have any other sources of heat available.
Dyna-Glo TT15CDGP Propane Tank-Top Heater
Weight: 3.4 pounds
Dimensions: 18.2 x 15.6 x 13 inches
Specific features: Propane fueled, multi-directional radiant heating capabilities, adjustable angle, variable control between 11,000-15,000 BTU, piezo spark ignition, match-light ignition, standard connection for 20-pound propane tanks, safety gas shut off valve
Best use: Car camping and other outdoor settings in which efficient use of space is less important
If you're looking for something simple and straightforward to keep your campsite warm, the Dyna-Glo Propane Tank-Top Heater is a good option. The product weight and dimensions listed above account for the heater only, not the propane tank you'll need to fuel the heater.
That means that you should account for an additional 20 pounds of weight plus the space occupied by a propane tank. In short, this is a portable heater, but not for backpacking and other scenarios that call for true portability.
Quest Low Wattage Fan Heater
Weight: 1.1 kilograms
Dimensions: 20 x 25 x 13 centimeters
Specific features: Electric, fan-driven, variable heating controls, power indicator light, tip over and overheat safety shut off
Best use: Indoor space heating, RV or tent heating near electrical power supply
Because it uses a fan to force air through its heating system, the Quest Low Wattage Fan Heater provides versatile temperature control functionality for both cold and warm weather. If you turn the control knob to the fan setting, you'll get air circulation without added heat to make your camping setup a bit more comfortable in hot weather.
This portable heater has a convenient carrying handle at the top, making it easy to tote around the campsite and set it up where you really need it. It's also equipped with a good range of safety features that make it a great choice for a variety of camping scenarios, though it's not large enough to provide power to heat an entire site.
Mr. Heater Heater and Cooker
Weight: 3.65 pounds
Dimensions: 10.8 x 11.5 x 10 inches
Specific features: Radiant heat butane fueled, temperature controls from low through high, wire cage around heating element, automatic safety shut off feature
Best use: Car camping, at-home survival in power outages, short-term backpacking
If you're concerned with maximizing equipment efficiency at your campsite, the Mr. Heater F242300 Heater and Cooker may be the perfect choices. The wire cage around the heating element provides added safety for children and pets, but it also provides a convenient surface to use for heating pots and pans.
All you have to do is readjust the angle of the stand to provide vertical or horizontal heat. This butane heater is compatible with both cylinder cartridges and tanks up to 20 pounds, making it adaptable to a variety of different camping scenarios. With a heat power range between 8,000-15,000 BTU, this is a compact and versatile option for home, work and recreational use.
Related: If you're looking for something much smaller and more portable, the Mr. Heater Little Buddy Propane Heater may be the right solution. This 3,800 BTU heater is fully portable and can even be held in the hand to direct heat in a specific area if need be. It provides heat for 95 square feet, meaning you can use it in a tent or another small area to create some warmth.
Holmes Portable Desktop Heater
Weight: 2.5 pounds
Dimensions: 7.5 x 4.5 x 11.3 inches
Specific features: Electric, fan-driven forced air, tip over shutoff control, adjustable thermostat and heat settings
Best use: Indoor personal heating, car camping, RV camping
With convenient features such as a built-in carrying handle and multiple temperature control settings, including a heat-free fan that can be used in warmer weather, the Holmes Portable Desktop Heater is a great option to consider if you're looking for an electric heater and don't need freedom from electrical outlets.
Like other plug-in heaters, this one can be hooked up to a portable battery pack, and because it's so small and portable, this model may be worth considering as an option for backpacking trips. You could use the handle to attach the heater to the outside of your pack.
Related: The Holmes Energy-Saving Heater With Thermostat is essentially an updated, more modern version of the heater featured above. If you're concerned about energy efficiency and weight and size aren't that much of a factor, you may prefer the updated energy-saving model in spite of the fact that it's slightly larger and almost twice as heavy as the portable desktop heater from Holmes.
Broan-NuTone Big Heat Heater
Weight: 5 pounds
Dimensions: 6 x 5.9 x 5.2 inches
Specific features: Electric, ceramic heating element, steel body, overheat and tip over shut off protection, overheat warning indicator light, adjustable settings and heat control
Best use: Indoor space heating, car camping, RV camping
Rugged and built with a variety of different safety features, the Broan-NuTone 6201 Big Heat Heater provides convenience and rugged, portable durability. Rounded corners and a built-in handle make it easy to lug this little heater around without worrying too much about damaging or scraping any surfaces. The fan-only setting adds further convenience by giving you the option to circulate air around your campsite or living space when temperatures rise.
Texsport Portable Outdoor Propane Heater
Weight: 1.8 pounds
Dimensions: 6 x 9 x 10.5 inches
Specific features: Propane fueled, gas safety shut off valve, plastic four-foot paddle stand, wire cage over heating element, stainless steel burner, adjustable control knob
Best use: Car camping, backpacking
The Texsport Portable outdoor Propane Heater is one of the only truly portable heaters on this list. Its maximum heat output is less than 3,000 BTU, but if you need a compact, lightweight heater to take along with you on backpacking trips, this is your best bet.
You can hook this heater up to small propane canisters and use the included plastic stand to keep the entire setup upright and safe at your campsite. Overall, it's a great choice for portability and efficiency, though you won't be able to heat your entire site.
What to Look For in a Good Portable Heater
Portable heaters should be, first and foremost, portable. That is, they should be compact enough that you can pack them into a small space. Whether that small space is a trailer, a pickup truck bed or a backpack, your heater should be space-efficient and small enough to allow space for other essential equipment, including water containers, warm clothing and proper sleeping gear for the situation you're entering.
Beyond simple portability, though, a good camping heater should be durable and reliable. You don't want to spend money on something that's going to break down after a couple of uses or develop random operational quirks when you need dependable performance, after all. Reliability can be a bit difficult to predict, but you can set yourself up for success by watching out for these features:
Brand – Heaters made by companies whose products you trust may give you better peace of mind. Nevertheless, it's a good idea to try out your heater before you really need it. If possible, fire it up a couple of times prior to heading out into the wilderness so you can get a feel for what sounds and functions are normal and see if you've made a dependable choice.
Materials – Plastic is a common material used for portable heaters, and while that can seem counterintuitive, it's actually a good choice for a lightweight piece of equipment. Just make sure the plastic is thick and doesn't cover or touch the heating element directly.
Safety features – Heaters can get too hot for their own good, and running an overheated heater can cause its lifespan to drop in no time, not to mention also being a fire hazard. Does the heater you're looking at include any safety features such as an auto shut off function for overheating or tip overs? It's especially important to look into safety features like a tip over shut off or indicator light if your camping party will include children or pets.
Noise level – There's no point in getting a portable heater that's going to keep you up all night. If you're a heavy sleeper, this may not be a problem for you, but if you have problems getting to sleep, then you may want to consider finding one that is as quiet as possible.
Weight and Size – Being toasty all night may feel great, but keep in mind that the larger the tent you need to heat, the larger the heater you'll need to get. Carrying around a huge heater, even one that's portable, can quickly become a hassle, especially if you're hiking from one camping spot to the next. Consider smaller sizes, and double up on the heat with some extra thick sleeping bags.
Power source
What powers the heater in question? The two biggest kinds of portable heaters are those that use electric and those that use propane. Each have their own pros and cons:
Electric heaters
These come in two types, convection and radiant. A convection space heater is designed to provide heat by drawing in cold air and expelling warm air into the area. They're very energy efficient and don't use fossil fuels, so there's no need to bring canisters with you to keep them going.
Radiant heaters, on the other hand, simulate the effects of a fire: heating up objects and people in the area instead of blowing hot air. They're great at getting you toasty very quickly, but you can feel the chill instantly when they're turned off.
You're also more prone to burning yourself on one of these units. In both cases, you're going to need to bring along some source of electrical power to get them going, which may not seem efficient.
Propane heaters
These are great at heating very large areas, so if you're traveling with a group of people and no one is interested in getting a campfire going, this is a great solution to that problem. They're energy efficient when it comes to the use of their propane, but there is the chance of your containers running out if you're not careful, leaving you cold at night.
A downside to them is because they burn fuel, they produce dangerous gases that should not be inhaled, which means that you can't use them to heat your tent.
Let's take a look at eight of the best heaters on the market to get a sense for what's out there. Armed with this knowledge, you'll be able to make a much better informed decision than going into the shopping process blind.
Go Forth on Your Warm and Toasty Adventure
Whether you're a survivalist prepping for the worst or an outdoor enthusiast looking for ways to make winter camping more palatable to your family, the heaters on this list should give you plenty of options to consider so you can find the best model for your needs.
Now that you know what to look for in a portable camping heater, you're well placed to make a decision that will provide both safety and comfort when you need it. If what you need isn't on this list, you should at least have a better idea of what exactly you're looking for.
Do you have a favorite portable heater you'd like to recommend to your fellow readers? Let us know in the comments.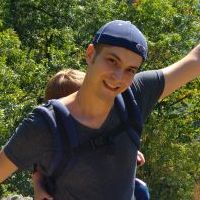 Daniel is a gear freak when it comes to hiking, climbing and camping. He went to REI Outdoor School to meet new people and learn best practices. Don't even try to argue with him about the latest backpack or ice axe, he tried most of them. Daniel's dream is to climb Mount Everest.