Ever wondered just how much walking you do in a day? Tracking your activity may sound great, but with all the options out there it can prove rather difficult to pick the best pedometer for your activity needs.
With seemingly endless options out there to choose from, there are a lot of features these devices carry which should play an important role when choosing the best one for you. Calorie counters, step counter, alarms, battery life: these are all great features but can become overwhelming.
Here is a guide that will help you make an informed decision about which pedometer you should buy for your exercise needs.
Top Products of 2018
Note: We get commissions for purchases made through links in this article
Fitbit One Wireless Activity Plus Sleep Tracker
Features: Steps, Distance, Calories, Stairs, Sleep Duration, Sleep Pattern
Battery Life: Five Days Rechargeable Battery
Extras: Has Silent alarm, Bluetooth 4.0
Description: This is a great option for those on the path to living a healthier life. Not only does Fitbit One Wireless Activity Plus Sleep Tracker track your steps and distance, it also tracks your sleep. An important factor to regaining a healthy lifestyle is through proper rest.
Getting eight hours of undisturbed sleep does wonders for your health and metabolism, this gadget will keep track of your health, even when you can't.
The information it provides can help you determine what is causing your sleep interruptions, from changing your pillow to adding a pillow on top to sleeping in a different position, all so you can get a better night of sleep.
This simple design makes it easy to use while having lots of the features you can find in the more expensive devices.
Pros:
Counts Calories
Stair Counter
Rechargeable Battery
Alarm
Monitors Sleep Pattern
Measures Distance
Cons:
Higher Price
Simple Design
Omron HJ-320 Tri-Axis Alvita Pedometer
Features: Step Counter, Distance Tracker, Calories Burned
Battery Life: Seven Day Battery Life
Extras: Weekly Log
Description: The least expensive option on this list still gets you a very good product. Omron HJ-320 Tri-Axis Alvita Pedometer is a capable step counter that tracks your distance. Its sensor is the product of many hours of testing and is guaranteed to get your steps right.
It also counts the calories you burn throughout the day, which is important for those calorie counters. Resetting every day at midnight, this device logs your activity by week so you can compare your activity.
This is an easy to use device that offers great value for the cost. Without all the bells and whistles this affordable gadget will help you focus on the things that matter.
Pros:
Affordable
Measures Distance
Seven Day Activity Log
Calorie Counter
Tri-Axis Sensor
Cons:
Striiv Smart Pedometer, Accessory Bundle
Features: Step Counter, Activity Games, Calorie Counter, Measures Distance
Battery Life: Seven Day Rechargeable Battery Life
Extras: Includes Belt Clip, Arm Band, Quick Release Keychain, Purple Soft Case, Carabiner, USB Cable and Adapter
Description: Striiv Smart Pedometer, Accessory Bundle is more than just a pedometer, this fun gadget acts as your personal trainer designed to push you to meet your goals.
Great for those who need a little extra motivation to get working, this pedometer sets goals and helps you reach them by speaking to your competitive side. Through games, walkathons, competitions and challenges, this gadget will get you active and have you sweating in no time.
Wear it as an armband, a belt or clip-in on to your bag, and start moving. As an added motivation, at absolutely no cost to you, STRIVV donates money to your chosen charity based on how many steps you walk.
This guilt-free purchase will have you burning calories quickly while helping out the less fortunate.
Pros:
USB Outlet
Easy to Upload Information
Counts Stairs Climbed
Fun Games Act As Personal Trainer
Donates to Favorite Charity
Can Be Worn Multiple Ways
Cons:
Fitbit Zip Wireless Activity Tracker
Features: Steps, Distance and Calories Burned
Battery Life: Six Month Non Rechargeable
Extras: Bluetooth Sync Capabilities
Description: Fitbit Zip Wireless Activity Tracker can't get much better, as it's both wear- AND water-resistant. Personalized recordings allow you to wirelessly sync your device with your computer, iPhone or Android devices.
This watch does far more than just tell time by accurately measuring your distance, counting your steps, and calculating your calories burned. The best feature of this pedometer is the battery. It will last on business trips, or long road trips for up to six months.
And once it dies, the battery is small and inexpensive to replace. This makes it ideal for people who are always on the go and don't have time to worry about charging their device.
Pros:
Measures Distance
Counts Calories
Bluetooth
Long Battery Life
Water Resistant
Wear Resistant
Cons:
Fitbit Flex Wireless Activity + Sleep Wristband
Features: Heart Rate, Sleep Tracker, High Quality Material
Battery Life: 7-10 days
Extras: Bluetooth 4.0, Water Resistant
Description: With Fitbit Flex Wireless Activity + Sleep Wristband accurate heart rate monitor, waterproof design and high quality materials, this pedometer can do it all.
It can sync to all of your devices with the help of a trusted, easy to use app. It's water-resistant design makes it easy for you to focus on your workout even when in the rain or while swimming.
Also capable of tracking your sleep, you will have all the information you could ever want. This will allow you to make adjustments to get the best possible sleep. It's long lasting battery makes it last longer than you think.
Pros:
Monitors Sleep Pattern
Long battery life
Rechargeable Battery
Water Resistant – Even When Swimming
Bluetooth Sync Capabilities
Heart Rate Monitor
Cons:
Fitbit Charge HR Wireless Activity Wristband
Features: 4 Sizes, 5 Colors, Heart Rate,Wireless Sync, Water Resistant, Sleep Tracker
Battery Life: Five Day With Rechargeable Battery
Extras: Bluetooth 4.0
Description: Always in the running for the ultimate do-all pedometer, FitBit has created another excellent product. This Fitbit Charge HR Wireless Activity Wristband not only tracks your steps, but your entire workout and daily activity.
This allows you to see your progress and your daily exertion. Take the bus instead of the car today? It will show you how many more steps you took. It also has a built-in caller ID feature. This allows you to see who's calling without even taking your phone out of your pocket.
All of this data is stored directly on their easy to use phone and computer app. You will be able to access your activity information from anywhere and compare it to other days. It's one thing to track your exercise, but it takes a special piece of technology to track your sleep as well – another feature this device has.
With battery life for up to five days you won't have to worry about your device dying in the middle of a workout. This is an excellent option for an all around workout tracker.
Pros:
Long Battery Life
Rechargeable Battery
Multi Size and Color Options
Sleep Tracker
Wireless Syncing to Smart Phone
Water Resistant
Built In Caller ID
Heart Rate Monitor
Cons:
MIO Motion Fit Petite Strapless Heart Rate Watch
Features: EKG heart rate, advanced touch technology, step tracking
Battery Life: 7 days
Extras: Wireless sync capabilities
Description: This fun top-of-the-line MIO Motion Fit Petite Strapless Heart Rate Watch is much more than just your average step counter. Worn first as a stylish watch, this everyday device is constantly counting your steps, recording your distance, and counting all the calories you're burning.
With all the functions of a regular watch, this little gadget goes one step further. Using Smart Touch technology, this modern watch is able to accurately measure your heart rate with the touch of a button.
You will always feel taken care of with this watch's programmable heart rate zones helping you to find your target heart rates based on your activity. This watch will feel as though it was designed just for you.
Pros:
Measures Heart Rate
Estimates Speed
Measures Distance Traveled
Easy to use
Monitors Steps
Calculates Calories Burned
Cons:
Limited Designs available
Higher Price
Petite Strap
Why You Should Track Your Walking
Walking is a fun and easy form of exercise. Walking just thirty minutes a day can help you easily burn between 90 – 150 calories a day. Increasing this activity by just thirty more minutes a day will double your weekly calories burned to a whopping 180 – 300 calories.
There are lots of ways to increase your steps without you even knowing such as parking your car a little bit further away at the grocery store, taking the stairs at work instead of the elevator, or even walking to go get your morning coffee instead of driving.
All of these simple everyday activities will increase the amount of calories you burn a day, helping you to lose even more weight. After one month of walking just 30 minutes a day, you will effectively burn anywhere between 2,700 – 4,500 calories.
With the help of a pedometer, you can track your activity and watch as you burn your calories, setting goals along the way to help you reach your fitness dreams.
Features to Look for in A Pedometer
There are many features you should look for when choosing the best buy pedometer for you.
Tracking your steps: even the most basic pedometers are capable of doing this. They can measure the distance your exercise takes you and all the calories you burn while moving.
Better Sleep: on top of tracking your steps, some pedometers can even track your sleep patterns. Most people know that the key to a well-rounded and healthy lifestyle starts while you are sleeping.
It is important to get a minimum of eight hours of undisturbed sleep a day to keep your body working optimally. Tracking your sleep patterns can play a key role to ensuring your metabolism is at its best and that you are setting your days up for success.
All of this data is shown on an easy to read application. The more expensive and newer models will have this feature, so it's best to decide if you'll make full use of this feature before you buy.
Motivational Games: some of these devices even have motivational games you can play to help you get moving. This makes exercise fun and when you are enjoying yourself you are more likely to keep at it.
Ranging from competing with friends to beating your best score, these games will have you burning calories and getting you fit without even knowing it.
Various styles: pedometers clip onto your body in many different styles. Most devices are worn around your wrist like a watch. This allows them to track your arm and body movement and makes them not bothersome so you can focus on your workout.
Others clip onto your belt or can be worn as an armband. No matter what you choose, making sure your gadget fits comfortably is important.
Recording Heart Rate: most people have heard of target heart rate zones that you should be in when performing different exercises. Finding your resting heart rate has many health benefits and ensuring you get into the correct heart rate zones for cardio and fat burning can prove very beneficial.
While some need a chest strap to measure your heart rate, many do not. Straps can be uncomfortable and restrictive which makes running or working out less enjoyable.
The ability to wear a heart rate monitor on your wrist is more comfortable, but can be less reliable. Whether the trade-off is worth it is a matter of personal opinion.
GPS: a lot of the activity trackers include a GPS This allows them to track your location. Say for example you go for a run in the forest, this feature allows you to retrace your steps for your next run.
If you have a model that can also track your heart rate, you can see where on your run you were pushed to the limits. This will be indicated by a faster heart rate. Seeing these aspects can allow you to track your progress week to week, and help you to see just how far you've really gone.
Different Apps: having all of this data with no way of seeing it is useless. Most activity trackers have well designed applications to view your workout. Showing you how far you've walked or run, or how your heart rate increased or decreased all play a very important role in your health.
With this knowledge you can alter your route to challenge yourself, or have an easier day. The more information you have, the easier it is for you to reach your health goals.
Water-resistance: made of high quality materials, these pedometers are filled with state of the art technology. Many are wrapped in a rubber material which makes them water-resistant.
Watches like the FitBit Flex are even capable of being worn while swimming. This allows for a watch that can track almost all of your daily activity no matter what you are doing. Water-resistance doesn't just include being fully submerged either: it is also optimal for sweat and running in damp weather.
Being able to workout with your pedometer without worrying about getting it wet will put your mind at ease.
Battery life: most devices now carry a long battery life, ranging from a day to over a week. Many pedometers now come with rechargeable batteries which help you get the most out of your watch.
It is important to be aware of what functions you want before determining what the best buy pedometer is for you. It doesn't matter how many features your pedometer has if the battery dies after a few hours.
Companies have spent many hours designing efficient batteries that are small enough to be wearable. This allows you to go days without worrying about recharging your device.
Your money is important, and that's why you need the best design to fit your active lifestyle. Depending on your uses there are many to choose from.
Conclusion
There are many ways you can exercise, but walking is a tried and true activity. Even a small increase to your workout every day will have you burning calories like never before.
Whether your goal is to lose weight, increase mobility, or just to get healthier, a pedometer is there to help you along the way. The average American walks a mere 30 minutes of combined activity a day. How much do you?
Knowing what you will be using your device for will go a long way in picking the right one. Technology has advanced quite a bit in the last few years and the features show that.
Being able to track your workout from start to finish will allow you to burn more calories faster, helping you to get healthier in no time.
Make sure to leave us a comment and share your experiences with us in the section below.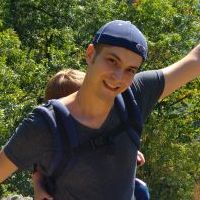 Daniel is a gear freak when it comes to hiking, climbing and camping. He went to REI Outdoor School to meet new people and learn best practices. Don't even try to argue with him about the latest backpack or ice axe, he tried most of them. Daniel's dream is to climb Mount Everest.