What do Indiana Jones, Sir Edmund Hillary and the characters of Lost have in common? They have fantastic hiking pants to survive the great outdoors. Given the array of materials, styles and features of hiking pants these days, there's a mind-boggling selection out there.
If you're planning to ditch Pokemon Go! (temporarily) or any similar games that are popular at the moment and rise to nature's challenges, here are some tips on choosing the best hiking pants.
Best Hiking Pants for Men
We've several recommendations for your next adventure – the best hiking pants for men that you should invest in.
Note: We get commissions for purchases made through links in this article
Outdoor Research Men's Ferrosi Pants
Key features:
Breathable, quick drying, water and wind resistant makes it an all-rounder for the outdoors
Outdoor Research Men's Ferrosi Pants fabric will stretch slightly as you move, offering maximum mobility and comfort
Articulated knees design allows for more freedom of movement and comfortable fit
Has zippered thigh and back pockets to safely secure your valuables
Drawcord cuff closures keep off bugs and cold
Very lightweight which is great for traveling
Pros:
Very versatile pants that keep you cool during summer hiking and warm for cold-weather outdoor activities
The elastic cuffs are great for keeping bugs off
Some people wore this pants for a canoe trip and were very happy with it being water and wind resistant
Cons:
The front pockets are a little small and will bulge awkwardly even with small items like keys inside
Some people complained about the waist sizes being inaccurate
The material could be a little too thin and flimsy for some people's liking
prAna Stretch Zion Pants – Men's 32″ Inseam
Key features:
Quick-drying, stretch nylon fabric is very durable and can resist abrasion
prAna Stretch Zion Pants – Men's 32″ Inseam has a water-repelling finish to resist moisture and stains
Adjustable cinch belt that ensures a comfortable fit
Free range gusset allows breathability while offering freedom of movement
Pant legs are easily rolled up and secured with snaps
Being wrinkle-resistant makes it a great pair of traveling pants
Pros:
Very stylish and comfortable pants that are perfect for traveling, hiking and casual wear
Durable and appear good as new after washing
Very practical pockets and cinch belt
Cons:
Size can be on the large side so it could be a good idea to buy a size smaller
The material seems to attract dirt easily
The pants don't breathe very well on humid days even with them rolled up
Columbia Men's Silver Ridge Convertible Pants
Key features:
Features high-performance wicking fabric that lets sweat and moisture escape quickly to keep you cool
Columbia Men's Silver Ridge Convertible Pants are partially elastic at waist and cinch belt system for a more comfortable fit
Zip-off legs convert conveniently to shorts
Pockets have zips and hook and loop closure for more security
Omni-ShadeTM UPF 50 for extra protection from the sun
Pros:
Zippers are high quality and wouldn't cinch
Feels very comfortable even if you've been wearing and walking in these pants for long hours
Doesn't really wrinkle even after washing
Cons:
Sizes are not accurate and lean to the small side
The material is a little thin which tears easily and doesn't hold up well to the elements
Weak seams in the pockets which tear easily
The North Face Paramount Peak II Convertible
Key features:
The North Face Paramount Peak II Convertible features durable water repellent finish
Made of durable and lightweight nylon
Elastic waistband and buckled belt for comfort fit
Zip leg opening quickly converts to 10" shorts
Two velcro closure pockets to secure your valuables
UPF 50 for extra protection from the sun
Pros:
The durable water repellent finish works really well as one user said that he hiked for three hours in heavy rain and still managed to stay dry
Extremely lightweight which is great for traveling
Very durable and offers protection when hiking through thick bushes
Cons:
People don't like the belt which doesn't stay hidden and its excess material flaps around
Pants may run a little snug and short for some people
Marmot Lobo's Convertible Pants
Key features:
Marmot Lobo's Convertible Pants are made of durable, abrasion-resistant nylon-stretch performance fabric
Durable water-repelling finish to let water drops roll off and keep you dry
Easy on and easy off zippers for quickly transforming the long pants into shorts
Roll-up cuff which you can shorten your pants conveniently
Gusseted crotch for maximum mobility
UPF 50 for extra protection from the sun
Pros:
Quick-drying, super comfortable and keeps you warm and dry in sun, rain or snow
Fit is much more flattering than other woman's hiking pants
Great for all-day comfortable wear
Sizing is true to fit which minimizes the hassle of returning the product in exchange for a new one
Cons:
The pockets are a little small
Some people may find the rather fitted cut restrictive
Columbia Sportswear Women's Saturday Trail Pants
Key features:
Omni-ShieldTM advanced water and stain repelling finishing
Columbia Sportswear Women's Saturday Trail Pants have Omni-ShadeTM UPF 50 for extra protection from the sun
Articulated knees, gusseted details and 2-way comfort stretch for optimal mobility
Roll-up legs convert easily long pants to capris
Zippered closure security pocket
Pros:
Very flexible when it comes to bending and kneeling
Some people wore these for fly fishing and was amazed at how quickly the pants dry
Super-soft fabric that stretches with your movement
Cons:
Sizes run a little small so it's good to order one size up for a little more comfort
Can get crinkly which may not be the best pair of pants for traveling
Front pockets are way too shallow and things fall out easily
The North Face Paramount 2.0 Convertible Pant Women's
Key features:
Pros:
Zippers are good quality and wouldn't chafe against skin
The fit is very stylish and comfortable
Ladies with long legs can rest assured that this pair of pants can cover you adequately
Cons:
There are no ankle zips or side zips and people have to remove bulky hiking boots to convert long pants to shorts – very inconvenient
The drawcord inside the pants digs into skin and makes it very uncomfortable to wear
The front pockets are too small to hold anything
Arcteryx Gamma LT Pant – Men's
Key features:
Arcteryx Gamma LT Pant – Men's are made of Fortius, a durable and lightweight fabric
Has good stretch, gusseted crotch and articulated pattern for optimal comfort and movement
Has durable water repellent finish
One thigh pocket with zipper to secure your valuable
Adjustable pant cuff drawcord to stop bugs and cold from coming in
Pros:
Very durable and can withstand a lot of vigorous physical activity, sharp rocks and abrasion
A relaxed fit that's just right for comfort
Fantastic water repelling feature with excellent breathability that lets moisture escape easily
Cons:
Sizes could run a little small for some people
The steep price could be a deterrent
Where Are You Hiking?
Before you go hunting for that ideal pair of hiking pants, you should first determine where your hiking adventure is going to take place.
If you're going to hike in hot, dry, desert-like conditions such as those in California or Nevada, a long pair of convertible pants would be practical. These versatile convertible pants can let you quickly remove the leg bottoms when it gets too hot during the day and let you zip those back on for extra warmth at night. They can also protect you against desert bushes with sharp twigs.
If you're going to a jungle in the humid tropics which there are teeming with mosquitoes, leeches, ticks and other critters, it makes sense to get a pair of hiking pants that's bug-resistant to keep off undesirable company. A relaxed fit made of lightweight materials is great as it allows air to circulate freely to keep you cool in the humid surroundings.
For a short weekend hike in autumn (think rainy season), a standard pair of hiking pants that features DWR (durable water repellent) should suffice.
Materials
Generally, hiking pants nowadays are made of synthetic materials such as polyester and nylon or a combination of nylon and spandex or elastane for a stretchable, comfortable fit.
The advantage of this stretchy combination has a range of benefits. These type of hiking pants are usually loved for their breathability (great for letting warm air inside the pants to escape and keep you cool when hiking on warm, humid days) and water repelling ability (perfect for rainy autumn or cold weather hiking).
Convertibles vs roll-ups
These are the two most common hiking pants styles. Depending on your hiking location and preferences, they offer different benefits.
Convertibles
As its name suggests, convertible hiking pants are masters of transformation. They feature zippers around the knees which you can unzip in one swift motion to instantly get shorts or capris. It's like having two pants in one – that means fantastic versatility without having to pack too much for your hiking escapade.
Moreover, if the bottom part of the convertible gets dirty, wash it (the smaller piece of fabric dries fast too) without having to wash the whole pants. Moreover, should temperature drops at night, zip the lower part back on and you can enjoy the warmth of a pair of long pants.
However, convertible hiking pants are not without their downsides. Especially for convertibles that don't come with ankle zips, hikers lament that it's a hassle to remove their shoes to convert their pants into shorts. The zippers may add a bit of weight and could chafe at your skin. Moreover, convertible pants will always have that telltale seam across the knees which can sometimes be a little unsightly.
Roll-ups
These type of hiking pants allow you to roll up the bottoms and secure them with a button. A terrific feature for quickly converting your long hiking pants into a cooling pair of capris.
Best thing is, they don't add any weight to your backpack. Though any hiking pants can be a pair of roll-up, those that come with buttons can hold up the cuffs much better.
Features You Should Consider
Water resistant
Water-resistant hiking pants is a wonderful, practical feature when you're hiking in the often-rainy autumn or wet winter. Some water-resistant hiking pants are coated with a durable water repellent (DWR) finishing that lets rain drops roll off.
However, the DWR finishing doesn't last forever and will wear off over time – it's an extra layer that sits on top of your hiking pants material after all. The DWR finishing wears off most quickly on high-abrasion areas such as the knees, lower thighs and bottom. You'll need to re-coat your hiking pants with a reproofing product after sometime.
Another way to waterproof your hiking pants is to use a waterproof shell over your pants when it rains. However, it's not always the most comfortable thing to use.
Fit and mobility
Form-fitting without excessive tightness in any part is the best fit in hiking pants. Unnecessary tightness may be restrictive and worse, cut into or chafe at sensitive areas. Hiking pants that are too loose or baggy will have extra material flapping around which could catch on to stray branches or twigs sticking out of nowhere.
For optimal comfort and mobility, choose hiking pants that have some stretch in their materials. Those with gusseted crotches and articulated knees make for easy movement and comfort too.
However, bear in mind that hiking pants meant for summer or hot-weather hiking will be baggier and looser than those made for winter or cold-weather walking. This makes sense since hot-weather hiking pants need to have a little room to let warm air escape and cool air to circulate. When you're hiking in winter or in temperate regions, you need your hiking pants to be as snug as possible to keep your legs toasty.
Pockets
Many people feel that pockets are an indispensable feature in good hiking pants. Imagine the hassle of always having to dig deep into your backpack for say, your camera phone when you want some quick snaps along the way.
Which is why thoughtfully-designed hiking pants will almost always feature deep pockets to hold things securely without the fear of them tumbling out no matter how vigorous the activity might be. Sometimes there are hidden zippered ones for tiny valuables such as car keys.
UPF (Ultraviolet Protection Factor)
This means Ultraviolet Protection Factor on apparel. Just like the SPF on sunscreen which indicates how much protection you're getting from it, UPF on your hiking pants means how much ultraviolet rays from the sun is getting to you. For instance, if a pair of hiking pants has an UPF of 40, this means you're only getting 1/40th of ultraviolet rays on your skin.
As all apparel offer a certain degree of sun protection (you don't ever get a sunburn underneath your shirt, do you?), manufacturers are not allowed to list UPF ratings unless they're above 15. So you can be sure that the UPF listed on your hiking pants means that it's been uniquely manufactured to protect you from the sun's harmful ultraviolet rays.
However, do you really need hiking pants or outdoor apparel with an UPF? While they're not necessary for outdoor activities, they can be beneficial to some people and in certain circumstances. UPF-rated hiking apparel could be extra protection for very fair-skinned people who tend to be more susceptible to sunburn.
These specially-treated apparel will also be very useful for people hiking at higher altitudes or near the equator where the sun's rays tend to be more intense.
Bug resistance
Mosquitoes, ants, ticks, bees and all sorts of other bugs are never too far away in the great outdoors. Which makes this insect-resistant technology a huge blessing when you're heading out somewhere.
Moreover, most places in the world will have their bugs explosion at certain times of the year (for example, the number of mosquitoes peak in summer in some parts of the US), so having bug resistance capability could mean a huge difference between a memorable hiking adventure and one which you've to constantly battle with critters and manage nasty bites.
Color
Well…isn't the color of your hiking pants a thing of individual taste? While that's true, the color of hiking pants actually goes beyond the mere aesthetics.
Dark colors retain heat while light hues reflect heat. It's little wonder why summer hiking pants are usually of light colors and those meant for cold-weather hiking often come in dark, somber hues. While color shouldn't affect your choice of hiking pants to a great extent, it's something useful to think about when you've decided on a certain pair.
Final Words
With all these knowledge and recommendations, you can save a lot of time without having to trawl through too many shopping sites to find a good pair of hiking pants.
Hurry, the great outdoors is waiting! Don't forget to leave a comment below on which pair caught your eye, or share your story with us on any hiking pants we may have missed!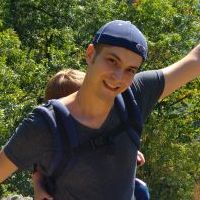 Daniel is a gear freak when it comes to hiking, climbing and camping. He went to REI Outdoor School to meet new people and learn best practices. Don't even try to argue with him about the latest backpack or ice axe, he tried most of them. Daniel's dream is to climb Mount Everest.