Do you agree that a headlamp increases success during overnight hunting? When it gets dark and you need light, you also need your hands free, right? Don't worry, you're not the only one who wants the best headlamp for hunting to improve chances of a successful night hunt.
Hopefully you won't be surprised when we tell you that a headlamp will provide you with all the necessary lighting leaving your hands free for more important things.
The choice of headlamps on today's market is huge, and not everybody can make the best decision for oneself. This is why we have written this guide to help you select the best model for hunting, and other applications as well.
In this guide, we will take you through the most important features to consider, including: weight, brightness, beam range, light modes, and battery runtime. Afterwards, we will present you with seven top headlamp models that you can buy today.
Note: We get commissions for purchases made through links in this article
[table "90nbspresponsivescroll" not found /]
Best Products on Today's Market
You can get a near perfect blend of price, weight and brightness if you choose a versatile head lamp. Here are our top seven selections that will offer you top-quality features, high performance and versatility.
Black Diamond Spot Headlamp
Weight: 3.2 oz
Bright: 300 lumens
Specific features: LED bulb, IPX8 water resistance, red light mode, flood/spot beam, 3 strobes, and 3 AAA non-rechargeable batteries
Best use: Backpacking, hiking, camping, hunting and mountaineering
Description: The Black Diamond Spot Headlamp is one of the most popular models, with a maximum 300 lumens of light and an 80-meter range. It has multiple settings, including high, low, red night-vision, and strobe, with a maximum battery life of 200 hours.
There is also a lock mode, to keep the light off and the battery full when carrying it in a pocket or a bag. Using Power Tap technology, this headlamp allows you to scroll through the light modes quickly and easily for convenience.
It uses 3 AAA batteries, and has a three-level power meter, so you will never be left in the dark. Its IPX-8 rating means it is waterproof up to 1.1 meters when submerged for under thirty minutes without affecting the light's capabilities.
The Spot comes in 5 colors, including aluminum, dark olive, matte black, Powell blue, and torch. It also features an adjustable strap. The major downside to this headlamp is the fact that the batteries are non-rechargeable.
PROS:
Touch-sensitive casing allows for easy change from full to dim power
You can easily switch on/off at a specific brightness with the help of brightness memory
Multiple settings for preference, including distance and full strength modes
Flood/spot beam is precise and suitable for route finding at night
IPX8 water resistance allows you to use the headlamp in humid and rainy conditions
Has a remarkably long burn time of 200 hours at low power
CONS:
3 AAA batteries are non-rechargeable
Related: This headlamp uses 3 AAA batteries that are non-rechargeable; you will need the AmazonBasics AAA Alkaline Batteries. The pack of 36 AAA batteries will provide you with enough power during your outdoor adventure.
Black Diamond Revolt Headlamp
Weight: 3.4 oz
Bright: 130 lumens
Specific features: LED bulb, red light mode, spot/flood beam type, 70 meters beam distance, 2 strobes, 300 hours burn time, regulated output, and uses rechargeable 3 AAA alkaline or NiMH batteries
Best use: Backpacking, hunting, hiking and camping
Description: The Black Diamond Revolt Headlamp offers multiple settings on both white, and red light, with a maximum of 130 lumens and a beam range of 70 meters on its highest mode and a maximum battery life of 300 hours.
The red night-vision light uses both proximity and strobe modes, and can be accessed without scrolling through the multiple white light modes. This makes the headlamp highly versatile for most applications.
Both AAA rechargeable batteries and standard alkaline batteries are compatible with this headlamp. The headlamp is fitted with an easy to read three-level power meter that shines green when the batteries are full, yellow when close to empty, and red when they need recharging.
With a water resistance rating of IPX4, the headlamp is reliable in harsh weather, but not suitable for underwater use. It has an adjustable strap that is also removable, and comes in six stylish colors to match its sleek design.
PROS:
Triple power LED delivers superb illumination at 70 meters
Dimmer switch allows you to conveniently adjust the brightness level
Red light mode is easy to activate for power saving night vision
Three-level power meter allows you to track the battery life
Lock mode ensures that the headlamp stays off when in the backpack
Water resistance of IPX4 makes the headlamp suitable for humid conditions
Can run on both rechargeable and non-rechargeable 3 AAA batteries
CONS:
Available LED bulbs are not replaceable
Less color options for preference
Related: The headlamp is not sold with batteries, so you will need the Black Diamond AAA Batteries. The pack of four will provide sufficient power during your outdoor trip.
Petzl Tikka XP Headlamp
Weight: 2.9 oz
Bright: 180 lumens
Specific features: 3 LED bulbs, red light mode, flood/spot beam, 4 brightness levels, 100 hours burn time, regulated output, and 3 AAA non-rechargeable batteries
Best use: Backpacking, hiking, hunting, camping and outdoors
Description: The Petzl Tikka XP Headlamp uses Constant Lighting Technology to ensure the 180 lumens of maximum lighting never fall short, regardless of its battery level. It has two beam patterns focused for close and wide use, allowing you to see everything around you.
The different modes give you multiple lighting options and a battery runtime of 2 hours to 100 hours, depending on the level chosen. There is also a discreet red light that can be used in both constant and strobe modes.
The push-button is simple to use, whether with bare hands or thick gloves. And when the batteries begin to run low, the headlamp switches to reserve mode, and then to red lighting when they are nearly drained.
Though, batteries are included, this headlamp is also compatible with rechargeable NiMH and lithium batteries for added convenience. The headlamp is weather resistant, and comes in three color options, including black, turmeric and orange.
PROS:
Multiple lighting modes are suitable for rapid, proximity and long-range lighting
Constant lighting technology provides reliable output regardless of the battery life
Reserve mode is automatically activated on low battery
You can reduce eye fatigue and preserve night vision with the red light mode
Large push-button is ergonomic and user-friendly
Headband is absorbent and washable for cleanliness
CONS:
3 AAA batteries are non-rechargeable and will need replacements
Related: The manufacturer also sells the Petzl Tikka RXP Case for the headlamp. The case will safeguard the headlamp from scratches and impact and you can easily attach it to your pack or belt.
Black Diamond Icon Headlamp
Weight: 8.1 oz
Bright: 320 lumens
Specific features: Quad power LED bulb, red light mode, spot beam type, 250 hours burn time, 2 strobes, variable brightness levels, and uses 4 AA non-rechargeable batteries
Best use: Backpacking, camping, hiking and hunting
Description: The Black Diamond Icon Headlamp is a great choice for backpackers, campers, hikers and hunters who need high output lighting for night vision. You will admire the rigid and versatile construction of the headlamp at first glance.
With 320 lumens of light, and 100 meters of maximum beam range for about 75 hours, this headlamp is perfect for professional use as well as for entertaining nighttime adventures. And you get 250 hours of burn time at low power.
There is a discreet red night-vision light that has both proximity and strobe settings, and can be accessed without needing to scroll through the white light modes. Other settings include full strength in both proximity and distance, dimmer setting for close work and the lock mode.
The three-level power meter keeps you aware of the battery level as soon as you turn the headlamp on. So, there are no surprises during your travels. This headlamp is IPX7 waterproof, can be submerged up to 1 meter for half an hour without damage.
PROS:
Programmable brightness memory allows you to switch on/off at a specific brightness
Red light mode can be activated without scrolling through the white modes
Multiple lighting settings for preference and convenience
Lock mode ensures the headlamp stays off during backpacking
Three-level power meter displays the battery life status
IPX7 water resistance makes the headlamp suitable for extreme weather
One-touch activation makes the headlamp ergonomic and user-friendly
CONS:
Uses non-rechargeable batteries that need replacements
Related: The non-rechargeable AA batteries require replacements and the ideal options are the Energizer L91BP-8 AA Batteries. The batteries feature leak-resistant design for superior performance in extreme temperatures.
Coast HL7 Headlamp
Weight: 4.4 oz
Bright: 285 lumens
Specific features: LED bulb, pure beam focusing, variable light output control, hinged beam adjustment, hardhat compatibility and twist focus
Best use: Backpacking, hunting, hiking and camping
Description: The Coast HL7 Headlamp gives you two lighting modes, with 285 lumens on high and 4 lumens on low. It is integrated with a simple light control lever at the back of the headlamp that allows you to switch between the high, and low modes.
It has a maximum beam range of 119 meters, and lasts for 70 hours on low and 1.5 hours on high. There is a twistable bezel to turn your wide flood beam into a focused spotlight for a specific use.
The hinged beam adjustment allows you to tilt the headlamp in any direction. For those who use a hard hat, this headlamp also includes clips to attach to one, for added stability and convenience.
The headlamp is impact and weather resistant, and comes with a lifetime warranty against defects. Also included in the package, is a handy pouch for traveling or storing the headlamp when not in use.
PROS:
Variable light control technology allows for easy adjustment of the brightness level
Hinged beam adjustment allows you to easily change the direction of the beam
Available clips make the headlamp hardhat compatible
Twist focus allows you to switch between the spot and the flood beam
Headlamp is water and weather resistant, making it suitable for extreme conditions
It comes with a lifetime warranty against materials and workmanship defects
CONS:
Shorter battery life compared to competing models
It is water-resistant, but not waterproof
Related: Instead of using the included non-rechargeable batteries; you can buy the Mr. Batt AAA Rechargeable Batteries. The pack of 16 will offer you enough power for your outdoor expedition.
Fenix HP25 Headlamp
Weight: 8 oz
Bright: 360 lumens
Specific features: Two high-output LED bulbs, flood/spot beam, 3 light output settings, one strobe, regulated output, and uses 4 AA non-rechargeable batteries
Best use: Backpacking, hunting, hiking and camping
Description: The Fenix HP25 Headlamp is among the brightest headlamps with a maximum brightness level of 360 lumens. It does not only allow you to see far, but also allows you to pick the important details of your target.
The spotlight and flood settings have three light modes, including turbo, high and low. The turbo mode outputs 360 lumens, the high mode outputs 180 lumens, and the low mode outputs 4 lumens. There is also an SOS mode for emergencies.
Each of the light modes has an individual control system. So, there is no scrolling through multiple settings to find the one you want, and there is a lockout placement as well to keep the headlamp off when not in use.
This headlamp is impact resistant up to 1 meter, and its durable body will also resist overheating. It is also IPX-6 waterproof up to 1 meter for 30 minutes. The 60° tilt can be adjusted as needed.
PROS:
Orange peel reflector offers even and smooth spot beam
Aluminum alloy headlamp body provides optimal heat dissipation
Dual switch allows you to control floodlight and spotlight independently
Digitally regulated output delivers consistent brightness
Overhead protection helps to avoid high temperatures during extended use
Red light preserves energy during nighttime use
Floodlight is perfect for caving, since it disperses bright light in tight spaces
CONS:
Headlamp is susceptible to damage depending on the application
Related: The non-rechargeable batteries will need replacements; so, you will need the Bestten Professional AA Batteries. The batteries have a high capacity for extended burn time and service life.
Nitecore HC90 Headlamp
Weight: 4.8 oz
Bright: 900 lumens
Specific features: LED bulb, infinite adjustable brightness, lightweight, side switch operation, RGB illumination system, extreme wide 100° beam, and 200 hours of services
Best use: Backpacking, hunting, camping and hiking
Description: The Nitecore HC90 Headlamp is a top-quality LED light with an improved circuitry that increases both light output and battery life. It throws a remarkable bright beam 110 meters with surplus lumens for overnight hunting and aggressive hiking.
Do not point this headlamp in your partner's eyes as it is the brightest in our collection. Unlike conventional lamps, this model uses rechargeable Li-ion batteries that you can easily recharge with the provided USB. This saves you costs of replacements.
The headlamp can be rotated up and down as needed. The included micro-USB cable plugs right into the headlamp to charge the battery without removing it. Nitecore has also included a double cooling system that has a temperature sensor and control feature.
The compact design is incorporated with a side switch for stress-free one-hand operation. The head strap is lightweight, comfortable and easy to install. The headlamp comes with a water resistance rating of IPX-8, making it ideal for extreme weather.
PROS:
Premium CREE XM-L2 LED bulb delivers a light output of up to 900 lumens
Secondary RGB LEDs allow for multiple applications
Smooth sliding control allows for adjustable brightness outputs
One-hand operation is made possible by the inclusion of a side switch
Head strap is lightweight, comfortable and easy to install
USB cable plugs into headlamp for effortless recharging of the battery
CONS:
It's quite expensive when compared to competing models
Related: The headlamp does not come with pre-installed batteries; you have to buy the Nitecore NL189 Rechargeable Batteries. The batteries are high performing and they feature built-in overcharge and discharge protection circuits.
Things to Consider Before Buying
When you start to search for a new hunting headlamp, there are a few key features you should look for, to ensure you are getting one with a decent battery life, a durable body, and enough light to see by no matter where you are, without weighing you down.
Weight
Most headlamps are lightweight, because of the fact that they are smaller and must be able to stay upright when attached to a head strap. Be sure to try several on to test out the various weights.
This way, you will be able to choose the one that will remain comfortable over longer durations. You should avoid any headlamp that seems to add weight on your head. So, it is wise to buy from a physical store instead of online.
Brightness
This refers to the amount of light energy that the headlamp is emitting. This can range from just a few lumens to a thousand, and many headlamps have multiple settings that give you low, medium and high lumen outputs.
You can achieve amazing brightness outputs if you consider a headlamp with special features, such as brightness memory and variable light control technology. Also, high brightness levels tend to drain the battery faster on high power.
Beam Range
The distance the beam reaches is extremely important, because when out in the wilderness, it is necessary to be able to see well ahead of you. This will help you avoid any accidents or run-ins with dangerous animals.
Having a shorter beam can come in handy when looking at a map, but for all other instances, a long range beam is a much safer option. If you can find a headlamp that offers both, then this is a definite bonus.
Lighting Modes
Headlamps come with several types of lighting modes to choose from. Floodlights are great for seeing short distances in front of you, or for lighting up your campsite. A spotlight is a more focused beam for longer ranged visuals, better for hiking back to your site or car at the end of the day.
Colored options are also available, each with their own specific use, for example, red lighting is perfect for discreet tactical and night vision use. Green lighting is used for reading maps or other documents in the dark. Blue lighting is used to follow blood or other fluids if an animal is hit, but still capable of running away.
All these modes are great for hunting headlamps, but not always necessary. Therefore, decide the possible uses for your light before you purchase one with all the frills.
Battery Runtime
Having a long battery runtime is necessary for a hunter, especially when the hunting grounds are far from civilization. Runtimes on headlamps, vary depending on the brightness levels and the different lighting modes. High power lighting, drains the battery faster than low power.
No matter what level you use, or which headlamp you buy, it is always a good idea to carry extra batteries. This is particularly important when your headlamp runs on non-rechargeable batteries that need replacements.
Wrap Up
The Nitecore HC90 Headlamp marks the end of our best headlamp for hunting reviews. Each of the reviewed headlamps provides you with the ideal blend of price, quality, performance and versatility.
The aim of this guide is to help you choose the perfect headlamp for your hunting expedition. Therefore, if you know little about headlamps, you should take a close look at our buying tips to learn the features that make a high performing headlamp.
Apart from sighting your target and taking a precise shot, a top-quality headlamp will keep you safe by improving your night vision. After a hunt, you can easily pack your meat and work your way down the hill to your car without any problems.
Did we help you find what you were looking for? If yes, please share your experiences, concerns and suggestions with us in the comments section below and we will join you in a productive conversation.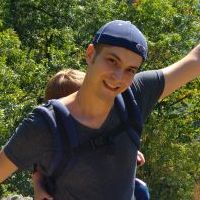 Daniel is a gear freak when it comes to hiking, climbing and camping. He went to REI Outdoor School to meet new people and learn best practices. Don't even try to argue with him about the latest backpack or ice axe, he tried most of them. Daniel's dream is to climb Mount Everest.