Prior to 1990 if someone said to you "this is the best handheld GPS for fishing", you may have responded by saying "what's a GPS?" Who would have thought that a short 26 years later, there would be a device that was capable of helping you navigate to a specific point, anywhere on the planet.
You may be able to just grasp this ability, but if we were to add that it could direct you by way of a small color screen, displaying information about the depth, air pressure, and elevation, that may be a bit too much.
Now if all this technology was even conceivable back then, one would expect that it would be housed in the basement of a downtown office block. If you have never considered a handheld GPS for fishing, we have good news for you!
We trust that not only will you find the concept of a handheld GPS very useful, but that you will find an option amongst those mentioned below.
Top Products
Note: We get commissions for purchases made through links in this article
Garmin GPSMAP 78SC
Weight: 7.7 ounces.
Display Dimensions: 2.6 inches, 160 x 240, colour.
Battery Type: 2 x AA batteries (not included).
Battery Life: 20 hours.
Description: One of the design characteristics of many of the devices in the Garmin range is the screen which is positioned below the key pad, and as odd as this may seem at first glance, there is some logic behind this layout. Hold any device in your hand and your thumb is at the top, making it easier for you to reach the buttons.
The Garmin GPSMAP 78SC is an efficient device, and apart from the included US coastal charts (preloaded) and the barometric altimeter, the 3-axis electronic compass displays your heading while standing still. Users of previous generation models will recall the need to move before the device could return your heading readout.
One would expect quick satellite lock-on with all premium devices, but the fact that the 78SC also maintains its satellite lock under pretty thick cloud cover and some other occluded locations is impressive.
Additional mapping is possible by adding the required maps via the SD card, and the reader is positioned in the battery compartment, maintaining the waterproof integrity of the device. And yes, it does float.
Related: As robust as the Garmin GPS MAP 78SC may be, it remains a significant investment, and it would be well worth considering a bag to protect it against dust and dirt. The Garmin universal carrying case would keep your device dust and dirt free when not in use, this will undoubtedly extend the life of the device.
Magellan Explorist 510 Marine Edition
Weight: 14.4 ounces.
Display Dimensions: 3 inch, colour.
Battery Type: 3 x AA batteries (not included).
Battery Life: 15 hours.
Description: The Magellan Explorist 510 Marine Edition certainly is packed with features and functionality, and if geocaching is your primary objective, it will be great. But, before we get into the details of device, take careful note of the claimed battery life.
Expect that if you are using the device in and around your favorite fishing spots in direct sunlight, you will need to set the brightness of the screen to maximum. At this setting, you are not likely to get more than 5 hours of useable battery life.
Enhancing your geocaching experience, the 510 features a 3.2 mega pixel camera (which shoots pretty good images), microphone and speaker, quickly locks onto satellites, and for the fishermen and women amongst us, the device has an awesome colour display.
It is also to be expected with any waterproof touch screen device, that the accuracy of finger inputs can become a little unresponsive when the device is wet. To overcome this, the 510 also features two buttons which can be programmed to activate your own custom functions.
Related: Touch screen devices generally have a pretty tough display screen, but even these are susceptible to scratches and abrasions.
During the course of normal operation, your device is likely to be out of your hands and perhaps tethered to your life vest or waist belt, and when it is the the Magellan carrying case will protect it against accidental bumps.
Garmin Legend H Handheld GPS Navigator
Weight: 5.3 ounces.
Display Dimensions: 2.4 inches, 64 x 128 pixels, monochrome
Battery Type: 2 x AA batteries (not included).
Battery Life: 17 hours.
Description: The Garmin Legend H Handheld GPS Navigator range of GPS receivers is a tried and tested platform, Legend H incorporates all of the typical user-friendly features with full base map of US, Pacific and Atlantic.
As far as fishing or marine GPS units go, the Legend H is an affordable option, and does not include some of the extras that other marine specific units may have.
The Legend H is waterproof, and incorporates a rocker switch on the face, which allows for rapid and direct panning of maps, and to select and enter functions.
The USB function enables the loading of additional maps, and the 24MB of internal memory also allows for adequate storage of waypoints, tracks and routes.
Related: Currently, there are no other products that can compare to the Garmin Legend H.
Garmin Gpsmap 62S Handheld GPS Navigator
Weight: 9.1 ounces.
Display Dimensions: 2.6-inch, 160×240 pixel colour.
Battery Type: 2 x AA batteries (not included).
Battery Life: 15 hours.
Description: Reverting back to traditional front face layout of the button and controls being positioned beneath the display, the Garmin Gpsmap 62S Handheld GPS Navigator competes with Garmin's Oregon models, which have a slightly larger, touch screen display, amongst a few other features.
This is an all-round awesome device, with only a couple of design flaws: the text input process is tricky, and the small display makes it difficult to view when mounted on the dash. Soft, yet robust rubber covering takes off all sharp edges and makes for an easy to hold and carry device.
The 62S comes with built-in worldwide base map and shaded relief areas. You can easily download Garmin Connect images for picture-rich navigation.
As with the 78SC, the 62S includes a very useful 3-axis electronic compass and barometric altimeter, and this tilt-compensated feature enables you to navigate while standing still. There is also a generous 1.7G internal memory, and yes this will store a significant library of waypoints and tracks. The microSD card slot will also make loading additional maps a breeze.
Related: As tough as this device is, and this refers to the housing and button construction, accidental damage is possible, particularly on the key pad. Garmin supply a very tough, heavy duty case,with a lanyard, and this will protect the device against bumps and abrasions whilst tethered to your craft or person.
Garmin Etrex 20 Worldwide Handheld GPS Navigator
Weight: 5 ounces.
Display Dimensions: 2.2-inch, 240 x 320 pixels, colour.
Battery Type: 2 x AA batteries (not included).
Battery Life: 20 hours.
Description: If value and price is your biggest consideration when contemplating the ideal handheld GPS, then you may need not go much further than the Etrex 20.
This relatively basic model dispenses with features like wireless share capability, the barometric altimeter, and the electronic compass.
Having said this, you will still be getting 1.7Gb of onboard memory and the microSD card slot for additional downloads. The USB interface enables swift transfer of data from your PC to the device. Locating waypoints is not quite as accurate as with bigger models, but the speed with which it locks-on is impressive.
For fishing applications, and as would be expected, the Etrex 20 is waterproof. One of the drawbacks of this device, in fact this is the case almost all Garmin models, the base map is not great.
This is a truly easy to use device, and is remarkably small and light weight. The top-positioned select and enter toggle is also very responsive.
Related: Membrane supply a screen protector, which includes 3 covers, a cleaning cloth, a dust removal sticker, and 2 re-install stickers. This option is specifically designed for the Etrex 20, and will extend the life of your device.
Garmin Oregon 450 Handheld GPS Navigator
Weight: 6.9 ounces.
Display Dimensions: 3 inches, 160×240 pixel colour.
Battery Type: 2 x AA batteries (not included).
Battery Life: 16 hours.
Description: As we progress down the list of devices, the general application of the devices becomes more apparent, with less of a focus on marine or fishing applications.
Having said this, and whilst they may be up to several tasks, both on water and land, the Garmin Oregon 450 finds itself amongst some pretty impressive competitors.
It is therefore to be expected that, at this price point, the unit will feature: a high sensitivity receiver with HotFix (improves reception), 3-axis electronic compass and barometric altimeter, wireless share capability, and high speed USB for quick and easy adding of maps.
But that is not where it ends, the Oregon 450 is packed with functionality, all easily and very intuitively achieved through a very effective touch screen. We like the fact that you can easily group your required fishing applications on a single screen. Expect battery life of around 10 hours when fully backlit (typical for use in bright sunlight) and up to 16 hours when in time-out battery saver mode.
Related: The Oregon 550 is equally at home on the trail, and if you are inclined to have your device ready at hand, consider the Garmin case, and a screen protector / anti-glare kit is also available from Garmin for this device. Both of these are likely to not only improve the visibility of the screen, but will also protect it against accidental bumps.
Garmin Gpsmap 60CX Handheld GPS Navigator
Weight: 7.5 ounces.
Display Dimensions: 2.6 inches, colour.
Battery Type: 2 x AA batteries (not included).
Battery Life: 30 hours.
Description: As far as handheld GPS units go, this model has been around for over 10 years, and is no longer in production. This particular model includes a rather modest list of features and functions, most of which are available in many other options, at considerably better value.
If there is one feature that the Garmin Gpsmap 60CX Handheld GPS Navigator has which still leads all the others that we have looked at, it is in the battery life, which is an impressive 30 hours.
Whilst one would expect the USB connection to facilitate quick and easy map loading, the very modest (by today's standards) 64 MB micro SD card, will not be able to hold a great deal. The option of replacing the card with a larger capacity card does exist however.
Related: Currently, there are no other products that are on par with the Garmin 60CX.
Handheld GPS vs Smart phone/Watch
Now this is a frequently asked question, and is becoming more so each day: why do I need a handheld GPS unit for fishing or any other activity since I can do almost anything and everything on my mobile phone or wrist watch?
Whilst this debate could go on for some time, for each feature and function that a handheld GPS presents, there is likely to be a similar function or feature on your smart phone. For a start, incorporating all the navigational features and aids into a single, robust, and waterproof device, is best left to the designers and manufacturers of these purpose built devices.
Your phone may be waterproof, but won't do you any good lying on the sea bed after being dropped overboard. And as convenient as your GPS-enabled watch may be, it simply does not have a display large enough to present the number of information fields whist assisting you with paths and tracks.
The Primary Purpose of A Handheld GPS Device
Modern handheld GPS devices have evolved considerably beyond their initial, intended purpose of navigating you to a predetermined point on earth, and whilst many are packed with a bewildering number of functions, most will need to:
Mark exact fishing locations.
Store tracks, ideal when needing to avoid submerged obstacles.
Navigate you to previously visited or saved locations, directly.
Provide information on depths and drop-offs.
Provide atmospheric pressure readings, all important to anticipate weather changes.
Functions and Features of A Handheld GPS
For purposes of our review, we are going to concentrate on the devices which are best suited to marine applications.
So here are some of the key features you should keep in mind:
Waterproof: understandably, this is a critical requirement, and the ability to float can save a device from an irretrievable demise.
Battery life: directly linked to the amount of time one is likely to spend in bright sunlight, since when doing so, maximum backlighting is required. The lifespan of your batteries can be significantly enhanced by setting your device to go into sleep mode when it has not been used for 2 minutes or longer.
Touch screen vs buttons and toggles: whilst both types are equal to the task, this is largely a personal preference.
Barometric altimeter and electronic tilt adjusted compass: modern handheld GPS devices include an altimeter, which is designed to monitor air pressure changes and alert you to possible changes in your weather. An electronic compass is ideal for giving you bearing, which is a big improvement over older models that required movement in order to calculate your direction.
Onboard memory: some can include as much as 1.7 GB in internal memory capacity, and this is awesome when it comes to loading highly detailed maps with sufficient detail to display changes in depths.
USB and wireless connectivity: modern devices will feature either a mini USB port or will have wireless capability. USB connection facilitates the quickest method of downloading of additional maps, and other map data.
Maps and other software: care should be given to the availability of additional maps (most devices are already bundled with some maps, and these will cover the US coastal and inland waters, at very least). Highly detailed maps are also available from the supplier, and it would be worth taking some time to establish what is compatible with your device before deciding on the best GPS device for your application.
Take Note: As effective as handheld GPS devices are in the outdoors, they may become a little indecisive when operating under heavy cloud cover from time to time. This is unavoidable, since the satellites onto which a GPS device must lock are constantly orbiting at altitudes significantly higher than the weather we experience.
More than Just A Useful Aid to Fishermen
A handheld GPS is an incredible investment for just about any outdoor activity, and its uses generally go far beyond your fishing tackle box. Accuracy to within about 9ft anywhere on the planet is nothing short of jaw dropping.
They are equally at home on land as they are in your pocket or attached to your life vest on the water. They are generally extremely robust and make use of free access to a bewildering array of orbiting satellites.
We would love to hear about your experience both with and without a GPS, and especially how your fishing experience has changed with a suitable GPS.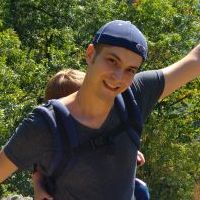 Daniel is a gear freak when it comes to hiking, climbing and camping. He went to REI Outdoor School to meet new people and learn best practices. Don't even try to argue with him about the latest backpack or ice axe, he tried most of them. Daniel's dream is to climb Mount Everest.