Are you a camping enthusiast who knows how nice and relaxing a hammock can be for napping, reading, or just enjoying the fresh air and gazing at the stars? Now, imagine pairing the comfort of a hammock with the security of a tent so that you can sleep off of the ground and keep those pesky mosquitoes at bay.
Sounds perfect, right? You have to agree that whether you are camping, backpacking or hiking across the country, the best hammock tent will make your sleep so much better.
Hammock tents are a practical way of allowing yourself time to rest while you are in the outdoors, above the ground and out of reach of potentially dangerous animals or pesky insects.
However, since there are many hammock tents to choose from, you need to make the smartest decision and rule out products made out of certain materials, with certain weight limits, or those that are offered in limited color varieties, and that takes too much research and time. This is exactly why we decided to help you out and make your search much easier and shorter.
In this article, we will explain which features you need to keep an eye on when shopping. And, we've gathered seven of the market's best models, to compare side by side, so you're one step closer to finding the perfect product for you.
By exploring these products with our help, you'll gain insider knowledge to choosing the best model and you can share that know-how with friends and loved ones in the future. But first, let's check out the table of the products we reviewed in the article.
Best Products on Today's Market
No matter what product best suits your needs, you'll take comfort in knowing that the products you are about to read about, are tested and trusted by some of the biggest nature enthusiasts out there.
After exploring these bestsellers with us, you can buy with confidence and get out there, because adventure is calling.
Note: We get commissions for purchases made through links in this article
Grand Trunk Skeeter Beeter Pro Mosquito Hammock
Dimensions: 10.7 x 8.6 x 4.3 in
Weight: 28.8 oz
Specific features: 400 lb weight limit, parachute nylon material, 3 color combinations, 5-inch starter rope kit, 1 net suspension kit, nautical-grade carabiners, and 2 inside storage pockets.
Best use: Biking or kayaking trips, all seasons, backyard comfort
Description: The Skeeter Beeter Pro Mosquito Hammock is an affordable and comfortable choice for beginners. Its lightweight parachute nylon material allows you to reposition yourself or get out of the hammock easily without the risk of catching or snagging on your clothing and gear.
This material also resists collecting lint and pet hair, so it's a great choice for campers who can't leave their furry companions behind. With a 5 inch starter rope kit and sturdy carabiners, you shouldn't need to buy any extra gear, such as tree straps, unless you plan on testing the weight limit of up to 400 lbs. Offered in the three following color combinations, you'll find that fitting into the scenery isn't difficult to accomplish: Navy/Forest, Olive Green/Khaki, and Woodland Camo.
The only downside to paying less is that this hammock comes with little to no protection against rain and condensation. If your main goal is to camp above ground, even the snow, while staying safe from mosquitos and other bugs, this product is an all-in-one starter solution that's easy to set up and won't break the bank.
PROS:
Very roomy and sturdy
Easy to set up
Easy to get in and out of
Packs down tiny
Very lightweight
Affordable
CONS:
Suspension paracord is too short
The bug mesh is a bit larger
Related: Adventures aren't black and white and suspension systems for hammock should be simple and safe. Meet the Grand Trunk Tree Trunk Straps. A ten-foot daisy-chain suspension system that enables you to hang your hammock from almost any anchor point. These Trunk Straps by Grand Trunk provide your hammock with adjustment points that make it simple to locate the correct position for the most comfortable angle.
Eagles Nest Outfitters Junglenest Hammock
Dimensions: 9 x 6 x 6 in
Weight: 29 oz
Specific features: 400 lb weight limit, 210D nylon taffeta ripstop. No-See-Um netting, aluminum Wiregate carabiners, nautical grade line with stainless-steel snap links, internal hanging loops, organizer pocket, height adjustment
Best use: Jungle camping, backpacking
Description: If you're looking to pack just a little lighter so you can move quickly, the JungleNest Hammock is another dependable option at a lower cost than many of its competitors. This product is ideal for backpacking or camping in warmer climates where bugs are abundant.
The No-See-Um Netting is breathable while allowing you the comfort of sleeping in the open air and you can avoid paying extra for a separate bug net in lieu of this all-in-one solution. As with similar models, the 400 lb weight limit is suited for up to two adults, but one adult per hammock is recommended.
The only drawbacks to this product are that the gear doesn't include tree straps and the base nylon taffeta material may not be enough to keep you safe from mosquito bites. One of the most convenient features is the full-length side zipper that allows you to get in and out easily. If you're planning any fast-paced jungle trips in the near future, this combo is a wise option for modest packing space and pendulous comfort.
PROS:
Very nice quality zippers
Breathable
Lightweight
Versatile
All necessary hardware is included
Great insulation
Great material
Heavy duty
CONS:
Short ridgeline rope
Tree straps not included
Related: When the weight of your world turns out to be difficult to bear, hop into your hammock and trust the ENO Eagles Nest Outfitters Atlas Straps XL to shoulder the weight. Agile but enduring, this hammock strap weighs a sparse 11 ounces, yet boasts an astounding 30 consolidated, adjustment points. Built from Poly-Filament webbing together with overlapping attachment whorls, this strap is the ultimate when it comes to hammock suspension.
Lawson Blue Ridge Camping Hammock
Dimensions: 90 x 42 x 42 in
Weight: 68 oz
Specific features: 275 lbs weight limit, 3-season, ripstop nylon pack cloth, detachable waterproof nylon rain tarp, attached waterproof nylon canopy border, ceiling O-ring, 2 interior storage pockets, aluminum-alloy pole/spreader bar system
Best use: Hard terrain backpacking
Description: The Lawson Blue Ridge Camping Hammock is a viable option for extreme outdoorsmen and enthusiasts. Whether you're camping, fishing, whitewater rafting, or kayaking, you'll likely want a quick-setup hammock as you navigate harsher terrain so you can move from one challenge to the next.
With its Forest Green color, this option is great for hunting and fitting into the background. Unlike some of its more affordable competitors, this product features waterproof nylon material to keep you dry through the elements. Its unique design allows you to suspend between trees or camp on the ground as if you were sleeping in a conventional tent. Better yet, this hammock sits flat, so it may be a better option for buyers looking to avoid the cocoon effect.
Although it's heavier and a little less affordable than other products, this hybrid combines the best of both worlds so you can sleep peacefully outdoors in three of the four seasons. If you and your loved one are hoping to camp together in one shelter, you may want to explore products with higher weight capacities.
PROS:
Incredible space
Easy to set up and take down
Very compact and comfortable
Weighs almost nothing
Great bug net
CONS:
Straps not included
May need an extra rope
A bit expensive
Related: You don't need to bother yourself with a big, massive metal stand to make the best use of your hammock tent, just make use of the Tree Hugger Hammock Straps. Comprising of two durable, weatherproof polyester straps, each of them measuring 8-feet long, the Tree Hugger straps makes it quite easy to make the best use of your hammock tent just about anywhere. Also, with 16-feet in aggregate length, it is possible for you to use just any two trees for your hammock, regardless of whether they seem to be far apart.
Clark Double V Camping Hammock
Dimensions: 12.5 x 5.5 in
Weight: 44.8 oz
Specific features: 700 lb weight limit per bed, 2-person, 3-season, highly mosquito-resistant bed fabric, 3 waterproof suspension lines, built-in stuff sack, 6 storage pockets
Best use: Backpacking, family camping
Description: If you enjoy having company while you explore the outdoors, the Clark Double V Camping Hammock is an ideal choice for snuggling up or bunking economically. With two separate beds that hold up to 700 lbs each, you'll never have to worry about meeting somewhere in the middle by sunrise unless you want to. This hammock also comes with a lot of storage space.
There's a center storage portion between the two main hammock beds that you can utilize as extra sleeping space for a child or a pet. Safely store the rest of your camping gear above the ground in the storage compartments underneath the beds. Unlike other shelters, this product does not come equipped with netting to prevent contact with mosquitoes or other bugs as you sleep. It is, however, made with a highly mosquito-resistant fabric to deter biting and irritations.
If you want to move quickly during the day and still enjoy a comfy night's sleep for two or more, this hammock is a great choice at a competitive price.
PROS:
High-quality material
Lot of storage space
Impeccable workmanship
Lightweight and well made
Related: When you are out in the element around evening time, there are many hazards to explore and stress over. Ensure your wellbeing with the highly-visible Nite Ize Reflective Cord. Made of durable nylon rope with a unique reflective gear string strip woven into it, this all-purpose nylon cord is an essential apparatus for the campsite, trail, waterways or anywhere adventure takes you. This reflective cord is perfect for hammock tent guy line.
Hennessey Jungle Safari Zip Hammock
Dimensions: 5 x 12 x 8 in
Weight: 64 oz
Specific features: 350 lbs weight limit, 7-inch height limit, 3-season, 2-person mosquito netting, detachable rain fly, support ropes, and a stuff sack
Best use: Tropical camping, safari, jungle excursions
Description: The Hennessey Jungle Safari Zip Hammock is a good shelter option for campers headed for extreme tropical environments with a lot of bugs. This hammock not only comes with mosquito netting, but the double bottom layer is also mosquito-proof, so you won't wake up with bites from above or below.
The Forest Green color of its nylon material will keep you well-hidden from larger critters. As opposed to more affordable options, this product features a detachable rainfly to keep you dry during storms or periodic tropical showers. If you're especially earth-conscious, Hennessey provides complimentary 42″ long webbing straps to preserve the bark of trees you may come into contact with as you hang and sleep in suspension.
One of the few drawbacks to spending a little more for this hammock is that its weight limit doesn't rival the more affordable options, but this is an optimal shelter for one or two jungle camping buffs.
PROS:
Mosquito-proof
High quality materials and workmanship
Great breathability
Large hex rainfly
Very comfortable
Comes with all necessary equipment
Related: Attach carabiners or rope to your hammock quickly with the Omega Pacific Rappel Rings. They are incredible for running a rope or carabiner through and you achieve smooth and simple action through them without any obstacles. Around 1.5 inches in width, it is smooth and does not heat up faster.
Clark NX-270 Camping Hammock
Dimensions: 20 x 12 x 4 in
Weight: 60 oz
Specific features: 300 lb weight limit, 4-season, No-See-Um netting with double zippers, WeatherShield zips, fiberglass poles, 6 large exterior storage pockets, mosquito-resistant fabric, 2 interior storage pockets
Best use: Cold weather camping
Description: The Clark NX-270 Camping Hammock is a hybrid hammock tent for any season. Completed with protection from mosquitoes, wind, rain, and snow, this product has a lot of features that pay off should you decide to pay a little more. The exterior and interior insulating pockets can either keep you warm during extreme conditions or double as storage pockets for your gear, gadgets, or snacks.
One of the most helpful features is that you can access the insulating storage pockets from inside the hammock, so you don't have to reposition or get out once you're already comfy. While the comfortable weight limit sits at 300 lbs., the true capacity allows up to 700 lbs.
If you're looking for a lighter or more versatile hammock, please keep in mind that the WeatherShield feature is not detachable, but you can conveniently store it within a built-in pocket during your warmer trips. If you're looking for an all-in-one solution that you can take out to colder climates as soon as you open the box, this hammock may be just what you're looking for.
PROS:
Great tent for any season
Simple to set up
Very roomy
It doesn't absorb water
Big rainfly
The pockets are very spacious
Provides great insulation
Very comfortable
CONS:
Rainfly takes some time to set up
You may need to bring along extra rope or tent stakes
Expensive
Related: The last thing that you would want to do is jump out of your hammock just to make it stand again! With the TNH Outdoors Tent Stakes and Bag, you have comfort realizing that the most astounding kit is set up to secure your hammock from falling! With a sum of ten ground stakes all bundled in their own pouch, this kit is prepared to drop straight into your hammock tent bag.
Tentsile Stingray Tree Tent
Dimensions: 180 x 180 x 48 in
Weight: 304 oz
Specific features: 880 lbs weight limit, 4-season, 3-person, 2-door, polyester mesh canopy, 4 internal pockets, 2 aluminum Featherlite poles, removable rainfly sheet, 3 straps, 3 ratchet buckles, 3 pegs
Best use: Group camping, all seasons
Description: With the most expensive price tag on our list, the Tensile Stingray Tree Tent can really seem like a luxury in the understory. Like most of the hammocks on our list, this perfect union comes with a lot of desirable features, including No-See-Um mesh netting, a detachable rain fly, and a weight limit of 880 lb. What sets this shelter apart from the rest is its three separate beds, easy access from both the bottom and the side of the tent, as well as a floor area of 75 square feet.
This shelter can comfortably sleep up to three adults or two adults and two children. This is the supreme option for camping with friends, and you can even stack these tree-tents, to create a multi-story Treehouse site.
With a more advanced setup process that can take more than thirty minutes and its less convenient packing weight, this tent may not be the best option for a hiker on-the-go.
PROS:
Very comfortable
Durable material
Easy to assemble
The floor seems very sturdy
Large rainfly
Last longer
CONS:
Stitching isn't uniform and symmetrical
It is heavy
Lack of insulation
Expensive
Related: Tentsile also produced a webbing ladder which you can use to access your hammock tent when set up at height. The Tentsile Webbing Ladder is produced with polyester 25mm webbing and arrives with a bag with two quick-link carabiners. It is well-noted to be a lightweight and durable webbing ladder on the market.
Things to Consider Before Buying
Whether you're a seasoned camper or a beginner looking for tips on the best products and gear to take with you into nature, there are a number of features to consider when deciding to buy an outdoor shelter to sleep in.
Weight
Traveling alone means that you have to consider how much weight you can carry, especially if you plan on going on long hikes. Look for hammock tents that are pretty lightweight so that you won't have to struggle with an aching back. A few ounces might not appear to be a major ordeal, but rather holding pack weight down is essential for enjoying the great outdoors.
There are some double models for people who want to share the tent with partners and friends. There are also some models which are extra-large, mainly to suit heavy and tall campers. You need to always consider the maximum weight limit of the hammock. Loading the hammock tent with more than the suggested maximum weight limit can reduce the useful life of the product, and is potentially unsafe.
Material
The more waterproof or water-resistant, the better. Because you're being suspended off the ground, you won't have to worry about the bottom of your tent getting wet.
However, you are even more prone to getting wet on all sides. If you're camping in the winter, look for hammock tents that are listed as "all-season" or "four-season", as these will be beneficial in protecting you against the cold winds and snow.
Size
This shouldn't really be an issue unless you're camping with other people. You have the choice of everyone carrying their own individual hammock tent to sleep in, or you can invest in something bigger where you can share space and body heat as you sleep.
Your hammock's length and width are typically a matter of personal preferences. So if you intend to sleep alone, choosing a hammock that is extremely wide can wrap largely around you and also make you feel claustrophobic. In case you are tall, you should try getting a hammock that is 8 feet or more.
Suspension Systems
There are wide varieties of suspension systems, but they are always decreased by a combination of carabiners and straps. Some models do exclude these, so try to look at this before heading out. The longer the tent straps and the more attachment points available, the better.
The suspension systems give the hammock greater flexibility to work around various kinds of trees. Ensure you make use of tree-friendly straps.
Accessories
There are some hammock accessories that can prove to be useful, depending on the location where you intend to camp. An integrated mosquito net might be important to camp in a deserted and buggy zone.
Also, if rain is likely going to fall in the region where you intend to camp, a rainfly is an essential accessory to have. We would suggest that you get a slightly larger model and one you can easily attach to the ground as this will keep you dry always even if the rain comes with strong side winds.
Price
You don't need to spend a lot of money to get a good hammock. That is the reason we've provided a variety of solid choices in various price ranges.
If you intend to make use of your hammock a great deal, it is advisable to spend more money on a quality product that you can use for a long time. So, ensure you consider the price and also figure out whether the hammock is worth the price.
Wrap Up
Now that we've learned more about seven of the top-selling hammock tents on the market, we hope we've helped you on your journey to finding the best-suspended shelter to take camping or backpacking on your next big adventure.
The most important thing to remember is that your next outdoor shelter should make you feel comfortable and safe, so you can sleep well off of the ground and get to crossing items off of your bucket list. Lightweight, versatile, fun and yet more dependable than you'd think, the Eagles Nest Outfitters Junglenest Hammock is our recommended tent for anyone who enjoys breathing the outside air, day and night.
You now have the product knowledge to make suggestions and provide advice to your camping buddies, especially if you'll all benefit from the right purchasing decision. Do you think we missed any of the great products out there? If so, please let us know in the comments.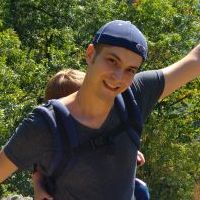 Daniel is a gear freak when it comes to hiking, climbing and camping. He went to REI Outdoor School to meet new people and learn best practices. Don't even try to argue with him about the latest backpack or ice axe, he tried most of them. Daniel's dream is to climb Mount Everest.