Whether you like to melt into the woods all by yourself for a week or so, bring the family to meet nature close-up or just want to keep a set of survival tools handy for an emergency, the need to get a good all-purpose camping axe or best camping hatchet will come up sooner or later.
Take a minute to reflect on what you need to get done. If you intend staying for a long time or perhaps have a wood-burning heating system at home, a heavyweight maul will deliver the quantities of wood you will require.
A lighter camping axe can also deliver the goods for persons who are shorter or of lighter build, but if you just need to chop light to medium firewood for general camping purposes, a lighter weight hatchet for camping will do the trick.
But how do you go about picking out the best camping axe? There are several features to look for, depending on what you're going to be doing on your camping trip. Here are just a few of the most important features to look for.
Top Camping Hatches
Note: We get commissions for purchases made through links in this article
Fiskars Consumer Prod 14-Inch Hatchet
Weight: 1.4 pounds
Dimensions: 16.6 x 5.8 x 1.1 inches
Head: Non-stick coated forged carbon steel. 7/8" head of the insert molded design variety, which means the head is fixed internally with molded plastic bolts so it won't come loose. The sturdy sheath provides a handy grip for carrying or hanging and the blunt end (butt) is exposed which allows you to use it as a hammer.
Handle: A hollow handle made of composite reinforced with fiberglass and then rubberized to improve grip and reduce shock, which lets you use the camping hatchet for long periods without excessive fatigue.
The end of the handle flares which significantly improves grip when you need to deliver extra power. There is a lanyard hole for another way to store or carry it.
Best Use: Chopping of small and medium-sized logs, kindling and clearing brush as the X7 is relatively light and easy to wield one-handed. Fiskars Consumer Prod 78506935 14-Inch Hatchet is not meant to be a heavy-duty maul, but will still perform well if you need a good quantity of wood split for firewood.
It is one of Fiscar's X-series, which is designed to leverage the weight of the solid head to increase the swing speed with a corresponding increase in power delivery. The result is a deeper chop on each swing with exceptionally high blade penetration. It can be used on dead pine, fir, and even maple.
This is a great kindling axe for wood splitting, and is highly recommended as an all-rounder for a good price
Related: Fiskars X15 23.5 Inch Chopping Axe
Fiskars X27 36-inch Super Splitting Axe
Weight: 4 lbs
Dimensions: 37.4 x 9.3 x 1.8 inches
Head: The low-friction coating on a forged steel blade helps to prevent getting the head stuck in the wood after delivering a power blow and the bevel convex blade pushes the wood away from the blade after striking for cleaner splits.
Fiskar's PermaHead over-mold design means that the handle is molded around the head to keep it in place permanently with no risk of it separating from the handle. Easy-carry sheath provided.
Handle: Fiskars X27 36-inch Super Splitting Axe has a very long handle which gives you tremendous leverage on each blow. Taller users will gain maximum power and speed. Fiskar's FiberComp material is lightweight but virtually impossible to break. The longer the handle, the less effort required to do splitting jobs.
Best Use: Tackle all of your medium, larger and bigger size logs, including all hardwoods like oak, walnut, and black locust. The design will enable notably taller users to achieve splits in one strike.
Like its smaller cousin the F7, the beveled blade profile makes it easier to remove the blade from wood. This axe may be light, but you need less momentum than with a much heavier maul, and it is much simpler to aim and to control your swing.
A professional grade tool and not too heavy, although shorter family members may do better with a shorter handle.
Related: Fiskars 18-Inch Machete
Estwing E24A 14 Inch Sportsman's Axe
Weight: 0.9 lbs
Dimensions: 13x5x1
Head: The handle and head are drop-forged All-American steel and fully polished with a tempered 3,1/4 "cutting edge. The head and the shaft are a single piece of fine steel. A heavy-duty nylon sheath is provided.
Handle: Estwing E24A 14 Inch Sportsman's Axe makes several of the best camping axes to choose from. This 14" longer handle is ergonomically designed to reduce arm fatigue. The handle features a beautiful and comfortable grip of sanded and lacquered leather to cushion the impact of your blows.
Best Use: The Estwing tradition goes back to 1923, and you have likely encountered at least one Estwing in your life. This 14" camping hatchet is not meant to do all of your heavy splitting, but is the perfect outdoor and general destruction work tool that we sometimes need in yard work. The solid tapered head is easy to sharpen, as it is thinner than many hatchets with fiberglass or wooden handles.
The thinner blade contributes to deeper cleaving on every stroke. The Estwing E24A is relatively light and can be used one-handed to clean brush or to split smaller pieces of most types of firewood and kindling.
This rugged piece of steel will take many years of hard handling and can be used by most family members.
Related: Estwing E45A Camper's Axe with Vinyl Shock Reduction Grip
Gerber Bear Grylls Survival Hatchet
Weight: 1.4lbs
Dimensions: Size: 9.46 in with 3.5" blade
Head: Another full-tang hatchet, so the entire high-carbon steel tool is forged from one piece to make it very strong. There is no welding. Gerber Bear Grylls Survival Hatchet features a convex (curved) blade to make chopping firewood easier. The flat side of the head is useful as a hammer. The nylon sheath has belt loops and other options for easy carrying.
Handle: The ergonomic handle design is coated with a non-slip rubber for a secure grip in all conditions and the rubber coating also reduces the shock of delivering the blow when you chop into a solid piece of wood.
This hatchet uniquely features finger cutouts that are at the joint of the head and the handle which will let you control the hatchet almost as if it is a knife; it is a genuinely multi-function piece of equipment. The handle flares towards the end of the handle to increase grip and control for better aim.
Best Use: This is a fine multi-function medium duty survival tool in the Bear Grylls tradition. It can be utilized for fine shaving, slicing and cutting work, as well as chopping saplings, kindling and smaller pieces of firewood. It is exceptionally durable and hardwearing, and will gamely tackle trees for shelter building, although it remains a hatchet for camping and not a heavy-duty axe.
The flared portion towards the end of the handle improved grip and aim, and it sports a large lanyard hole for even more carrying options. Like all Bear Grylls products, you get the waterproof Priorities of Survival Pocket Guide by Bear Grylls with the product.
As it is full-tang, it is not the lightest hatchet for camping in its class, but it is one of the most compact and durable hatches for the price. Suitable for all body types and sizes.
Related: Gerber Bear Grylls Field Sharpener
United Cutlery M48 Ranger Hawk Axe with Compass
Weight: 2.3 lbs
Dimensions: 15-1/2-Inch overall length
Head: The light head gives you an 8-Inch blade length secured with bolts for safe long term use. The very handy quick-release nylon sheath has velcro straps plus belt loops for carrying and storing.
Handle: Nylon handle reinforced with 30% fiberglass makes this a pretty tough handle to try and break during normal outdoor handling or throwing. The manufacturers recently added a 550 paracord wrap-around to the tool which gives you 10ft of cord and provides an excellent grip.
Best Use: United Cutlery UC2836 M48 Ranger Hawk Axe with Compass is a high-quality survival tool for light to medium use, and as a bonus comes with a compass made of durable plastic. The curved-edge blade makes it an excellent tool for quick chopping of small to medium firewood pieces including all kinds of hardwood.
You can prepare kindling, hack of small branches, do some brush cleaning and when you get bored, its streamlined profile will allow you to indulge in some tomahawk throwing. The Ranger Hawk Axe is very rugged and will take a lot of rough handling, and has earned a reputation as a good, balanced throwing 'hawk for a very moderate price.
The weight makes it easy to handle but the longer handle makes it harder for young or short family members.
Related: United Cutlery M48 Tactical Hammer
SOG Tactical Tomahawk
Weight: 1.5 lbs
Dimensions: Length: 15.75-inches
Head: A light 2.75-inch stainless steel axe head secured by a metal sleeve and two screws. Use the blunt end as hammer. Molded sheath to protect the edge (and you!)
Handle: The Sog Tomahawk has a glass-reinforced ballistic polymer handle with a reputation for shrugging off abuse. The polymer handle will take rough handling with nary a scratch and without the head loosening.
Best Use: The Sog Tomahawk looks like it means business and although it will chop a 2×4 in half, it is used mostly as an all-around survival and tactical tool. Enthusiasts use the Sog for clearing trails, digging holes, cutting firewood, and letting it double up as a weapon for self-defense or even breaching and extraction.
The Sog Tomahawk will do all of your light chopping, hammering and other camping tasks and then will provide entertainment as a light, well-balanced throwing axe.
It is an excellent quality tool for a very good price with features you would usually see on a higher priced Tomahawk.
Related: SOG Tomahawk with Coyote Handle
True Temper Sledge Eye Wood Splitter-Maul
Weight: 6 lbs.
Dimensions: 7.5″ blade with 36″ handle
Head: Integral-molding technology provides a secure hold on the hefty axe head. The heavy blade leverages the weight of the True Temper Sledge Eye 1190400 Super Splitter Wood Splitter-Maul in addition to the momentum given by the long handle to make heavier firewood chopping a breeze.
Handle: A polypropylene cover is molded over the 36" handle's fiberglass core for incredible strength, supreme durability, and the lightest possible weight. The lighter handle lets the head generate extra speed during the swing.
Best Use: If you need a lot of firewood and use hardwoods like hickory, maple, oak, or locust, this is your axe. Even though it is not the heaviest maul out there, the long handle in combination with the heavy head gives you a bigger splitting power than lightweight hatchets, even though this is by far not the heaviest maul on the market.
You won't damage it with overstriking, and if well controlled the Super-Splitter will split every knotty, twisted piece of firewood you can feed it without any hassle.
This tool is highly recommended for regular wood choppers who can commit on a first swing. It gives a lot of power without a massive weight.
Estwing E44A 16-Inch Camper's Axe-All Steel
Weight: 2.9 pounds
Dimensions: 4″ cutting edge with 16″ approximate overall length
Head: The Estaing's well known quality full tang, one-piece forged steel, with fully polished handle neck and head comes with a protective clip-on sheath. The blunt end can be used to knock tent pens into hard ground.
Handle: The 16" solid handle contributes to the overall weight and is overlaid with a shock-resistant material to reduce the shock conveyed to your hand, shoulders and spine by the impact of the blade on wood. The overlay provides a comfortable, durable surface texture.
Best Use: This is not quite a full-sized axe but is a large hatchet. It is ideal for super-fast splitting of firewood, shaving, de-branching, and trimming, it is more than adequate for light to medium logging needs around a camp or for general outdoor use at home.
The ergonomic handle reduces fatigue when you do bigger tasks like felling trees, and it is still light enough to use with just one hand for close work. The edge is easy to touch up, holds well and like its other Estwing cousins, this is overall a very durable product.
Related: Estwing E45ase Special Edition Black Eagle 26″ Campers Axe
Blades
Camping hatchets come with a variety of blades, each equipped for different kinds of jobs. The majority of hatchets are split into four different kinds of blades:
Convex: a hatchet with a convex blade is good for splitting logs. Be wary of the angle, however; if it's too convex, then it won't cut through the wood as efficiently, and you'll have to work that much harder to get the job done.
Concave: these are great for stripping branches and will provide you with a very deep cut. Too concave, however, and your blade could sink into the wood so far that you'll have to struggle to get it out.
Flat-edge: this blade will provide a neat finish, but isn't very versatile and won't cut very deep.
Round-edge: this blade can cut quite deep, but you won't have as neat a finish, if that's important to you.
Kind of Hatchet
Taking these various blades into account, it's easy to understand that there are different kinds of hatchets as well, taking into account the weight and size of the blade, as well as the length of the handle.
So what are the various kinds of hatchets?
Wildlife hatchet: the head of the axe usually isn't more than 1 lb., allowing just about anyone to use it quite easily. It's also small enough to fit into a backpack, so that the weight that you carry is minimized. A wildlife hatchet can be used to perform light carving work, and can be move around much more quickly than a heavier axe.
Hunter's axe: one of the more important features of this axe is the flay poll – the side of the head that is opposite the blade – and is forged much thinner than normal. It's also been rounded out and burnished so that it makes it easier to skin animals. This is very useful for those campers or hunters who are interested in catching their own meals. Other than skinning, the blade can also be used to chop through wood, such as small trees and branches.
Small forest axe: if you only have the money to carry one kind of axe with you, this should be the one. It's considered an all-purpose axe that can accomplish many of the tasks that you'll face while you're camping. The handle is usually long enough to provide you with some powerful chops, and can cut quite deeply into wood. It can split small logs for fires or shelters, and it can even be used for carving.
Limbing axe: this is the kind of hatchet a professional would use if he needs to fell a tree the old-fashioned way. They have quite long handles, requiring you to use it two-handed. Because of it's size, it may not fit into most backpacks, and you'll have to carry it by hand.
Length and Size of The Handle
Some people like to go for the biggest and heaviest axe they can find, but that would be a very big mistake. People have different heights and strengths, and even the best axe isn't going to help you if you can't hold onto it properly. As mentioned before, the jobs that you'll be undertaking with your axe will also influence the kind that you decide to purchase.
If you're looking for an all-purpose axe, then the best way to measure it is to match the length to your arm. Grasp the head of the axe and tuck the handle against your body, into your armpit. The toe of the haft should rest in your armpit quite comfortable.
The length and size of your camping hatchet will also determine how heavy it is, so be careful with what you get. There's no point in getting something that will be too much of a burden to carry.
Fans of the outdoors usually require a camping hatchet light enough to carry for some distance, but robust enough to help you to build a shelter, split logs for firewood, clear brush, double up as a hammer and still maintain a razor edge to let you slice open a freshly-caught trout. Sounds impossible? Not at all. Here's a look at some of the best camping hatchets that will do the trick:
Conclusion
Choosing the best camping hatchet is an exciting process. It lets you contemplate all the wild places, unusual environments and diverse scenarios you could hope to encounter.
If it is a good idea to always carry a camping hatchet, it's an even better idea to invest in two camping axes. It will allow more than one person to help when clearing out a camping space, or it will allow one to get on with chopping firewood while you forage for something to add to the evening menu.
You'll never be stuck if the one gets lost and there will be no more excuses by any family member not to contribute to getting the campsite ready! Besides, it is great exercise.
Remember to sharpen the blade when you get home, and do purchase a field sharpener with your hatchet – a blunt edge will do you absolutely no good. Field sharpening kits make it really easy to keep the edge honed, but if you use it very regularly, consider getting it professionally sharpened once a year.
A tidy, compact camping axe in your boot will also come in handy in emergency situations, and besides, you'll be ready for a bit of light zombie warfare, just in case. Are there any camping hatchets we failed to mention in this article? Feel free to comment below, and don't forget to share this article with your friends and family. It pays to be prepared.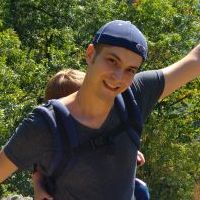 Daniel is a gear freak when it comes to hiking, climbing and camping. He went to REI Outdoor School to meet new people and learn best practices. Don't even try to argue with him about the latest backpack or ice axe, he tried most of them. Daniel's dream is to climb Mount Everest.