Have you ever been hiking or camping and forgot to bring a cooler of water bottles with you? Don't worry, hope is not completely lost and you still have the means of obtaining drinkable water without having to hike hundreds of miles to the nearest convenience store.
The solution is to find the best backpacking water filter. They're capable of taking water from almost any source and transforming it into potable drinking water to keep you hydrated. Even lakes filled with fish and covered in pond scum can be exactly what you need to quench your thirst.
But how do you go about finding a water filter that's capable of handling such a job? We're about to answer that question for you throughout this article by showing you exactly what you need to look out for, as well as recommending a few products to you to consider.
Note: We get commissions for purchases made through links in this article
Best Products on Today's Market
With the details laid out for you on what you should be looking for in a water filter, it's time to look at some of the top rated products in the market.
Platypus GravityWorks Filter System
Weight: 10.75 oz
Dimensions: 5.8 x 2.8 x 13.2 inches
Specific features: No pumping, fast filter, meets all EPA & NSF guidelines, hollow fiber advantage
Best use: Outdoor activities, survival
If you're looking for a fast filtering system without having to use a chemical treatment, the Platypus GravityWorks Filter System will be able to filter your water in 2.5 minutes. It back flushes in 4 seconds and has a high performance rate without having to use additional accessories.
The Proprietary Platypus zip opening will allow you to collect water if you're ever in a survival situation, making it easy for you to fill the bags up and start the filtration process in no time.
It meets the EPA & NSF health and safety standards and removes bacteria and protozoa including Giardia, E. Coli, Salmonella, Chloera, and Cryptosporidium, which are not ideal when you're going to less-developed countries.
PROS:
No pumping required
Gravity does all the work
Folds up easily to fit into the pocket of any backpack
Great for groups
CONS:
Can be considered expensive for what you get
Related: For your filtering system, you'll eventually need to change your filter. For the Platypus filtering system, it has its own custom filter called the Platypus GravityWorks Filter Cartridge, which is the main component of the above-mentioned product. It's small enough to carry an extra one with you on your trip without adding a lot of weight to your gear.
MSR Autoflow Gravity Filter
Weight: 10.5 oz
Dimensions: 11.3 x 20 inches
Specific features: No pumping, fast filter, lightweight
Best use: Outdoor activities
You won't have to pump in order to get your water. Actually, you just need to let gravity do the work for you. The MSR AutoFlow Gravity Filter lets you filter 1.75 liters of water per minute. You'll also be able to clean the filter without having to take it apart, which can sometimes be difficult to put back together again. Even when your filter's stopped performing well, you can have clean drinking water again in no time.
You'll be able to use the filter directly to any bottle or reservoir and doesn't alter the taste of your filtered water. A great option if you want a filtering system that's easy to transport and allows you to use your own drinking receptacles. Overall, this is another solid water filter that can make your backpacking hydration a lot better.
PROS:
Reliable
Filters water quickly
Easy to change the filter
CONS:
Not suitable for filtering large amounts of water on a single trip
Related: The MSR Dromedary Bag is a great addition to your AutoFlow Gravity filter. It's a 3-in-1 that lets you fill, drink and pour. It can also handle varying temperatures of water and is BPA-free so there's no added taste to your water. When it's not full, it's easy to fold up and store in your bag for use later, and can handle water at any temperature, whether it's freezing or scalding hot.
Katadyn Gravity Camp Filter
Weight: 28 oz
Dimensions: 8 x 3 x 9 inches
Specific features: 6 liter bag, Ultra Flow Filter Technology, converts to shower
Best use: Outdoor activities
This is a great filter if you're going on multi-day backpacking trips. Katadyn Gravity Camp Filter is a 6-liter bag with a water indicator window so you'll know when you need to refill. You'll be able to filter 2 liters of water in 2 minutes with the Katadyn Gravity, which is more than what most gravity filters can handle.
Without changing the filter, you'll be able to get 1,500 liters of drinking water that will be filtered against bacteria, protozoan cysts, and sediment.
In addition, it can easily connect to most hydration bladders and can also convert to a shower with an extra adapter. And just like that, you have a reliable backpacking shower that you can use in the wild. Overall, this water filtering system can only be described as high quality and with some interesting features, it's hard to go wrong with this one.
PROS:
Very convenient, especially with the shower adaptor
First filtering is slow, but picks up with use
Convenient to hang so it stays out of the way
CONS:
Not a great choice if you have nothing to hang the bag from
Filter can be difficult to keep clean
Related: Sometimes, when you're backpacking, you won't be able to have a nice warm shower in a hostel or campsite. So, you're going to have to improvise. Katadyn will be able to turn your filter into a shower with Katadyn Shower Adapter. You'll be able to have a shower wherever and whenever you want so you can feel refreshed for the rest of your hiking journey for the days to come.
Katadyn Hiker Pro Microfilter
Weight: 28 oz
Dimensions: 2.75 x 8 x 8.75 inches
Specific features: Easy fill bottle, lightweight, hydration systems compatible
Best use: Outdoor activities
The Katadyn Hiker Pro Microfilter is a great filter if you're looking to remove bacteria, protozoa, cysts and algae. It's also ideal because it removes chemicals and doesn't alter the taste of your drinking water due to the activated carbon. The one downside to this is that you have to do all of the work yourself; simply place the filter in any body of water, and start pumping.
The added hose makes it easy for you to filter the water into your hydration bladder or any water bottle you have with you. That means less bulk to carry around and no setting up of gravity filters when you stop for a rest.
The field cleanable Filter Protector Screen also aids in increasing the lifespan of the cartridge if you're in a survival situation. In addition, it's lightweight – at only 11 ounces – so it won't be weighing you down on your journey.
PROS:
Reliable
Can be pumped quickly to have drink water on hand
Light and small
CONS:
Inlet nozzle seems to break easily
Related: You'll need a cartridge in your filter, so we recommend the Katadyn Hiker Pro Replacement Cartridge. It's made specifically for this water filtration system and does an exceptional job of cleaning your water, up to 300 gallons. That's a lot before it needs replacing! Its small size makes it easy to pack into any backpack, so you can have a backup when your first filter is starting to act up.
Lifestraw Personal Water Filter
Weight: 1.8 oz
Dimensions: 8.86 x 0.98 x 8.86 inches
Specific features: Removes waterborne protozoan parasites and bacteria, filters up to 1000 liters of contaminated water, comes with sealed bag
Best use: Outdoor activities
The LifeStraw Personal Water Filter is an award-winning filter that's used globally since 2005. This can be used in third world countries, as it removes a minimum 99.9999% of waterborne bacteria and exceeds the EPA standards for water filtration systems.
It can filter up to 1000 liters of contaminated water with just one filter. It doesn't use chemicals, iodine or chlorine in order to filter your drinking water, so there's no need to pack anything extra to get the Lifestraw to work.
It also comes in a sealed carrying bag and can be easily transported wherever you go. Because you're a backpacker, you'll want a filter that's not going to weigh you down and this is a great one. There's a good reason why it's one of the more popular outdoor water filters out there. It's more than reliable to get the job done of providing clean water while outdoors.
PROS:
Affordable
Easy to pack
No moving parts to break
CONS:
Straw can clog easily
Can be difficult to draw up water
Related: If you like the size of the LifeStraw, the Survivor Filter is also another filtering system that's a reusable portable filtering device. It's similar in design, lightweight, and it's also capable of removing viruses in water to eliminate any chance of water-borne diseases.
If you're not interested in ducking the straw into water, you can collect water into a bottle and then attach it to the bottom of the device, giving you fresh, clean water no matter where you're getting it from.
Lifestraw Mission Water Purification System
Weight: 13 oz
Dimensions: 4 x 5 x 12 inches
Specific features: High capacity, gravity-fed, 18,000 liters lifetime filtration capacity
Best use: Outdoor activities, survival
The LifeStraw Mission Water Purification System is another exceptional filter that'll be able to provide you safe drinking water whether you're backpacking or in survival situations. Its award-winning technology will filter your water without using chemicals or batteries. It removes 99.9999% of bacteria, protozoa, and viruses, making this an ideal filter for third world countries as well.
You simply hang the high-volume filter and let gravity do the work. Gravity pushed the water through the hose, into the ultrafiltration membrane. It's highly compactible, BPA-free and can be easily filled with river or lake water. The LifeStraw Mission also comes with a carrying bag for easy storage and transportation. Over its lifetime, you'll be able to filter 18,000 liters of water, with 9-12 liters per hour being filtered.
PROS:
Great for groups traveling together
Handles a lot of water before filter needs replacing
CONS:
Size makes it slightly difficult to pack
Plastic valves are cheap and can break if you're not careful
Related: The Survivor Filter Collapsible Canteen is another ideal option if you're looking for something similar. You'll be able to filter water and collapse the canteen, making it easy to transport and maximizes the space you'll need in your backpack. The opening of the canteens also makes it easy to connect any filter hose so that filling up is easy and quick.
Sawyer Mini Water Filtration System
Weight: 2 oz
Dimensions: 8 x 3 x 4 inches
Specific features: High performance filter, attaches to included drinking pouch
Best use: Outdoor activities
The Sawyer Mini Water Filtration System is a good option for any outdoor activity including international travel and emergency kits. Fitting in the palm of your hand, you'll be able to easily transport the Sawyer Mini Water filter without weighing yourself down. It attaches to any drinking pouch (each filter comes with a 16-ounce pouch), standard water bottle and hydration bladders.
You can drink directly for the filter. It removes 99.9999% of the bacteria and protozoa from your drinking water – making it completely safe to drink.
The filter can clean to up 100,000 gallons of water and the kit comes with a 16-ounce reusable squeeze pouch, 7-inch drinking straw, and a cleaning plunger. There are also plenty of options when it comes to colours and number of storage pouches so that if you're traveling in a group, everyone can have one for themselves.
PROS:
Easy to fill
Reliable even after years of use
Affordable
CONS:
Drinking pouches could be bigger
Can result in leaking
Related: If you want a faster way to fill your pouches, then it might be a good idea to consider the Sawyer Fast Fill Adapters. Just attach one to your Mini Squeeze filter, and your reservoirs will start filling up in no time, and without you having to remove it from your pack. It makes filling up hassle-free, so you can spend more time getting through your trek.
MSR Guardian Purifier
Weight: 36 oz
Dimensions: 12.25 x 5 x 5.25 inches
Specific features: Fast pump, self-cleaning, extremely durable
Best use: Outdoor activities, survival
The MSR Guardian Purifier is an ideal purifier if you're backpacking on multi-day excursions, specifically in more virus prone areas, such as third world countries. It removes viruses, bacteria, protozoa and can treat up to 10,000 liters in one sitting. It also boasts a fast filter that can pump up to 2.5 liters per minute.
This is truly a heavy-duty filter as it can filter water through freezing temperatures, it was a standard filter used in the U.S. military. The filter is made of hollow fibers which catch all the life threatening bacteria and sediment. The product is also engineered to withstand heavy use which means that it's a great option for outdoor use.
This is really a great purifier to use if you'll be in extreme weather conditions or illness prone areas. If you're looking for something more durable, then this is an amazing option.
PROS:
Withstands heavy use
Extremely durable
Self-cleaning
Related: Another great filter is the Survivor Filter Pro Filter. It's a heavy-duty filter which will be able to filter 100,000 liters of water in its micron nanofiltration water purifier. And when it's time to change the filter, the process is extremely simple.
Although it is a filter for a pump-type water filtration system, this product is designed to withstand a lot of use. It's durable, will lock into place so the dirty water remains where it is, and won't fall off even while you're pumping.
Katadyn Vario Water Filter
Weight: 30 oz
Dimensions: 10 x 10 x 4 inches
Specific features: Dual pumping modes, glass fiber filter, replaceable carbon core
Best use: Outdoor activities, survival
The Katadyn Vario Water Filter is an exceptional filter that's designed simply yet effectively. You don't know when you'll be needing to use this filter, so you want one that's easy to use. Katadyn used the best technology to create a filter that has three filtration levels but isn't bulky nor heavy.
It comes with a high-performance glass fiber filter, a ceramic pre-filter that is adjustable depending on the murkiness of the water and lastly, the activated charcoal removes the odor. The ceramic disc also extends the lifetime of the microfilter while the glass-fiber filter eliminates waterborne bacteria.
The carbon used in the filter aids in reducing chemicals and pesticides in your water. It also comes with a one-year warranty if anything should happen. Overall, a great investment to your health and safety while braving the Great Outdoors.
PROS:
Pumps fast
Doesn't require a lot of effort
Instructions are easy to understand
CONS:
Clog easily
Plastic inlet is exposed for easy breaking
Related: The Katadyn Pocket Water Filter is a great buy if you want something small and transportable. It comes with a 20-year warranty and is ideal for international travelers and backpackers. It's definitely a lot smaller than the product reviewed above, so it's a bit easier to bit into the water bottle pocket of your backpack.
Aquamira Water Treatment Drops
Weight: N/A
Dimensions: N/A
Specific features: Kills odor causing bacteria, enhances taste, easy to use
Best use: Outdoor activities, survival
Some people don't want to carry around a water filtration system, which is perfectly fine. That just means you'll have to find an alternative source to clean your water from bacteria and viruses.
The Aquamira Water Treatment Drops will kill odor causing bacteria and improve the taste of your water. You'll be able to keep the treatment drops for up to 4 years and it'll be able to treat up to 30 gallons of water. It's extremely easy to use as you simply use a couple drops in your water and it'll be ready in a couple minutes to drink.
Unlike iodine, these drops won't discolor your water nor create a bad taste. Without a doubt, this is one of the more reliable water treatment products that you can buy in the market. It works, handy and easy to pack – what more can you ask for in a backpacking water filter?
CONS:
Have to wait a long time for the drop to work before drinking
Only for odor-causing bacteria; will not eliminate hazardous bacteria/viruses
Related: The Thermo Tank Insulated Stainless Steel Water Bottle is a great option to use with your treatment drops. It'll keep your water nice and cold for up to 36 hours while it's being treated by the Aquamira Water Treatment drops, and the additional use of copper in its construction will kill further bacteria that managed to make it into your drinking water.
Things to Consider Before Buying
When it comes it finding a filter, it's important that you take into account the various kinds of filters that are out there. It can be confusing, browsing through products and not knowing which ones will serve your needs best. That's why we're going to make the job easy for you and lay out everything you should be looking for when buying your own water filter.
Knowing the Difference between a Filter and Purifier
The biggest and most important difference between a water filter and water purifier is based on the microorganisms they're able to remove.
Water filters strain out protozoan cysts and bacteria. Protozoan cysts are the dormant stages of microorganisms, and the most common ones found in contaminated water are Cryptosporidium and Giardia lamblia. Bacteria that can be found in water sources include E.coli, Campylobacter, Salmonella, and Shigella. These can make you extremely sick, and you may suffer from dehydration, diarrhea, vomiting, nausea, muscle weakness and fatigue, and a whole host of other symptoms that can jeopardize your life if you're not properly prepared to deal with them.
Water purifiers also strain out protozoan cysts and bacteria, however, they also remove viruses which are too small for filters to get. Purifiers are ideal if you're traveling to third world or transitioning countries as this will protect you from Hepatitis A and Norovirus.
Type of Water Filters
Many filters work in various ways to get rid of bacteria, protozoans, and viruses in water. These various methods determine the kind you should get, especially if you're going camping, in order to avoid the hassle of carrying a lot of heavy equipment with you. Here are a variety of different kinds of water filters.
Chemical Treatments: Chemical treatments will help eliminate bacteria and viruses, including Cryptosporidium. However, only after an extended period of waiting time. It does not eliminate separate particles and is known to also create a bad taste in the water.
Portable hand pump filters: A hand filter lets hikers pump the water through a filter for immediate drinking. It's a great alternative for those who don't want to use chemical treatments. It's generally lightweight and provides above standard EPA drinking water.
Microbiological purifying systems: This is ideal if you're backpacking in a third world country, as it eliminates viruses as well as large organisms that can be filtered. It meets the EPA standards so you'll be safe from viruses, bacteria, and organisms.
Filters: Filters are able to eliminate bacteria and Cryptosporidium, but they do not eliminate viruses. Thus, it's typically used in first world countries. They do strain separate particles, if you're looking to strain out viruses, you'll need a filter that has smaller pores.
In Conclusion
Having clean, potable water is no joke, and knowing what's available out there has definitely made you more prepared for your buying experience. With all the details we've laid out for you, the comparisons made between products, and the factors you should be looking for, there's no doubt in our mind that you'll be able to find a water filter that's perfect for your needs.
So, have you used a water filter product while backpacking in the past? Do you have a certain product that you might want to recommend? Feel free to comment below!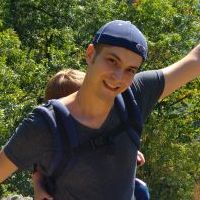 Daniel is a gear freak when it comes to hiking, climbing and camping. He went to REI Outdoor School to meet new people and learn best practices. Don't even try to argue with him about the latest backpack or ice axe, he tried most of them. Daniel's dream is to climb Mount Everest.