Take only photos, leave only footprints – it's the motto to live by in the wilderness. There's nothing more beautiful than what nature has to offer, and capturing a desert sunrise, wandering wildlife, or family photo is one of life's best little pleasures.
Photos last a lifetime, and can bring you back to those special places in an instant for years to come. However, do you agree that getting that perfect shot can be tricky? Well, you can easily do that with the best backpacking tripod.
Getting your picture-perfect snapshot can be difficult, though – especially when it means hauling 50 extra pounds of gear in your backpack. It can be tempting to sack the camera for the sake of weight savings. There is good news, however!
Hikers and backpackers don't need to can the camera – or the accessories – any longer, thanks to new lightweight, flexible designs and materials of today's backpacking tripods. Don't know how to start shopping? Well, we are here to help!
In this article, we'll go over some of the most important factors when shopping for a backpacking tripod. Plus, we have reviewed some of the best tripods that you can get in the market. Let's get to it!
Note: We get commissions for purchases made through links in this article
[table "108nbspresponsivescroll" not found /]
Best Products on Today's Market
Without further ado, here are eight of the best hiking tripod suggestions:
Slik Mini II Tripod
Weight: 1.75 lb
Dimensions: 6.4 x 2.9 x 13.8 in.; 43.4 in. max H
Specific features: Aluminum alloy and carbon fiber; ball and socket head; multiple colors; multiple leg angles with locks; quick release mount
Best use: Casual backpacking; serious photography
Description: The Slik Mini II Tripod is the perfect companion for intermediate to hardcore photographers who need a lightweight tripod in the field. This highly-adjustable product is perfect for light- to mid-weight cameras, and can adjust anywhere from just 6.4 inches off the ground to a maximum height of 43.4 inches.
The legs are ultra-adjustable and can be locked and splayed all many angles, allowing for a wide variety of uses on all types of terrain. The ball head utilizes a quick-release mount for quick setup and quick tear down, making this an easy-to-use model that won't let you down.
In addition to its ease of use, this is a highly durable and well-made product that boasts high-quality materials and craftsmanship. The body is made up of aluminum allow and carbon fiber that cut down precious pounds without sacrificing durability.
Once you're done, pack it up with four-sectioned legs and padded wraps that make it an ease to carry. This is a great item for backpacking and photography enthusiasts alike.
PROS:
Packable
More durable
Ball head
Related: For a little more heavy-duty option, check out the SLIK Sprint Pro EZ Tripod, a heavier, but more durable, SLIK model with the same great quality and materials.
AmazonBasics Lightweight Tripod
Weight: 1.2 lb
Dimensions: 3.1 x 3.1 x 16.7 in.; 50 in. max H
Specific features: Aluminum; includes bag; 3-way head; three-section legs; quick-release mount; locking 360-degree swivel/tilt head; lever-lock legs
Best use: Casual photography
For beginner photographers who are trying to perfect their game, the AmazonBasics Lightweight Tripod is a great entrance to the world of photo accessories in the backcountry.
This handy little tripod has all the basics, as suggested by the name, without a lot of extra flare, and combines ease of use with convenient packing for those who want to learn without spending a lot of extra money. The swivel/tilt head comes with a quick release plate for fast mounting and dismounting, allowing you to set up quickly and with minimal worry.
Although this model doesn't allow for heavier cameras or a ton of extra adjustments on uneven terrain, it's a great choice for those who don't need a lot of extras or plan to take simple shots. It comes with its own carrying case, which makes it easy to pack up when your done – and an easy addition to any day pack or backpacking pack.
PROS:
More affordable
Easy to use
Includes bag
CONS:
Lower maximum weight
Less adjustability
Related: For a taller model of this product with a few more features, check out the AmazonBasics 60-Inch Lightweight Tripod, which offers an extra ten inches of height.
Pedco UltraPod Tripod
Weight: 0.1 lb
Dimensions: 1 x 1.25 x 4 in.; 5 in. max H
Specific features: Fiberglass-reinforced nylon; lightweight; vinyl feet; folds to four inches; lifetime warranty; ball and socket mount; Velcro strap included
Best use: Serious backpacking
Description: The Pedco UltraPod Tripod is the ultra-lightweight solution for backpackers who want steady shots without breaking their backs or over-stuffing their packs.
This simple, small, and sturdy tripod is made from fiberglass-reinforced nylon, which makes for a seriously tough product that holds it weight without adding much of its own – a miniscule 0.1 lbs. The fold out legs pack down to just four inches, making this a backpacker-photographers dream for small, lightweight gear that works.
The Pedco comes with a Velcro "one wrap" that can be used to strap the mount to branches, fences, stumps, or any other available material – which helps make up for its short maximum height. Add in the ball and socket mount, there's no picture-perfect angle this tripod can't make happen.
Combined with its affordability and lifetime manufacturers warranty, this comes as a highly recommended product for all serious backpackers who want to cut ounces without cutting quality.
PROS:
More affordable
Ultra-lightweight
Easy to pack
CONS:
Low weight limit
Short height
Related: For another versatile product, check out the Pedco UltraPod GO Tripod, which doubles as a pistol-grip handheld camera mount as well.
Dolica TX570DS Compact Tripod
Weight: 2.5 lb
Dimensions: 4.5 x 4.5 x 14.5 in.; 57 in. max H
Specific features: Gauged aluminum; with or without monopod; four leg extensions with ribbed locks; dual center column; ball and socket head; weight hook center column; rubber feet; quick release plate with safety catch
Best use: Serious photography
Description: The Dolica TX570DS Compact Tripod is a product built for photographers, but backpackers will benefit, too, from its sturdy, lightweight design. Made from a high-quality gauged aluminum with no-slip rubber feet, this tripod offers durability and last, as well as peace of mind through many uses in all types of conditions.
The large max height, weight capacity, and ball head allow for a ton of adjustability and angling to get the perfect shot, every time – and you can rest assured that your fancy camera will be just fine on the quick-release plate with its safety catch.
This product is a little heavier than some of the smaller models, but its well worth the weight for the quality of materials and its durable design. Photographers who need a high-quality, reliable product that's portable will be more than satisfied with the Dolica tripod, and a manufacturer's warranty can be requested just in case.
PROS:
More sturdy
Larger max height
More durable
Related: For a simpler camera accessory with the same great quality, check out the Dolica G100 Pro Level Gun Grip, a handheld mount to help you stabilize your shots.
Zomei Q555 Camera Tripod
Weight: 2.9 lb
Dimensions: 4.5 x 5 x 19 in.; 62.5 in. max H
Specific features: Aluminum alloy; quick release plate; inverting legs; three angle leg positioning; ball and socket head; four-section legs; included carrying case
Best use: Serious photography
Description: The Zomei Q555 Camera Tripod is another great option for those who want a high-quality photography product without all the extra pounds. This item has all the benefits of a professional-level camera tripod, but weighs under three pounds and packs down to a slim size that can easily be carried on the side of a pack.
It features a quick release plate and ball and socket head for easy adjusting, as well as highly adjustable legs which can be inverted to 180 degrees. The legs feature 4 sections for individual adjusting, making it perfect for uneven surfaces out in the woods, desert, beach, or mountains.
This model is best suited for those who want a serious product – and have a serious camera. It has a high weight capacity and is built to hold professional-level cameras. Those who stick to point-and-shoots may opt for a smaller, lighter model, but if high quality is all you desire, the Zomei is your perfect match.
PROS:
Taller
More durable
More stable
Related: For another high-quality option, check out the Zomei Z818 Hiking Tripod. Designed with hikers in mind, this product offers the best in packability and durability.
Manfrotto PIXI Mini Tripod
Weight: 0.4 lbs.
Dimensions: 3 x 7.3 x 3 in.; 5.1 in. max H
Specific features: Technopolymer and aluminum; sleek design; rapid push button lock; multiple colors; ball and socket head; doubles as gun grip; compatible with cameras and iPhones; redddot, Design Award winner
Best use: Serious backpackers
Description: For those seeking the ultimate in lightweight, intuitive design, the Manfrotto PIXI Mini Tripod delivers. This Italian tripod is the winner of several awards for its simplicity and function, including the reddot award and the Design Award in 2015.
It features a simple button press release – no more confusion when mounting. The attractive, slim design doubles as a gun mount for hand-held shooting, allowing for even quicker deployment when you're on the go. The ball and socket allows for perfect angling every time, so you'll never miss a shot.
Although the legs are non-adjustable, the PIXI makes up for it with its super-easy packability and miniscule weight – only 0.4 lbs. Made from technopolymer and nylon, this tripod offers high-quality material, ease, comfort, and style – all features that backpackers can look forward to in a world of overpriced, bulky gear. This is truly the cutting edge in design, and comes highly recommended from photographers.
PROS:
Lightweight
Good packability
Stylish
CONS:
Short height
Less adjustable
Related: Add even more flexibility to your PIXI with the Manfrotto Universal Cell Phone Clamp – a mount that allows you to use your tripod with any smart phone camera.
Mefoto Travel Tripod Kit
Weight: 2.6 lb
Dimensions: 3 x 3 x 12.6 in.; 51.2 in. max H
Specific features: Aluminum; multiple colors; two leg angles; spring loaded center column hook; inverting legs; five-section adjustable legs; weather- and dust-resistant legs; 360-degree pan and tilt mount
Best use: Serious photography, casual backpacking
Description: The Mefoto Travel Tripod Kit is another in our list of high-quality products for the more intense photographers among us. This tripod takes a more traditional style, featuring highly adjustable legs and a spring-loaded, weighted center column that keeps your camera steady and secure, regardless of its weight.
The legs have five sections, allowing for versatile adjustment on uneven surfaces – and the weather- and dust-proof design makes it well-suited for dusty, wet, and humid conditions in all kinds of environments. The pan-and-tilt head is fully adjustable, and features a locking system that will keep your equipment securely in place for those big panoramas or time-lapse shots.
While a bit on the heavy side for hardcore backpackers and trekkers, this tripod is perfect for hardcore photographers who need a durable, hefty accessory that won't fall apart after repeated use. The aluminum body is easy to pack up and store, so you can use it again and again, worry-free.
PROS:
Taller height
Packable
Durable
CONS:
More expensive
More heavy
Related: For a seriously durable, and seriously awesome tripod, check out the Mefoto Classic Globetrotter Travel Tripod, which features a durable carbon fiber design.
PEDCO UltraPod II Tripod
Weight: 0.3 lb
Dimensions: 7 x 2 x 2 in.; 5 in. max H
Specific features: Reinforced nylon; ball and socket mount; Velcro strap included; vinyl feet; folds to 7 inches; doubles as handheld; can be strapped to surfaces
Best use: Serious backpacking
Description: Our final product is the PEDCO UltraPod II Tripod – but last is certainly not least. This slim, sleek, mini-tripod is one of the lightest and smallest on our list, but don't let its demeanor throw you off. This little accessory packs a big punch, featuring glass-reinforced nylon that stands up to the weight of your camera, and the elements, time and time again.
The vinyl feet grip to any surface, and the included Velcro strap can be used to attach your mount to branches, fences, your pack – anything to get your angle just right. In addition to it's light weight, the PEDCO packs down to a slim 7 inches, making it one of the easiest tripods to slip into a backpack, water bottle holder, or even pocket.
This tripod is perfect for those who need to slim down on weight and bulk, but don't need a ton of versatility in height or leg adjustment. While it's not very tall, we think the PEDCO is big in spirit, and its attractive design will make you look like a pro in any conditions.
PROS:
Ultra lightweight
Attaches to any surface
Good packability
Related: If you plan to leave the camera at home all together, check out the PEDCO CellPod Tripod, a small, lightweight tripod for smartphone cameras.
Things to Consider Before Buying
Before we give you our suggestions of the best tripods to take in the field, we'll go over a few of the things to take a look at before you buy to ensure that you get the best for your buck.
Weight
Our first consideration is an obvious one for hikers, backpackers, and other active folks – weight. Obviously, if you're seeking out a specialized tripod for these activities, weight is at the top of your list of specs to look at, and we think it's pretty important too.
Camera tripods come in a massive range of shapes and sizes, and most of them prioritize sturdiness over weight. The hiking variety try to strike a balance between the two, but it's important to remember that lighter weight doesn't always mean a better product. We'll go into the specifics on these a little later, but when looking at weight, make sure to compare other specs like material, maximum weight, and size to ensure that the weight drop isn't due to cutting corners.
Second, when looking at weight, make sure to think about how much weight you actually need to cut. For those who stick to day hikes and shorter jaunts, the difference between two and three ounces probably isn't going to be a big factor, and you might make your purchase based on a different feature. For trekkers, climbers, and the hardcore among us, that extra ounce can be well worth it.
Maximum Height
Our next consideration is maximum height. When looking at lightweight gear, there seems to be a common trend – it's smaller. Cutting size has many perks for adventurers, as it can mean a lighter pack, quicker travel time, less risk of injury, and less sore muscles. However, it can also reduce the functionality of your product.
When it comes to tripods, ask yourself what kind of photos you want to take. For photographers who want a lot of versatility with their shots, want to take broad panoramas, or get big family photos, a taller height is going to be much more important. On the flip side, if your main concern is steadying your shot, a smaller height will do just fine.
Some shorter tripods have some additional options for versatility, too. If you're a little bit of a MacGyver, consider investing in a smaller tripod that can be strapped to branches, rocks, and other natural objects to give extra height and angles. These tripods make up for their lack of height, but require a little extra creativity on the user end.
Material
The next thing you want to look at before you buy is material. Like any camera accessory, material plays a huge role in the quality. Tripods are made from all sorts of materials, from steel to aluminum, reinforced nylon to carbon fiber. All of these materials have their perks, and some are better for different types of hikers.
Aluminum, for instance, is fairly lightweight, but is more prone to bending, dents, and losing form over time. It's strong and non-brittle, but it is heavier than some of the alternative materials. Reinforced nylon, carbon fiber, and fiberglass are all much lighter, but much more brittle – and are more likely to break than bend if dropped or mishandled. These lighter materials often (but not always) carry a heftier price tag as well.
Whichever material you choose, make sure that it's of a decent quality. Look for signs of quality by material descriptions that give details – for instance, "reinforced aluminum alloy" is probably going to be a better material choice than a vague description like "metal".
Adjustability
Our next consideration is adjustability. Like maximum height, this spec relates to the convenience and capability of the tripod to get different types of shots in different types of places. Adjustability applies in a number of places with tripods, including the head, feet, and height.
Tripod heads can have a number of different joints where the camera actually mounts. First, always make sure that the mount fits your camera. Second, look for the type of joint itself. Ball joints allow total flexibility in angle for shooting in all different angles, while a 360-degree swivel may give you slightly less. However, good placement with a little finagling can usually give you what you need.
Feet and height are another area for adjustment. We already went over height, but pay attention to the adjustability of the legs all the same. Can you adjust the leg heights individually for uneven surfaces? Are the feet flat or pointed? Do they have rubber tips for added grip? All of these factors can increase your ability to get a great shot on the uneven, rocky, and slippery surfaces that are common in the outdoors.
Maximum Weight
Our final consideration is maximum weight. Lightweight tripods can be tough, but they often won't be as tough as the heavy-duty varieties – and that can have an impact on the other gear you bring along.
If you plan on using a point-and-shoot camera, weight may not be as big of a consideration. However, if you use nicer, bigger, and heavier cameras, the weight capacity of your tripod begins to be a factor. Most tripods can handle smaller models, but pay attention if you plan to bring your full telephoto lens setup into the field – or you may end up with a collapsed tripod and a camera in the dirt.
Now that we've gone over a few suggestions to pay attention to before you start buying, lets get into some of the products we think really stand up!
Wrap Up
And there you have it – eight of the best backpacking tripods on the market today. We've gone over everything you need to know before you buy, so go ahead and get your perfect camera accessory.
So have you been using a tripod for your backpacking trips? What do you think of the products that we have featured above? Let us know in the comments!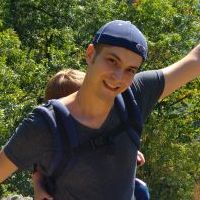 Daniel is a gear freak when it comes to hiking, climbing and camping. He went to REI Outdoor School to meet new people and learn best practices. Don't even try to argue with him about the latest backpack or ice axe, he tried most of them. Daniel's dream is to climb Mount Everest.