If you plan to go on camping for several days, you definitely need to cook. And for that, you need cooking gear. Camping gear is always very different from the stuff you have at home. The best backpacking cooking gear needs to be portable, durable, tough as well as lightweight.
After all, you need to carry that stuff around in your backpack; you want something which will be easy to carry. Cooking by a campfire or on a stove, while being outdoors, can be very magical. It is something you should certainly experience.
If you were fretting about which type of cooking gear to buy, stress no more! We are here with a detailed account of the best hiking cooking gear, as well as the properties you should look for in cooking sets before you buy them.
Note: We get commissions for purchases made through links in this article
Best Cooking Gear for Camping
Now we will talk about the best camp kitchen gear you can buy. This list is quite comprehensive and you will be sure to come across a set you like.
Camp Chef Mountain Series MS2HP Stove
Weight: 10 pounds
Dimension: 23.5 x 4.25 x 13.5 inches (W x H x D)
Special features: Portable; two stoves included, each produces 20,000 BTUs of heat; ignites without a match; stainless steel drip tray; lid and side shields present; uses 16.4 ounce propane canister as a fuel source (not included).
The Camp Chef Mountain Series MS2HP Stove is a great camping stove which combines portability with efficiency. The stove lights without a match, so you do not have to worry about carrying matches and getting them wet.
The burners have amazing temperature control, and your food will cook evenly. The stainless steel drip tray is easy to clean. Having two burners means that you can prepare two meals together and hence save time.
The stove has a lid which closes over it, making it compact and easy to carry. It is also lightweight and hence can be packed with your stuff and carried conveniently. It won't damage easily and is quite sturdy.
Related: If you think that you need only one burner store, you can go for Camp Chef Mountain Series Butane 1Burner Stove. It is an 8000 BTU burner with amazing heat control. It is powered by butane and is lightweight and portable.
GSI Outdoors Destination Kitchen Set
Weight: 1.9 pounds
Dimensions: 11.7 x 7.7 x 3.5 inches
Special features: 24 piece set; shakers are water proof; attractive waterproof nylon case included; includes shakers, four cutlery sets which contain 12 pieces, condiment bottles, cutting board, knife, small cheese grater, towel, scrubber, pivot spoon and spatula, collapsible whisk, among other things; folding tool included.
If you own the GSI Outdoors Destination Kitchen Set, you have everything you need to prepare an amazing meal while out camping. There are elastic bands in the bag which will hold all the items in place. The bag itself is waterproof, and thus your cooking set will not get wet. Each of the utensils is sturdy and durable and build to withstand the elements.
The cooking utensils are foldable, ensuring easy packing. They expand to a good size. The bag is roomy enough that you can add a few extra items in it such as a can opener or a matchbox.
The only negative point is that pivot tongs are not included in this bag and you have to buy them separately.
Related: GSI Outdoors Crossover Kitchen Kit is an integrated kitchen set which has everything you may need to enjoy a gourmet meal while camping. The pack also contains cleaning materials like scrubber, dish soap dispenser and camp towel. GSI Outdoors Gourmet Kitchen Set 11 is another set which contains 11 items secured in a water proof bag. It includes a spatula, fork, a small cutting board and scrubber, among other things.
Solo Pot 900
Weight: 7.8 ounce
Dimensions: Height 4.5 inches, diameter 4.7 inches
Special features: Has a volume of 30 ounce; lightweight; durable; made of food grade 304 stainless steel; volume markings present in both ml and oz.; lid with lockable lift tab; folding handle which makes packing easier; nylon stiff sack included; pour scout included
Solo Pot 900 is a great pot to take with you on your camping trip. It is lightweight and tough, and will not get damaged easily. The lid fits tightly and has a rubber coated lift tab, which makes it easy to handle. Pour scout makes pouring easy and convenient.
The pot is perfectly sized. If you own a Solo Stove Lite, it can fit inside the pot and thus reduce the amount of space it will take up in your pack.
The handles are a bit uncomfortable and may get hot while water is boiling in the pot. Also, the capacity is enough for a solo camper but if you have many people in your group, you should go for a larger pot.
Related: If you want a larger pot, go for Solo Stove Pot 1800. It is made of stainless steel, weighs 12.5 oz. and has a capacity of 61 oz. It also has foldable handles and a pour scout. You can also buy Solo Stove 3 Pot Set. The three pots have a capacity of 2 L, 1.5 L and 1.25 L. The pots can nest with each other for easy storage and include an aluminium pot gripper. They come with a single lid which doubles as a plate.
Wealers 7 Piece Outdoor Indoor Camping Set
Weight: N/A
Dimensions: 13 x 18 inches
Best use: Backpacking or camping cooking set
Special features: 7 piece set; includes tongs, scissors, cutting board, knife, rice paddle, spatula and ladle. Knife and tongs are made of stainless steel; carrying case included; elastic bands to hold the utensils in place; knife has a cardboard cover so it won't damage the case; packs easily.
The Wealers 7 Piece Outdoor Indoor is a great cooking set which packs extremely well, particularly as it is flat. The set contains just the right number of cooking pieces for cooking a great meal while still keeping weight and dimensions to a minimum. The knife is sharp and very useful.
The cutting board is durable and easy to clean. Having tongs is a great plus as you may need them to handle many things, including Dutch oven handle. The negative point of this set is that the spatula and ladle handles are not very durable and may break easily.
Related: Wealers also makes Camping Cookware Pot & Pan Set, which is a lightweight set consisting of 2 pots, 2 pans, 3 plastic bowls, 2 spoons and won sponge for cleaning. The pots and pans are quite durable, as they're made from aluminium.
Coleman 3-Piece Nylon Serving Set
Weight: 0.3 lbs.
Dimensions: 12.25 x 6.25 x 0.8 "
Special features: Has one spoon, one slotted spoon and a slotted spatula; made of nylon; durable; lightweight; metal ring is present which holds all three utensils together for when you are not using them; easy to clean.
The Coleman 3-Piece Nylon Serving Set is a great set for those people only looking to buy a spoon and a spatula. The material is very durable and the utensils will not damage easily. They are also lightweight and hence easy to carry. Nylon material means that they will not scratch anything else present in your pack.
The slotted spatula is great for frying things, to drain out the oil. Metal ring keeps the three pieces together so you will not lose them.
Related: Coleman also produces another Coleman 3 Piece Cooking Utensil Set which has a spoon, a slotted spatula and tongs. The utensils are made of stainless steel which makes them very durable and sturdy.
TOAKS Titongs Set
Weight: 1.2 oz.
Dimensions: Length: spoon and fork: 6 5/8″ (168 mm) Connector: 2′ (50 mm)
Best use: Backpacking
Special features: Connector made of nylon; spoon and fork made of titanium; spoon and fork can be detached form the connector; connector can also be attached to TOAKS spork.
The TOAKS Titongs Set is a handy little tool which you can easily pack in your backpack. The connector can be used to hold the utensils in place while you cook or even serve food. You can also separate them for using as individual items. The product is lightweight and hence easy to carry.
If you own other products by this producer, you can attach them to the connector and hence the connector is multi-purpose. The spoon and fork are very sturdy. The fork is sharp and thus very useful.
Related: TOAKS produces a wide range of cooking items which can be very useful for camping. You can buy the TOAKS Titanium 3-Piece Cutlery Set, which weighs 1.7 oz. and includes a spoon, fork and knife. The items are very sturdy and durable. You can also buy TOAKS Titanium Ultra Light Spork. It weighs 0.4 oz. and is very handy as it can be used as a spoon as well as a fork.
Jetboil Zip Personal Cooking System
Weight: 12 oz.
Dimensions: 4.1 x 6.5 inches
Special features: Made of aluminium; power 4500 BTU/h; uses isobutene and propane fuel; 0.8 liters cooking cup; cup is insulated; match ignition; bottom cover can also be used as a measuring cup; lid also acts as a strainer; fuel canister stabilizer is included; Jetpower fuel not included.
The Jetboil Zip Personal Cooking System is perfectly sized as it is small enough to be taken on any outdoor adventure while still being large enough to store a 100 g Jet Power fuel. It can boil half a liter of water in 2 minutes and 30 seconds, which means that you can get hot drinks easily with no hassle.
You can also prepare food in this set. The lid doubles as a strainer, which makes it easy to boil pasta in the pot and then drain it. The lid is also drink-through. The bottom lid doubles as a plate, which saves on space. The material is strong and durable and will not get damaged easily.
Related: Flash Personal Cooking System has a cooking cup of 1 L. It has an adjustable burner and a drink-through lid. The set comes with an electric igniter which makes it easy to use. Jetboil Mini Pro Personal Cooking System is another cooking system made of aluminium which weighs only 0.75 pounds. The set has push-button ignition and a drink-through lid. The handles are metallic and very sturdy.
GCI Outdoor Slim Fold Cook Station
Weight: 20 pounds
Dimensions: Unfolded dimensions: (L x H x D) 52 x 32 x 21 inches; Folded dimensions: 35 x 21 x 3.5 inches.
Special features: Materials are made of plastic and aluminium; station has an aluminium top, lower storage rack, and 4 side tables; tables have holders for beverages and stem glasses; hooks can be used to hang utensils; can support up to 300 lbs.; easy to open; becomes flat for easy storage.
The GCI Outdoor Slim Fold Cook Station is perfect as it folds to a flat size so you can pack it easily and expands to a nice large size. The main surface is made of aluminium and is quite sturdy. You can place a camping stove on it, as well as pots and pans.
It can be used to hold your plates, glasses, cups and you can even hang your garbage bag from it. It is quick to set up as well as pack this cooking station. Overall, this is a great product to take on your next car camping trip.
Related: This is the only cooking station by this producer.
Camping Cookware Mess Kit
Weight: 9 lbs. (including bag)
Dimensions: 3.8 x 6.3 x 6.6 inches
Special features: Made of anodized aluminium; non-toxic; has 10 pieces; collapses to a small, compact size; includes one non-stick pot with cover, non-stick pan, 2 bowls, foldable stainless steel spork, soup spoon, wooden satula,cleaning sponge and travel bag; marshamallow roasting guide included; durable; lightweight.
With the Camping Cookware Mess Kit, you have everything you need to prepare, serve and eat an amazing meal while out camping. The set is designed in such a way that the different items nest in each other and hence save space. The products are made of FDA approved anodized aluminium, which will not alter the taste of your food.
The pot and pan also heat up quickly and do not have any hot spots. The set is sufficient for cooking for one hiker, and can easily fit in a backpack. It is also durable and will not get damaged easily.
The pot, pan and other utensils in this set are small in size so if you need to prepare food for more than one backpacker, this is not the ideal set to go for.
Things to Look for in your Backpacking Cooking Gear
Cooking Set vs. Individual Pieces
Always go for a backpacking cooking set. Having individual pieces means you can have more freedom of option but they can end up occupying a lot of space, as well as costing more. Cooking sets for backpackers are designed in such a way that they fit together to form a compact set which can be packed easily.
Compactness
You need to carry all your camping cooking gear in your backpack so make sure that the set you buy packs to a small compact size which is easy to carry.
How Many Utensils to Carry?
You definitely need a pot to heat water and cook food in, as well as a pan for frying stuff. Other than that, the number of items you carry depends on your needs, the number of people in your hiking group, and the amount of space you have.
Everyone needs at least one cup, plate, spoon and fork. Do not forget to carry at least one knife. You will also need a stove to cook your food on. Other items depend on your preference and need. If you plan to cook meat, you may need a Dutch oven or a pressure cooker. Backpacking coffee makers are also available.
Size – The size of your cooking pot is also important. It should have enough capacity to hold one pint for each person in your hiking group. At the same time, do not choose cooking sets which are so huge that they will be a hassle to carry.
Lightweight – You need to carry your cooking gear with you so make sure it does not weigh too much.
Other Considerations – Always choose pots with lids. Not only will food cook faster, you can also use the lid as a plate. Some pots have lids that double as a frying pan. Often, lids act as strainers as well. Make sure your cooking pots have grippers, so you do not burn your hands. Many cooking sets come with one gripper for all the pots, to save space.
Materials
Cookware may be made of many different materials.
Aluminium gear – Aluminium gear are lightweight and also conduct heat well, so cooking is even and there are no hot spots. They have the disadvantage that they are not very durable and can get dented. They also react with acidic food, which might not be good for health.
Hard Anodized Aluminium – Hard Anodized Aluminium is thicker and more durable, while being lightweight. It is a good option, but tends to be pricier than aluminium goods. It conducts heat very well.
Stainless steel gear – Stainless steel gear are very strong, durable and lightweight. However, they do not conduct heat quite as well as aluminium pots and pans and therefore you have to be careful that you do not end up burning your food because of hot spots.
Titanium utensils – Titanium utensils are the most lightweight option available in the market. This material is also very resilient and durable. However, it is expensive and also, if titanium goods are heated on very high flame, hot spots may be created which can burn food.
Plastic utensils – Plastic utensils like spoon, spork (combination spoon and fork), plates and cups are also available. These are very lightweight, and will not damage or scratch the other things in your pack. Just make sure that they are sturdy. Stuff made from low quality plastic can break rather quickly.
Non-stick utensils – Non-stick utensils are also very popular, as they are easy to clean. However, they are not quite so durable.
Food is Love!
You need to cook while you are out camping, because, let's face it, a well-prepared meal is one of the greatest pleasures of life. Having a hot meal and a steaming cup of coffee while surrounded by nature is mesmerizing. Too bad that you can't really chug around your household stove and cooking utensils with you on a backpacking or camping trip.
This is why camping cooking sets are so important. If you have the right equipment, you will actually enjoy preparing a meal. It is important to ensure that the things you are carrying are lightweight and compact; after all you have a lot of stuff in your backpack and you need cooking items that will actually fit inside and not be too difficult to carry.
At the same time, anything which you are carrying should be sturdy and durable. While cooking outdoors, it is very likely that you might drop a pot or a pan, or other utensils. The weather might be too hot or it might start raining. You want something which can withstand the elements as well as general wear and tear.
A great, compact stove and an adequately sized cooking set are essential items to take on your camping trip. Therefore, buy them with caution. We hope the list mentioned above helped you in your quest for the perfect cooking set.
Do you own a cooking set you want us to know about? Let us know in the comments section!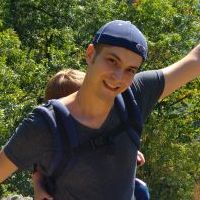 Daniel is a gear freak when it comes to hiking, climbing and camping. He went to REI Outdoor School to meet new people and learn best practices. Don't even try to argue with him about the latest backpack or ice axe, he tried most of them. Daniel's dream is to climb Mount Everest.