As soon as they begin wobbling around, a toddler's head is in danger from constant bump and bruising. But what about when they take on the outdoors and ride bikes, scooters, skateboards and other similar activities?
You want to protect that precious noggin, so let's take a look into what is best toddler bike helmet available for your on the go toddler.
Note: We get commissions for purchases made through links in this article
Best Bike Helmets for toddlers
From construction to finding a good fit, it's time to put your knowledge to the test while we take a look at some of the toddler helmets that are currently available to purchase.
Joovy Noodle Helmet
Ages: 1-4
Head diameter: 18.5 – 20.5 inches
Features: 14 air vents; integrated bug-mesh in the front vents; extended visor; nylon straps; pinch guard chin strap; adjustable fit dial.
Simple, fun and fully loaded with features, the Joovy Noodle Helmet is a great low priced option. The hardshell construction keeps their head protected while fourteen vents allow air to flow in and keep them cool. Integrated bug mesh lines the front vents to keep unwanted pests from flying in.
A two toned contrasting buckle allows you to easily see and connect the two pieces. A pinch guard chin strap offers extra protection and ease of mind when you buckle them in. The adjustable fit retention dial lets you adjust the helmet to fit your child's head perfectly.
An extended visor keeps them shaded from the sun. This helmet comes with Joovy's excellent customer service and is backed by a satisfaction guarantee. It comes in many fun shades so that you can pick your little one's favorite color.
Bell Toddler Boys Shadow Helmet
Ages: 3-5
Head diameter: 18.5 – 20.5 inches
Features: Classic shape; six integrated vents; side squeeze buckles; easy adjustments; extended rear coverage.
Great for boys and girls, the Bell Toddler Boys Shadow Helmet is a perfect neutral color. This helmet features a nod to the classic simple rounded helmet styles.
Six vents in the top allow cool air to filter through to your little one's head and push out hot stale air. The easy to use and adjust side squeeze buckles make getting this helmet a breeze to get on and off.
The extended rear coverage adds an extra level of protection to the back of your child's head. This is a great option for a low cost helmet that will protect your little one's head. It comes in one color which is a blue and white style.
Giro Me2 Infant/Toddler Bike Helmet
Ages: 1-3
Head diameter: 18.75 – 20.5 inches
Features: Built in visor; pinch proof buckle; micro-shell with built in bug net; Mini Loc fit system; 6 vents.
Bright and interesting, the Giro Me2 Infant and Toddler Bike Helmet is sure to be a hit for the bold little one. This helmet comes in many different designs which include a solid neon yellow, a cloudy day blue airplane design, Electric blue, and green and pink circle flowers.
A built-in visor keeps the sun out of their eyes and a built-in bug net keeps pest out of their hair. It is equipped with six vents to allow cool air in. A pinch proof buckle keeps ouchies away while putting the helmet on.
The Mini Loc fit system helps your child as they put on the helmet and adjust the fit. It features simple instructions and strap guides for a great fit every time.
Lazer Helmets P39 Nut Bike Helmet
Ages: 1-4
Head diameter: 17.5 – 20.5 inches
Features: Fontanelle padding; magic buckle; auto-fit retention system; In-Mold technology; 16 vents.
Well-vented, the Lazer Helmets P39 Nut Helmet for Kids will keep your little one from being a hot head. The sixteen vents allow cool air in and channel it through the helmet to push out stale hot air and keep them comfortable.
This helmet is fitted with a magic buckle to eliminate pinching worries and an auto fit retention setting to give them a snug fit every time without adjustment hassles. In-mold technology keeps this helmet lightweight while fontanelle padding gives them excellent shock absorption.
The Nut Helmet line comes in an array of colors and also offers fun cover add ons to appease the ever-changing toddlers. You can purchase a plastic shell to fit over the helmet that resembles a cow, fireman hat, construction hat, a pretty bow hat, or a strawberry.
Kali Protective Chakra Child Dots Bike Helmet
Ages: 1-5
Head diameter: 18.5 – 21.5 inches
Features: Ultra lightweight polycarbonate shell; low density EPS foam; expanded rear coverage design; integrated visor.
Bright and well built, the Kali Protective Chakra Child Dots Helmet will catch you attention with its colors and draw you in deeper with its outstanding features. An integrated visor shades the sun from little eyes.
The ultra lightweight polycarbonate shell doesn't weigh them down. The low density EPS foam absorbs big shocks so that their head stays safe and won't bounce. The fifteen vents keep cool air flowing through.
The expanded rear coverage design gives extra protection to the back of their head while maintaining comfort and style. This helmet comes in various bright and fun neon colors and designs.
Nutcase Little Nutty Street Bike Helmet
Ages: 2-7
Head diameter: 18.72 – 20.5 inches
Features: Adjustable and removable spin dial strap; easy one handed operation; 360 reflective design; 11 vents.
Eliminate fighting with your kid to put on their helmet; the Nutcase Little Nutty Street Bike Helmet will have your kid begging to wear it all day. This helmet comes in a multitude of designs like bumblebees, hearts, dinosaurs, pirates and cow print spots. There is a fun design for all personalities.
Find your perfect fit with the removable and adjustable spin dial strap. Also included are two sets of pads that work with the spin dial to give your little one comfort and protection. Eleven well placed vents keep the cool air moving through.
The 360-reflective design is integrated into the helmet's color and gives your little one a reflective helmet at any angle. This helmet is CPSC and ASTM certified and is approved for skateboarding and trick skating.
Bell Toddler Zoomer Bike Helmet
Ages: 2-5
Head diameter: 18.5 – 20.5 inches
Features: True fit self adjusts; 7 vents; pinch guard; extended rear coverage.
The Bell Toddler Zoomer Bike Helmet is ready to strap on and go. This helmet comes in 6 fun colors and designs to capture the attention of boys and girls.
The true fit technology self-adjusts to their head for the perfect fit every time. Seven built in vents allow cool air to circulate through and push out hot damp air.
The extended rear coverage adds an extra level of all around protection in case of accidents. A pinch free buckling systems allows your little one to 'do it themselves' without fear of any pinching or pain.
Raskullz Dinosaur Helmet
Ages: 3 and up
Head Diameter: 18.5 – 20.5 inches & 19.5 – 21.25 inches.
Features: CPSC & ASTM certified; shock absorbing EPS shell; aerodynamic cooling vents; molded 3D helmet; nylon straps.
If fun neon colors fail to grab your toddlers attention then look no further than the Raskullz Dinosaur Helmet. These incredible helmets have a 3D design that allows your little one to take on the personality of their favorite dinosaur.
The shock absorbing EPS inner shell liner offers excellent protection for bumping and impacts. Aerodynamic cooling vents pull fresh air in and flow under the helmet to push out hot air. Keeping your dinosaur from becoming a hot head.
This helmet is CPSC and ATSM certified. Available designs include a red or green T-Rex, a Triceratops, and a fun dinosaur silhouette design topped with a spiky mohawk.
Inside Out
You are looking for a helmet to trust your toddlers safety to, but what exactly gives a helmet the certification of safety? Listed below are the main components that make up a basic helmet.
Outer Shell
The outside of a helmet is primarily called the shell. This is usually made out of polycarbonate plastic. This material is popular among manufacturers because it is very durable, lightweight and offers a high impact resistance. This material is also low cost to manufacture, providing safety at an affordable price to consumers.
Inside Lining
Inside of the helmet you can see a few different protection liners. Some are obvious to the eye, such as protective foam, while others are integrated into the main shell. Most helmets will use an EPS (expanded Polystyrene) liner.
This liner is made for absorbing the shock of an impact. This will limit the after impact bounce that can cause whiplash and other injuries. While this is excellent protection, the EPS liner is not made for absorbing multiple large impacts.
In-Mold Technology
This type of helmet construction is used to integrate the outer shell and the inside lining into one fluid part. When molded together, the material gives the helmet a strong element of protection while reducing the weight.
In-mold technology is harnessed by the liner being blown into the helmet while the outer shell is still in the mold. The outer shell then incases the shock absorbing liner. When using this method, manufacturers can give helmets more interesting shapes and create a better vented integration mold.
Ventilation
The large holes in the helmet are there for a reason. These cut out shapes, known as vents, are made for allowing cool air to filter into the helmet and push hot stale air out.
This is excellent to keep your little ones' heads cool while they are out and about on a warm day. Vents also cut down on helmet odor and do not hinder protection upon impact.
Fit Adjustments
Newer helmets on the market offer an extra level of comfort and security in the addition of a dial. This turning knob is known as retention. It is usually located on the back of the helmet.
When used, the helmet will pull in and give your head a custom fit, so that even without the straps, your helmet should stay secure. This great feature keeps the helmet in place so if an accident occurs, the helmet will not slide off and leave our head unprotected.
CPSC Certified
The Consumer Product Safety Commission has a basic set of standards for all bike helmets to determine whether they are labeled as safe or not. If you are wondering, you can easily look inside a bike helmet and you should see the sticker showcasing the certification.
This certification ensures that the helmet has passed a number of tests that look at the following:
Shock Absorbing Properties
Helmet Construction
Retention system
Field of Vision
Chin Strap
Fastening Devices
Cloudy with a Chance of Extra Preparation
When you begin shopping for a helmet, there are a few things you need to keep in mind. This is especially important if you are online shopping so that you will get the best fit and features for what you need in a helmet.
Price
Figure out how much you want to invest in a helmet. This shouldn't be just something that you purchase offhand. When you are looking for something to protect your child's head from hard impacts and damage, you need to find a helmet that offers excellent protection.
Helmet prices vary a lot, from very cheap to more expensive. Remember, just because it is expensive does not mean that it is better. Take the time to look over each helmet's features and see which has a better overall protection value.
Head sizing
If you can get your little one to stand still long enough without running away or collapsing, then you should measure the diameter of their head.
To find the right number, you will need to wrap the soft measuring tape around their head, starting from the forehead, staying just above the ears and around the back. Keep the measuring tape at the same height all around the head, don't let it slump down it the back.
Built-in straps will allow you to adjust the fit of a helmet if it is too lose or a little snug. Keep in mind, some helmets will offer the retention adjustment knob. That will give your child a better fitting helmet and increase the protection if an impact occurs.
Age sizing
While most of the helmets will have a similar head diameter size, some manufacturers will suggest different ages for the helmet to protect. The different ages are to guide purchasers and inform them of how they have made the helmet to fit an older or younger child.
Some older helmets will not have the needed young toddler extra level of comfort and protection. While a certain helmet may fit your child's head, for extra safety precautions, make sure you take a moment to see if it is compatible with your child's age.
Night Riding
Will you be out after dark? This is something to take into consideration when looking at the different designs. While a neon helmet is easily spotted, a well placed reflective decal or paint can give oncoming traffic better eye-catching visibility.
If you plan to be out late, look for helmets that offer a reflective design. Not to worry if the helmet you choose doesn't include this feature, you can still purchase reflective stickers and decals to put on the helmet from most bike shops.
Another night safety option is a blinking caution light. Mostly adult helmets have this feature, but more manufacturers are beginning to incorporate these features into toddlers and kids helmets. As with the reflective stickers, you can attach a small blinking light to helmets if you prefer.
Factor in Fun
While your child's protection is the most important feature, it is a good idea to pick a fun design for younger kids. Lucky for consumers, most toddler helmets come in fun colors and designs.
Once you have narrowed down your helmet search to a specific brand or model, invite your little one in to pick out a color or design. Let them have some input so that when it's time to put on the helmet they won't fight you as much.
Helmet designs range from fun neon colors to molded 3D add on pieces that take on shapes, such as dinosaurs or a spiky mohawk. These designs should not impact the level of safety that a helmet offers and if you are skeptical on their performance, then turn to the user reviews to see how they have held up with other buyers.
How to Tame your Toddler
Truth be told, there is no perfect helmet out there. With the advancement in technology, helmets have evolved from hard plastic shells to more integrated and aerodynamic pieces.
At the end of the day, find something safe that your little one wants to wear. This will ensure they keep their helmet on when you are out of sight.
Have a question or want to add some advice? Leave us a comment below!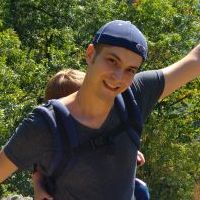 Daniel is a gear freak when it comes to hiking, climbing and camping. He went to REI Outdoor School to meet new people and learn best practices. Don't even try to argue with him about the latest backpack or ice axe, he tried most of them. Daniel's dream is to climb Mount Everest.