Mountain bike grips are an extremely important part of a mountain bike. After all, this is the part that gives the rider the control over his bike. If a bike has good handlebar grips, it ensures a smooth, well-controlled ride.
Imagine if you are riding your mountain bike and your hands keep slipping on the grip. Sounds terrible, right? This is why choosing the right grips for your bike can make all the difference. The best mountain bike grips out there can transform your riding experience and make it more comfortable and enjoyable.
Note: We get commissions for purchases made through links in this article
Best Grips for the Handlebars of your Mountain Bike
Let us guide you about the best grips in the market which you can purchase for your mountain bike. This list is very comprehensive, and you will certainly find a pair of grips which will suit your needs.
Schwinn Tri-Layer Gel Comfort Grip
Weight: 0.4 pounds
Dimensions: 1.5 x 5.9 x 6.2 inches
Best use: Mountain bike handlebar grips
Special features: Color – black; Extra gel layer for added comfort when holding the grips; Made of Kraton compound; Pattern on the top provides added friction which makes it easy to grip without slipping; Palm pad area present; Can absorb shocks.
Schwinn Tri-Layer Gel Comfort Grips are easy to install. They stay in place and do not move around, which means that your hand will not slip on them. The pattern on the grips provides added traction. They are also rather sturdy; however with prolonged riding they do start to get worn out after a few months or so.
For short rides, these grips are definitely very comfortable. However, for very long rides they may not be the best idea as they are a little hard and can start to feel uncomfortable. You should also check the size of your handlebars before you buy them to ensure that they will fit properly.
Related: Schwinn also makes other handlebar grips. Schwinn Double Layer Comfort Grips have two gel layers and a textured pattern, for added comfort and control. Schwinn SW501-4 Mens' Ergonomic Comfort Handlebar Grip is a soft, grey colored grip which is very comfortable and durable.
Race Face Half Nelson Locking Grips
Weight: 0.2 pounds
Dimensions: 6 x 2 x 8 inches
Best use: Perfect grip on mountain bike handlebars
Special features: Lock-on grip; Very thin; Uses Race Face super tacky compound known as VEXY; Topographic moisture channels; Design looks good and also increases traction; Race Face MX style half waffle improves grip
Race Face Half Nelson Locking Grips are very durable and tough. They may be thin, but they will not get damaged or wear out easily. Their lock-on function ensures that they never slip; in this way they offer great control. These grips also offer a good level of traction, and are very comfortable. Your hands or wrists will not get tired even if you ride for a long time. The grips will fit any standard mountain bike handlebars.
They are thin, which adds to their comfort. However, if you personally prefer thicker grips, you should perhaps not go for these ones.
Related: Race Face produces other lock-on bike grips as well such as Race Face Strafe Bike Grips and Race Face Sniper Locking Bike Grips. Both of these are durable, highly comfortable and never slip. If you want to buy comfortable and strong slide-on grips, you should consider Race Face Sniper Glide-on Bike Grips.
ODI Bike Grips Handle Ruffian Bonus Pack
Weight: 0.25 pounds or 115 g
Dimensions: Length – 130 mm
Best use: MTB Mountain bikes, best suited for people with small hands or those wearing gloves
Special Features: Lock-on grip; Ultra narrow; Rugged surface for added traction; Thin; Comes with clamps; Durable.
The best thing about ODI Bike Grips Handle Ruffian Bonus Pack is that they are very comfortable. The grips are soft and thin, which makes it easy to hold on to them without tiring your hands out. The pattern is also subtle enough that it does not dig into your palms when you are holding the handlebars by the grips.
The patented lock-on technology ensures that the grips will never slip or slide out of place. Another added advantage is that it is easy to install these grips. The end caps give better security and are quite tough.
Related: ODI makes several other grips for bikes. Some examples are ODI Soft Longneck Flangeless Bicycle Grips, ODI Troy Lee Grips with Lock-on Clamps and ODI Rogue Bicycle Grip Bonus Pack. All these grips have lock-on mechanism with the perfect design that provides a firm grip without being uncomfortable. Their grips are soft and can be bought in many different colors.
Azonic Logo Anodized Aluminum Lock-On Grip
Dimensions: Length – 130 mm
Best use: MTB mountain bike or any other standard mountain bike.
Special features: Lock on mechanism; Screws are included to fix the grips in place; Anodized aluminium lock-ons; Set includes a pair of grips, lock-ons and plugin; Surface has edged design to improve grip
Azonic Logo Anodized Aluminum Lock-On Grip will fit any standard mountain bike handlebars. The grips are hard but very comfortable. You can ride around all day and your hands will still not get fatigued. The grips never slip or rotate, and hence provide added security. They are also very durable.
They will not get damaged by external weather conditions, even if it is very hot outside. The grips do not have any glaring negative point, and should definitely be considered if you are planning on changing your old grips.
Related: Another grip produced by Azonic is the Razor Wire Anodized Aluminium Lock-on Grip. It provides perfect control while being comfortable and easy to hold. As with the other grips by this manufacturer, you can rest assured that these grips also stay right in place and will never rotate or move.
Santa Cruz Palmdale Lock-On Handlebar Grips
Dimensions: 125 mm length
Best use: Can be used for handlebars of any mountain bike. Will pair perfectly with Santa Cruz bikes
Special features: Lock-on mechanism; Thick; Single lock ring design; Flared close end; Moto knurl pattern, Present in several different colors; Comfortable and have plenty of cushioning
If you prefer a thick grip, you should definitely go for Santa Cruz Palmdale Lock-On Handlebar Grip. It is ideal for people who have large hands, as they can hold the grips with ease. Although the design is single lock ring, it is still strong enough that the grips will never slip, slide or rotate.
The grips have a tapering design and become slightly thinner near the end. This adds to their lock-on feature and ensures that they clamp strongly to the end of the handlebars.
The design is durable and will not scruff off or get worn out. The grip is long enough that you can position your hands anywhere on the handlebars.
Related: Santa Cruz makes a lot of other sporting goods and accessories; however Palmade Grips are the only mountain bike grips produced by this manufacturer.
TOPCABIN Double Lock on Handlebar Grips
Weight: 0.3 pounds
Dimensions: 130 mm long; I.D 23 mm and O.D 35 mm
Best use: Any mountain bike
Special features: Made of Kraton rubber; Anodized, 3mm heavy duty lock-on clamps; End caps are included with the grips; Will fit any regular mountain bike handlebars; Pattern on the outer surface which provides better traction.
If you want handlebar grips which combine fashion and style with functionality, TOPCABIN Double Lock On Handlebar Grips are definitely a good option. They are comfortable while at the same time being very stylish and chic. The grips will improve the overall look of your mountain bike. They are also very durable, with a foolproof lock-on mechanism which will make them stay in place at all times.
The grips are not very soft and hence your wrists and palms may get tired after riding the bike for a long time. In fact, the hard rubber material feels more like plastic. Although the grips themselves are durable, the end caps may come off if your bike falls down. The installation process may also take a bit of time, and you might require the help of a professional.
Related: Top Cabin also offers Top Cabin Ergonomic Design Bicycle Handlebar Grips Widen Holding Surface. These grips are wider at the region where they are supposed to be held. This makes them more comfortable and offers better control. They are made of high quality rubber.
TRELC Antislip Bicycle Handlebar Grips
Weight: 0.44 pounds or 200g
Dimensions: 13.5 x 4.6 x 3.5 cm
Best Used for: Mountain bike handlebars, road bikes, ATVs
Special Features: Slide-on grips;Black and grey in color; Soft; Ergonomic shape, meaning that the grips are not of the same thickness throughout their length; Non-slip surface; Provides a shock-free effect.
Ergonomic grips like the TRELC Antislip Bicycle Handlebar Grips are considered more comfortable than regular ones. This grip by TRELC has the perfect ergonomic surface which makes it easy for your hands to hold on to them. They also provide a great, non-slip grip while keeping comfort levels to a maximum.
Because of their shock-proof nature, they enhance the rider's comfort when riding off-road. The grips have three layers, which mean that your wrists and fingers will not get strained and tired even after a long ride.
Installing these grips is easy, although it will definitely help if you use a little oil or soapy water to slide them on. Once in place, they do not slip or rotate.
Related: Another pair of grips by this manufacturer is the TRELC Protective Pair Bike Handlebar Grips, Ergonomic. These are made of rubber and aluminium alloy material. They are very strong, durable and comfortable.
Bonmixc Bike Grips
Weight: 120g per pair
Dimensions: Length – 140 mm. Internal Diameter – 21.5 mm. Outer Diameter – 33 mm
Best use: Mountain bike handlebars
Special features: Single side lock-on mechanism; Easy to install. Will suits bikes which have handlebars with O.D 22mm; Made of TPR rubber; Has aluminium alloy material on both ends; Pattern is comfortable; Soft; Easy to install.
Bonmixc Bike Grips are very soft and comfortable to hold. They will not tire you out, no matter how long you ride. The rubber material is tough and durable and will not get damaged easily.
The aluminium alloy end caps are a great addition as they add to the durability of these grips. Even if your bike falls, the metal end caps will not get damaged. Installing them is very easy and does not take too much time. The pattern improves traction and gripping while also being very comfortable.
The negative point about these grips is that they only lock on one side. As a result, if you are riding in places where there are a lot of bumps, you might find the grips slipping a little from one end. Similarly, if you are gripping the handlebars too tightly because you are riding downhill, again they might slip a little. The grips work best for plain terrains, countryside and on the road.
Related: Bonmixc Ergonomic Design Bike Grips are another pair of grips designed by this company. These are also made of TPR rubber with aluminium alloy end caps on both sides. The grips are very comfortable to hold because of their ergonomic design.
What Should you Look for When Buying Mountain Bike Grips?
So you have decided to buy new grips for the handlebars of your mountain bike; what points do you need to keep in mind? After all, grips come in many different types.
Read on to find out about different grips and what you should consider before buying some for your bike.
What are Grips Made of?
Most grips are made of rubber. This material gives you a good hold and also does not get damaged easily. Another advantage is your hands will not slip on them even if they are sweaty. These days, grips are also made of foam. This material provides greater comfort and control when riding the bike.
Lock-on or Slide-on
Slide-on, also known as push-on grips, are made completely of rubber and simply slide over the handlebars. They use some sort of adhesive or compressed air to stay in place. These grips are easy to install and can be replaced with no hassle.
Lock-on grips have a plastic core with a rubber grip around it. They use a lock ring device to stay in place. Some of them have dual lock rings. These grips never slip, particularly if the locking device is on both sides.
Thickness
Grips come in different thicknesses. There is no particular reason why you should choose one over the other. It is mainly a matter of your own preference and what you feel more comfortable with. Thin grips may be more comfortable for some people; however that is not a solid rule. Do try out different grips before you decide on exactly which thickness suits you.
Hardness
Again, how hard or soft your mountain bike handlebar grips should be depends entirely on your own taste. Lock-on grips are usually a little softer than slide-on ones. Softer grips are actually more comfortable, but they do tend to wear out more quickly. If you want your grips to last a long time, it is best to choose grips which are a little firmer.
Plain or Bulged Grips
Plain gauge grips have the same thickness throughout their length and circumference. Bulged grips have a bulge in the middle, or between fingers. While some riders find these grips to offer better control, others find the bulges rather uncomfortable.
In any case, there is nothing wrong with a plain gauge grip as long as its other features are good.
Tread Pattern
Don't go for completely smooth grips as your hands might slip on them. On the other hand, too many edges and patterns can prove to be uncomfortable. Choose a grip with a little bit of tread and you will be just fine.
Conclusion
You have come to the end of our list. By now, you should know a lot about different types of grips, as well as the best ones in the market. If you were thinking of buying a new pair of grips for your mountain bike, you should find one in this list that will be just perfect for you.
Remember, grips may seem like a small thing but they make a huge difference in your riding experience. After all, they are an important contact point between you and the bike. The better your grips, the better will be your bike control. Therefore, do not compromise on a good pair of bike handlebar grips.
We told you about a few very good bike grips; let us know in the comment sections if there is anything we missed!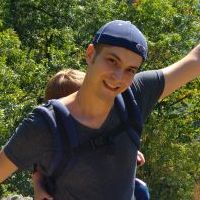 Daniel is a gear freak when it comes to hiking, climbing and camping. He went to REI Outdoor School to meet new people and learn best practices. Don't even try to argue with him about the latest backpack or ice axe, he tried most of them. Daniel's dream is to climb Mount Everest.