The popularity of helmet cams as cycling accessories is increasing among cyclists and adventurers. They record their rides to create great films via editing and chopping to show their family and friends.
You may record your adventures for the purpose of safety. A recorded video enables you to analyze your performance for improvement. Helmet cams are equally good to record surfing and fishing adventures. Make sure to compare features and quality of cameras to select the best helmet cam for your adventures.
Best Models for HD Recording
Helmet cams are available for different picture quality levels. A high-quality image will require more space on the memory card of your cam. The resolution of the camera is determined by the vertical and horizontal lines of resolution.
In a helmet cam, you will find some features, accessories and frame speed. Your selection will depend on your recording needs. There are lots of options for you to select the right helmet cam for your adventures.
Sony Action Cam HDR-AS100V
Weight: 1.05 pounds
Dimensions: 6.5 x 3 x 4.75 inches
Specific Features:
Advanced image equilibrium for adjustment to vibration
Splash proof cams body with a tripod mount
Easy to control and view recordings via smartphone or Live View Remote
Description: Sony Action Cam HDR-AS100V offers pro-quality features for your adventurous ride. Advance technology of this camera will keep things smooth and steady. With built-in Wi-Fi features, you can control your cam from a mobile device.
Its splash-proof body has 120/240p frame rate and XVAC-S HD recording capabilities. With GPS tagging and built-in tripod, it is ideal for the big air, big waves and big jumps. Active mode enables you to conquer rocketing descents, mountain peaks, and swerving slaloms. With its 3-way shake canceling electronic stability roll, you can capture smoother videos.
Just attach the tripod via universal screw mount and capture all action without any blurriness. Just turn your compatible tablet or smartphone into the remote viewfinder, mobile and make significant adjustments to your camera settings.
The Near Field Communication (NFC) and Wi-Fi help you to shot perfectly before starting your adventure and share it with your family and friends. With its optional LiveView Remote, you can control five action cameras at a time.
GoPro HERO4
Weight: 0.32 pounds
Dimensions: 1.53 x 2.79 x 2.8 inches
Specific Features:
Incorporated touch display to easily control camera, playback, and shot-framing
Professional quality 1080p60 & 720p120 video with 12 Megapixel photos at almost 30 FPS (frames per seconds)
Built-in Bluetooth and Wi-Fi support the Smart Remote and GoPro App
Improved built-in video trimming can camera control enables you to create short video clips in your camera and save on your memory card
Protune and SuperView deliver advanced control and cinema-quality capture for video and photos with most immersive wide field of view
Description: Capture your world in a new way with HERO4 and built-in touch display. It is ultra-convenient to control framing shots, playing back and camera content. HERO4 Silver enables you to capture 1080p60 & 720p120 video with realistic clarity.
HiLight Tag helps you to mark important moments of your life for easy editing, playback, and sharing. The cam is waterproof to 40-meters (131-feet). You can start this camera with just one touch of a button.
With HERO4, you can capture sky in the night because new settings are available for night shooting. New Night Lapse and Night Photo modes offer modifiable exposure setting of almost 30 seconds for Time Lapse and single photos.
You can shoot campfire hangout or Milky Way without any obstruction. Auto Low Light mode of HERO4 makes your work incredibly easy by intelligently changing the frame rates by light conditions. It enables you to move between dark and bright environments without manual adjustments of the camera.
GoPro HERO3
Weight: 2.6 ounces
Dimensions: 1.2 x 2.3 x 1.6 inches
Specific Features:
Flexible shooting modes for professionals
Built-in Wi-Fi
Details for Brightly-lit areas
Smaller and lighter
Reduced fogging in camera housing
Description: GoPro HERO3 helmet cam can capture HD professional quality videos with its wide angle. Built-in Wi-Fi helps you to control your camera from your tablets and smartphones via GoPro app. The camera can capture sharp 12 MP photos and has compatibility to capture images underwater.
This shockproof camera is good for heavy surfing from Tahiti to California.
The camera is ready for action for scuba diving and dirt track speed racing and heavy activities. With GoPro mounts, you can capture an immersive experience of your exciting moments. Feel free to attach this camera to vehicles securely, boards, poles, and helmets.
It will help you to get perfect POV and angle for your epic adventures. HERO3 comes with necessary mounts to get started.
ContourROAM Waterproof HD
Weight: 0.85 pounds
Dimensions: 1.75 x 5.25 x 7 inches
Specific Features:
Capture 960p, 1080p, and 720p HD Video with Built-In Mic
Ultra-Wide 170° Angle Lens with versatile 270-Degree Rotation
Camera is Waterproof to almost 30.'
Interval Photo and Single Shot Modes
Shot Alignment with Built-In Laser
Description: Contour ROAM3 action camera offers HD video and photo capture in a mount-anywhere and ruggedized design. A slider switch on the top works well to turn on the camera and start recording.
Counter Roam three is lockable to avoid accidental stopping and starting of recording. The built-in lens can rotate 270°, and it will help you to get stable shots even at tilted angles. The built-in laser above the camera lens proves helpful to pinpoint the perfect shooting angle. The cam can capture audio through its internal mic.
The rugged aluminum body of Roam3 can withstand heavy shocks. There is no need to navigate and unmount through the screen menu because one push of a button will help you to switch between filming high-res stills and action footage.
Tachyon OPS HD Helmet Camera
Weight: 9.6 ounces
Dimensions: 2.9 x 4.9 x 6 inches
Specific Features:
Lightest and smallest Full-HD 1080p Helmet Camera for sports lovers
30 FPS Full HD 1080p Super-Sharp Audio and Video Recording
Nonstop charging of camera while recording
2+ hours Battery Life while recording at 1080p and it can be longer at 720p (switchable)
Wide-angle lens without any fish-eye effect
Free date and time stamp and looping video (optional)
Patented eight direction mounting
Description: Tachyon OPS HD is great for video recording, audio recording, and photo shooting. You can use this camera to record outdoor sports, including those on the water.
Tachyon OPS HD cam can be a good choice for deep-water probing and home security. Water-resistant casing enables you to record your fun moments in water without any potential damage.
The camera supports numerous languages, such as French, English, Spanish, German, Portuguese, Italian, Simple Chinese, Traditional Chinese, Japanese and Russian. You can connect it to your Windows or Mac operating systems via USB 2.0.
Sony Action Cam
Dimensions: 1.85 x 1.16 inches
Specific Features:
Image stabilization with SteadyShot is good to reduce blurriness
Built-in NFC (one touch) and Wi-Fi for viewing and remote control via smartphone
Six video modes including 4x slow motion and 1080/60p HD
Description: Sony® Action Cam with GPS is a great device for legendary video quality. This HD POV camcorder features integrated Wi-Fi connectivity with NFC to turn your any compatible smartphone devices into the remote control device.
The camera is designed to conquer rocketing descents, mountain peaks, and swerving slaloms in perfect clarity with its SteadyShot image stabilization. The active mode of this video helps you to record smooth videos while constantly moving.
Turn your smartphone into the remote viewfinder and make required adjustments to the settings of your camera.
It is easy to frame your shot before starting your adventure and share it with your friends. You can use its built-in GPS in conjunction with free Home software PlayMemories™ to track performance and speed.
Speed, trail and location information will help you to analyze your performance. A1920 x 1080 HD resolution in 60p helps you to capture every movement and sweat drops. Capable of 30p and 60p playback and recording, the HDR-AS30V offers excellent clarity, smooth playback, and dazzling detail, even on rocky trails.
With its professional quality Carl Zeiss Vario-Tessar® lens and ultra-wide angle, it can capture professional quality video.
Veho VCC-005-MUVI-NPNG MUVI HD Mini
Weight: 2.9 ounces
Dimensions: 3 x 0.8 x 2 inches
Specific Features:
Wide angle 170-degree lens is good to capture maximum surrounding in your footage
5 Megapixels HD resolution for video image is almost 1920 x 1080 at 30fps
Universal mounting styles are helmet side mount, encircling flat mount, body clip, Velcro fixings and Helmet strap
You can click 8 Megapixels Stills with nonstop photos and time-lapse videos
VCC-A019-MP monopod, Standard Tripod Mount, and tripod are available. These work well with standard Mounting MUVI options
Waterproof Case, Remote Control, Helmet Front, and eight Gb Memory
Description: Veho offers a versatile camera with exciting and new lifestyle and action sports. The Veho VCC-005-MUVI-NPNG MUVI HD Mini in waterproof case enables you to capture underwater footage up to 60 meters depth.
Updated firmware enables you to record 960p and 720p at 60fps & 30fps to increase the versatility of your action camera. It has 16 MB in the 1080p mode to ensure a smooth footage.
With its 1400 mAh battery, you can get the advantage of continuous three hours recording. You will get an eight GB micro SD card for 80 minutes recording at 1080 HD. With Time Lapse, exposure control, touch sensitive and remote control features, this HD camera gets a prominent position in the market.
You can view your recordings on 1.5-inch LCD. You will get some exclusive accessories with this camera, such as Duo pod, harness mount, and headband mount.
Drift HD Action Cam
Weight: 0.38 pounds
Dimensions: 3.94 x 1.18 x 1.97 inches
Specific Features:
1080p Full HD Video at almost 60 fps
Sharp 12-Megapixel Photos
Drift DataLink, Drift App, and Wi-Fi Enabled
2 inches LCD Screen made of Gorilla Glass
Rotatable Lens to almost 300 degree
Description: Drift HD Action Cam is ideal for professional and casual users because the Ghost-S is great cam to date. With its leading-edge processor, plus 7-elements aspherical lens technology, and Ghost-s and CMOS sensor is capable of 1080p at 60fps and 12-megapixel stills.
With easy and intuitive features, it provides easy access to lots of user-adjustable settings. The battery life of this camera is almost 3.5 hours. The user-adjustable settings include resolution, 10x digital zoom, bit rate, the field of view, frame rate and standard HDMI out.
With its groundbreaking recording modes, this feature helps you to instantaneously record on multiple cameras at the same time with similar Wi-Fi network.
Video tagging is an ultimate feature for those who don't want to miss any moment. This mode can store video momentarily by recording one continuous loop. After activating this mode, the Ghost-S can save your required material on MicroSD card. You can select your personal highlights to save on your memory card.
Tips to Look for The Best Camera
Helmet cams are designed to withstand durable and rugged impacts. These are used in energetic settings and exposed to heavy vibration, cold, water, and dirt.
Good helmet cams should have the following features:
Image Quality: Helmet cams may differ in image quality and settings to boost definition. Full HD (high definition) or 1080p offers the crunchiest playback to use on TV. Tall HD (high definition) or 960p falls slightly back on quality, but you can get the advantage of longer films with lower file size.
The standard mode of most cameras is available at 720p to record detailed videos.
Camera Memory: Some cameras offer pre-built hard drives for direct saving with minimal memory. You will still need an SD (secure digital) card to use the full potential of helmet camera. An SD enables you to transfer your data to your personal computer quickly, or you can use a USB cable. Some advanced models offer Wi-Fi specifications to stream your film on your phone or computer app.
Battery Life: It is directly related to the quality of your image, and you can expect anything from one hour to three and half hours, depending on your settings. Shooting higher quality will drain more battery life.
Mounting Options: Camera mounts are necessary to mount the camera on your bike handle, strap and/or seat mount. Helmet mounts may come with sticky or strapped variants for a hardcore downhiller and chest mounts for a good view.
GPS Tracking: It is an additional incentive because while off-track riding, you may get lost. Coupling together your helmet cam with your GPS will help you to determine where you are.
Frame Speed: A recorded video is a result of the quick session of images. These pictures are known as frames, and these should run faster for a better video. Helmet cams may record at 30 fps (frames per second) or more. The increase in the frame per second will utilize more memory space in your camera.
Accessories: There are numerous knick knacks that can boost the performance of helmet cam. You may get 3D glasses and kits to view your 3D race. Some iPhone and Android apps may allow you to control your camera.
CMOS or CCD
You can find two types of helmet cameras in the market: CMOS or CCD. CMOS are based on metal-oxide-semiconductor sensors.
These cameras require little power to operate, and these are smaller in size than CCD cameras. CCD cameras are designed with CCD chips on the motherboards of cameras. So is there one advantage over the other?
CCD cameras are capable of producing higher-quality images that have less grain over CMOS cameras.
CMOS cameras are better at power consumption, so you can get more images and videos before the battery eventually dies.
The technology for CMOS cameras is constantly being fine-tuned and will soon surpass the quality provided by CCD cameras.
CMOS cameras are also becoming more and more affordable, and may soon overtake CCD cameras in the market.
Final Thoughts
All these cameras are lightweight and equipped with numerous features. Every camera has its specialties, so you have to consider your recording necessities. Consider Wi-Fi, GPS, battery life, mounting options, image quality and frame speed before selecting a camera.
Hopefully, this article has helped you to sort out what those needs are, and what features you should keep in mind when selecting a helmet cam. And if not, you can always ask a professional to help you find what you need.
I hope this post will help you to choose the best product for your needs. Feel free to share your suggestion and product experiences in the comment section below.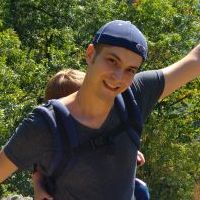 Daniel is a gear freak when it comes to hiking, climbing and camping. He went to REI Outdoor School to meet new people and learn best practices. Don't even try to argue with him about the latest backpack or ice axe, he tried most of them. Daniel's dream is to climb Mount Everest.