In the market for a new mountain bike but not sure which to choose? When searching for the best full suspension mountain bike, you want to find one that is shockproof with reliable brakes. There are more than a handful to choose from, but not all of them offer the whole package.
Whether you're hitting some backcountry trails or powering through your neighborhood, it's up to you to decide which mountain bike suits you best. Not only are there a variety of bikes to keep in mind, but there are specific features you should definitely rely on when taking your pick.
Our Best Picks
Note: We get commissions for purchases made through links in this article
Victory Vegas Jackpot Mountain Bike
Dimensions: 29 x 8 x 54 inches
Weight: 43 lbs
Specific features: Aluminum frame, 24-speed, Dual suspension, 26-inch wheels
Best Use: Beginner Riding, Trail Riding
Description: Victory Vegas mountain bike is great for beginner riders and those looking to break out onto the trails. This bike is moderately priced and has an aluminum frame with dual suspension.
Though it doesn't boast full suspension throughout the entire frame, it has 26-inch wheels that are built for some of the toughest terrain and dual disc brakes. Shimano is also a well-respected brand that makes quality products. This is a great bike to start out with if you're looking to start a new mountain-biking hobby.
Diamondback Bicycles 2017 Recoil Mountain Bike
Specific features: Disc brakes, 29" wheels, Full suspension, Shockproof
Best Use: Trail Riding, Mountain Biking, Biking Excursions
Description: Diamondback Recoil mountain bike is made with a full suspension, metal alloy frame and 29" wheels that are ready to tear up the next patch of terrain. The frame is known to be highly durable and the bike itself is said to be shockproof and protect against most bumps along the way.
This bike features mechanical disc brakes, stainless steel spokes and a thin-framed race saddle. Another great plus to this bike is its lightweight nature. The aluminum alloy frame, along with most of the other bike components, are hand-made and lightweight, despite its true durability. This bike is certainly the whole package.
Merax 26″ Full Suspension Mountain Bike
Dimensions: 54 inches x 8 inches x 29 inches
Weight: 50 lbs
Specific features: Double aluminum rims, Dual suspension, Disc brakes, 21-speed
Best Use: Beginner Mountain Biking, Casual Trail riding
Description: The Merax 26" mountain bike is a pretty good bang for your buck. This is the type of bike you should keep in mind if you're new to the sport or hobby of mountain biking.
Not only will it get you by on some tricky terrain with its dual suspension system, but it features double aluminum rims along with front and rear mechanical disc brakes.
With the 21-speed gear shifters and 26" wheels, this is a good starter bike to at least get you out on the trails. It's totally worth the investment to give this sport a try.
Gravity FSX 1.0 Dual Mountain Bike
Dimensions: Multiple sizes
Weight: 35 lbs
Specific features: Disc Brakes, Adjustable (full) Suspension, Lightweight
Best Use: Backcountry Biking, General Mountain Biking, Trail Riding
Description: This Gravity FSX 1.0 mountain bike is very appealing with its lightweight, yet durable frame, and its front and rear disc brakes. It also features quick-stopping wheels that vary in the size of bike that you purchase. The sizes that are available include: 15", 17", 19" and 21"; all of the sizing recommendations are based on height, so it's best to refer to the sizing manual before purchasing.
Another neat feature about this bike is the adjustable suspension that allows the rider to adjust the suspension, whether they prefer it to be closer to the front or rear portion of the bike. Often the adjustment depends on the type of terrain. This bike carries 24-speeds and is made of metal alloy. Though assembly is required, this bike would be great in heavier terrains.
Diamondback Bicycles Recoil 29er Mountain Bike
Dimensions: Multiple
Weight: 33lbs
Specific features: 27.5" wheels, 24-speed, Full Suspension, Single pivot frame
Best Use: Backcountry Biking, Mountain Biking, Casual Riding
Description: This Diamondback Recoil 29er Bicycle is very similar to the 2017 version, yet this bike has a unique design with full suspension throughout its aluminum alloy, single pivoting frame.
It weighs a mere 33 lbs, making it one of the lighter bikes on the market, yet its aluminum alloy build proves its durability. The impressive frame sits on 27.5" wheels that come equipped with mechanical disc brakes. Though the price is a bit steep, you're paying for quality, durability, brand and function; all of these features are top of the line and the bike essentially comes "ready to ride", so you can waste no time before you're hitting the trails.
Schwinn S29 Men's 29″ Wheel Mountain Bike
Dimensions: 29" (wheels), 18" (rim)
Weight: 47 lbs
Specific features: Full suspension, 29" wheels, 21-speed, Disc brakes
Best Use: Mountain Biking, Trail Riding, Casual Biking
Description: This Schwinn S29 mountain bike is priced great for its reliable brand. Not only does it offer the 29" wheels, front and rear disc brakes and full suspension throughout, but the 21-speed trigger shifter on this Schwinn makes it easier to climb the hills and then descend back down.
The 29" wheels are a big plus. Nothing on the trail can get in your way with these bad boys. This Schwinn bike offers a component known as the three piece crank which helps the trigger shifter work quickly and efficiently, allowing the bike to take on higher (or lower) elevations through a quicker transition. Though you can hit the trails with your friends on this Schwinn, it's also a great bike for casual riding or your next weekend adventure.
Mongoose Stasis Comp 26-Inch Mountain Bicycle
Dimensions: 10 x 31 x 54.72 inches
Weight: 50 lbs
Specific features: 26" wheels, 21-speeds, Disc Brakes, Alloy Wheels
Best Use: Mountain Biking, Trail Riding, Casual Riding
Description: This Mongoose Stasis 26" is your standard mountain bike at a reasonable price. This bike offers most of what we have seen in the other bikes, and is essentially a basic combination of the moderate-level bikes. It features 26" wheels, 21-speeds and front and rear disc brakes.
It offers full suspension on the front fork of the bike and is built to be lightweight and comfortable. Mongoose is typically seen as a "trick bike" brand, so this bike definitely has what it takes to hit some of the harder terrain and pull some tricks along the way. Seeing as though this bike is built for the rougher stuff, it comes well-equipped with a front suspension fork. This mongoose definitely won't steer you wrong when it comes to off-the-road biking.
Generic 26″ Hyper Havoc Mountain Bike
Dimensions: 7.48 x 27.17 x 52.36 inches
Weight: 50 lbs
Specific features: 26" wheels, 21-speeds, Pull Brakes, 3-piece crank
Best Use: Light Mountain Biking, Casual Riding, Trail Riding
Description: This Generic 26" Hyper Havoc Full Suspension mountain bike is great for the price and is comparable to the mongoose bike that was just discussed.
Recommended for lighter mountain biking or as a beginner bike for new riders, this bike weighs a whopping 50 pounds in durable aluminum. It features dual suspension in the front fork and frame and 3-piece crank for quick-stopping features. The downside to this bike is the front and rear pull brakes, rather than the more popular disc or rim brakes.
Types of Mountain Bikes
Sure, you probably wouldn't have guessed that there is a "certain type" of mountain bike, and honestly most mountain bikes are relatively the same, however, each of them have unique parts that make them fall into a specific category of bike.
That being said, there are some common types of parts found on a general mountain bike and you will find those outlined below. Once you have a better idea about the types, we can get into some of the features of what to look for in these types of bikes.
Dual Suspension
This is a common term you might hear when talking about bikes, or even cars. This essentially means that there is suspension at not only the front of the bike, but also at the rear portion. Suspension is what keeps the rider in place when they go over a more rugged path or trail.
The system on the bike "suspends" the rider in place, so that they don't lose their balance or fall off the bike. When searching for your next mountain bike, some sort of suspension is crucial if you're taking on a tumultuous path.
Full Suspension
If your mountain bike has full suspension, that means that the front portion of the bike that carries the suspension is supported by a frame that evenly distributes the suspension to a greater area on bike. Just like a dual suspension bike, there is also a suspension frame on the rear of the bike as well.
Keep in mind, it's possible for a bike to have a full suspension frame as well. A full suspension mountain bike is for the real go-getters and those who want to travel off the beaten path. You will essentially have more of a support system when riding over the tougher stuff.
Disc Brakes
A mountain bike that carries disc brakes differs from other brake systems, such as rim brakes. Disc brakes are powered by a smaller rotor that attaches the middle portion of the bike wheel. These brakes are great for short-term stopping and stopping at a moment's notice.
A well-equipped mountain bike will feature a full suspension frame and disc brakes; this will provide a stable system for you as a rider and is safer than a dual suspension, rim-braking bike.
Mountain Bike Logistics
Though we've outlined some of the types of mountain bikes for you, there are a variety of features to look for when searching for the perfect ride. Choosing the right features depends on the intention of use for your mountain bike. If you're heading out on some mellow trails or an easy-paved path, you can settle on a more basic mountain bike with less features.
However, if you're looking to dive into mountain biking head on and hoping to tear up some of the more intense terrains, you want to find a mountain bike that doesn't break the bank but includes all the important features that you're looking for. Take a look at the recommendations below.
PRICE
Price is always an important factor to keep in mind. You might find a mountain bike that has all of the same capabilities to its competing brand, but is hundreds of dollars less. In this case, you're simply paying for the quality and reputability of the brand. You can find a easy-to-ride, basic mountain bike for $150-200 and do fine as a beginner.
Of course there are more extensive versions of the basic mountain bike that can range anywhere from $700-800 and above. In the middle range of prices, you can find mountain bikes for $300-400 and still walk away with a pretty decent bike. The price of course, should not be the only selling point.
BRAKES
As mentioned above, there are a variety of brake types that are typically available on any given mountain bike. Rim brakes, disc brakes and the brakes that we all remember as a kid: coaster brakes. Coaster brakes are the back brakes that we know so well from childhood. When you backpedal on the bike, they trigger the rear brakes; some mountain bikes still have these brakes, surprisingly enough, but they are not the most common.
Rim brakes are more common than coaster brakes, yet less common that disc brakes. Rim brakes are the "quick stopping" brakes that are held together by a rim on both sides of each wheel, like a sandwich. Lastly, disc brakes, the prevalent mountain bike brake, are typically the ones that you want to look for. These brakes can either be hydraulic or mechanical. Hydraulic brakes have more stopping power, mechanical brakes are budget friendly and easy to fix on your own.
SUSPENSION
Most mountain bikes offer some sort of suspension system. Most of the budget-friendly options for mountain bikes will offer at least the dual suspension on the bike, which supports the front fork and rear end of the bike; this is pretty sufficient for easier rides. Once you get into the higher-priced mountain bikes that have more of the souped up gadgets, you might find bikes that are full suspension.
These bikes that offer full suspension typically have the dual suspension at the front fork and rear ends of the bike, and then also have a full suspension frame that keeps your supported all across the bike. Though having a full suspension bike is comfortable and safe, it isn't necessary for a beginner's mountain bike.
GEAR SHIFTING
It's important that your mountain bike is able to downshift and upshift according to the conditions of the road or terrain. A standard mountain bike typically has a 21-speed shifter, but some do offer options up to a 24-speed shifter.
When you're climbing at higher elevation or if you're riding into the wind, it's easier to pedal on a lower gear; if you're going down hill, switch to a higher gear to be more comfortable. With a variety of gears it's helpful to be able to get a good feel for what gear is most comfortable for the elevation, terrain or path that you're on.
BRAND
Brand is always a good specification to keep in mind, mostly due to the reputability and quality that may go hand-in-hand with a specific brand or product. If you've heard that a specific brand makes amazing mountain bikes that are high quality and worth the price, then sometimes there is no need to shop around.
However, it could go the other way; a brand could be shamed for their mountain bikes and others could deem their products to not be worth the investment, due to poor quality. This type of recommendation is super helpful when you're not sure which brand or specific product to go with.
Now that you have an idea about the features that are important when searching for your next mountain bike, here are some recommendations that come equipped with the right amount of suspension.
TIME TO HIT THE TRAILS
There are so many options to choose from when you're looking for a sufficient mountain bike to get you through the tougher terrain. You have the budget-friendly, basic bikes that can certainly get the job done, but might not be the most forgiving on the brakes and the suspension features.
There are the moderate-level bikes that are priced reasonably and can give you the experience that most are looking for when they hop on a mountain bike and hit the trails.
Lastly, there are the higher-priced, reputable-branded bikes that have all of the basic necessities along with all of the bells and whistles; most of these bikes have the top of the line brakes, are packed with full suspension and have lightweight, durable frames.
Make sure you choose the bike that is going to give you the best experience and will suit your hobby the best. While one bike might be great for light, weekend adventures with friends, another would better suited for more intense mountain biking or extreme backcountry trail. If you have tried any of these bikes or care to share your insight, feel free to comment…we'd love to hear from you!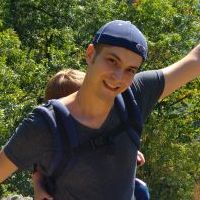 Daniel is a gear freak when it comes to hiking, climbing and camping. He went to REI Outdoor School to meet new people and learn best practices. Don't even try to argue with him about the latest backpack or ice axe, he tried most of them. Daniel's dream is to climb Mount Everest.