How did fat bikes get popular suddenly? In the last decade, you might only see one or few on the road. Now you see more of them more often because of their versatility and function. That's why many adventure racers ride the best fat bikes and get the most out of them.
And today, you can become one of them because I am here to share the best fat tire mountain bikes this year. Go for quality and instant satisfaction!
If you are into outdoor adventures, you will see that fat tire bikes are ruling the road. Since there's more surface for the rubber tire, you get an advantage when biking on unmaintained roads. Overgrowth, sticks, debris – these are all easier to overtake on a fat tire bike.
Also, fat tire mountain bikes just look cool. This is the case especially when there's no one in your neighborhood or friends who have that kind of bike. You can set the trend and they will never go back.
But before you buy a fat tire bike and conquer the streets and adventure races, you're doing the right thing to research a bit. So let's not waste any time and instead let's see which are the best fat tire bikes on the market at the moment!
Note: We get commissions for purchases made through links in this article
Bike
Details
Mongoose Dolomite Fat Bike

Editor's Choice
26″ wheels
4″ wide tires
Steel frame
A bit heavy
Check price on Amazon
Homextra Fat Tire Bike

Best Budget
26″ wheels
4″ wide tires
Aluminum frame
Is and feels cheap
Check price on Amazon
Max4out Fat Tire Mountain Bike

Best for women
26″ wheels
4″ wide tires
Good for shorter individuals
Quality could be better
Check price on Amazon
Mongoose Juneau

Solid alternative
26″ wheels
4″ wide tires
Aluminum frame
5'4″ to 6'2″ rider height
Pricey but very high quality
Check price on Amazon
Best fat bikes that adventurers love
Let's get a bit more in depth now and see why each of the bikes above made it onto our list. We'll look at their features to see which one is best for you – as well as into the Pros and Cons so you can make an educated choice.
The choices this year are a bit limited due to many options being out of stock, but the ones recommended below are still of extremely high quality and really good overall.
Mongoose Dolomite Fat Bike – Editor's Choice
The Mongoose Dolomite Fat Tire Bike is one of the most popular fat tire bikes out there. And it is so because it's simply the best you can choose. No doubt about it!
Sturdy and tough, the bike has some decent, 4-inch wide tires (the wheels come at 26 inch), which makes it a perfect all-terrain bicycle.
Whether it's sand or snow, mud or dirt, grass or sticks, the tires will help you maneuver and push forward. It's not effortless. But those fat tires make it easier to accomplish what you want.
Furthermore, this bike is also good for everyday riding. You will feel the comfort and you might experience better stability with it. It's no wonder many bikers choose this over all the others.
Priced reasonably, the Mongoose Dolomite is a steel-framed fat tire mountain bike, which makes it a bit heavy, but nothing out of the ordinary.
The brakes are strong and reliable. The overall design is also a plus point because it looks cool and ready to use anytime. Suitable for riders 5'6″ to 6′ tall by official standards, it can definitely accommodate taller people, as well as heavier ones up to 330lbs.
All in all, this is an awesome bike you will absolutely love, guaranteed!
Homextra Fat Tire Bike – Best Budget
The cheapest option on our list does sell at a fair price, but you do get what you pay for. In other words, you can't expect extremely high quality from this made in China bike.
But it still looks mighty amazing and impressive and does the job well for the money. But it does feel and look a bit cheap, despite all things.
Like any fat bike out there, it offers solid performance and is reliable on all sorts of terrain thanks to the good tires (26-inch, 4-inch wide).
It does a slightly shorter frame than most – at 17″, which means that taller people might find this uncomfortable. I would say that 5'6″ – 5'10" riders would feel most comfortable on it, but if you're a bit taller (or shorter) it might not be a huge deal.
You do have those massive tires to make everything more comfortable for sure, and the build of the bike itself is pretty decent!
The aluminum frame is very sturdy and the official word is that it can hold up to 200kg (440 lbs), but based on how it looks, I would assume that a maximum weight of 350lbs would be better for complete safety and comfort.
This is just a personal opinion though – up for you to decide if you take it or not.
All in all, despite the fact that it feels a bit cheap, this model is decently built, looks really mean once assembled and has solid brakes for downhill riding, as well as your regular adventures on any type of terrain.
So if you're short on cash, this is the best option for you.
Max4out Fat Tire Mountain Bike
Due to it being lighter and with a more feminine design, I consider this the best fat tire bike for women. However, in reality, all the other models are a good fit for most women, just as this one can easily be used by men.
While we're still in the "looks a bit cheap" territory, this bike does a good job at offering great stability and performance on all terrain types, just like all fat tire bikes should. And somehow pedaling still doesn't feel as demanding as with other similar bikes.
In terms of features, you get basically everything that other models offer, mainly 26-inch rims. At 4″ wide, the tires are solid and nice.
The overall build of the bike is solid, being sturdy and a bit lighter than most although we're talking about what seems to be a steel frame, not an aluminum one.
The derailleurs feel a bit sluggish, but overall, this bike delivers what can be expected of it, without any "wow" moments, but without any deal-breaking problems.
Mongoose Juneau
A bit more on the expensive side, this fat tire mountain bike does offer a lot of value for the money. It looks great, if feels great when you're riding it and it's truly worth the extra dollars if you can afford it.
Although the official description states that you're getting a 20″ wheel size with 3″ wide tires, in reality that is not true. You get a regular, 26″ wheel fat tire bike with 4″ tires. And a really high quality one too!
The bike features a light, aluminum frame that is sturdy and well built. The brakes are mechanical and do a great job at keeping you safe. The bike only has 16 speeds – which is lower than what the others offer, but still no real reason to complain.
If I really had to complain about something on this bike, I would say that the plastic pedals are a bit strange. I have wider feet and I find them somewhat uncomfortable. So switching to some aluminum pedals would make more sense.
But apart from this minor inconvenient, there are no real reasons to complain about this bike – on the contrary! If you have the higher budget required for this one, you will surely be very pleased with it.
How to choose the best fat tire bike: Features and specifications
It's good to follow what the experienced bikers are doing. This way, you'll avoid most of the mistakes when it comes to buying new gear. That's why you can read here the most important features they look for.
Tire width
Most traditional bicycles only have tires with widths of a little over 2 inches. Fat bikes, on the other hand, have tire widths of up to 5 inches.
The appearance can greatly vary depending on which width you choose. If you go right away with the 5-inch width tires, expect to surprise yourself with the sudden change.
Aside from appearance, the tire width can also affect the balance. Not only the adventure racers like the fat bikes, the beginners also have a preference for them. That's because the additional width provides more balance and stability to beginning bikers.
When it comes to adventure racing, thicker tires can also provide more grip onto the ground. The larger surface area distributes the pressure and makes it much easier to go through snow, sand, or mud.
Frame material
The frame material is also important because it's the backbone of the bike. It's the foundation and any structure is only good as its foundation.
Why is it important to check the frame material? First reason is that it dictates the durability of the bike. If you've got a strong frame you can also say that you have a strong bike.
Another reason is that the frame material also has something to contribute to weight. Get a heavy frame and you'll also have a heavy bike.
Many fat tire mountain bikes now are made from aluminum. Aside from the durability of aluminum, it's also lightweight.
Other bikes are made from steel frames, titanium, or even carbon fiber. These are all strong materials that can handle the weight and adventure.
Brakes
Many people still stick with traditional brakes (mechanical and cable-actuated). Aside from being reliable, these brakes are also easy to set up and adjust.
Even beginners can start tinkering with them as soon as they get hands on these brakes. However, there are better brakes depending on where you will use your fat bike.
For instance, hydraulic disc brakes can work well in slightly warmer climates. In colder weather, you can also use hydraulic disc brakes but this time use DOT fluid instead of mineral oil.
One reason is that brake systems that use DOT fluid provide lower viscosity (resistance to flow) than those with mineral oil.
The latter becomes thicker as you approach colder temperatures. The thicker fluid provides the feel of being sluggish whenever you use the brakes.
It's good to take note of what type of weather will you be encountering during your adventure. Once you have your fat bike ready, you can also make adjustments depending on your preference, riding speed, and adventure.
The key here is to prioritize safety and make sure the brakes are working properly.
Total weight of the bike
The extra weight will affect the riding experience and comfort. When you have a heavier bike, expect to expend more effort on handling and maneuvering it.
Aside from the frame material, the tire width can also contribute to the weight. The extra weight could be 4 pounds. That's because aside from the wider tires, you will also need wider and heavier rims to accommodate those tires.
Four pounds seems only a small deal. However, think of how many miles and how regularly you will be using the bike.
That extra weight can take its toll as you cover more miles and more adventures. It's especially the case when the terrain is far from ordinary, like mud and snow for example.
For many adventure racers though, the extra weight is worth the price. Because of the fat tires, they can now achieve more balance and expend less effort. It's also a cooler thing to see because the fat tire bikes somehow signify strength and adventure.
You can now choose your next fat tire mountain bike!
Fat bikes are on the trend these recent years. That's because they offer a different experience. They also look cool which makes them a clear choice for many outdoor enthusiasts.
It's easy to choose and buy one, especially if you've read all the tips and insights above. One thing's for certain, you'll be riding one in no time.
If you have any questions or comments regarding fat bikes, comment below. Your ideas and insights might help fellow adventurers or beginners.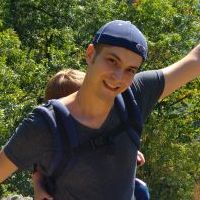 Daniel is a gear freak when it comes to hiking, climbing and camping. He went to REI Outdoor School to meet new people and learn best practices. Don't even try to argue with him about the latest backpack or ice axe, he tried most of them. Daniel's dream is to climb Mount Everest.