Riding a bike is one thing, but knowing how to repair it is a whole other story. Sure, you can take your bike to the repair shop, but there'll be moments where you won't be able to.
Maybe the shop's closed or you're on a long-distance ride and you have a flat tire in the middle of nowhere. The point is, you need to be prepared.
This means, you'll need to know what the best bike tool kit is and how to use it. Let's take a closer look.
Note: We get commissions for purchases made through links in this article
Top Picks for Best Bike Tool Kit
Bikehand Complete Repair Tool Kit
Weight: 17 lbs / 7kg
Dimensions: 18 x 10 x 9 inches
Specific Features: toolbox
Now, if you're planning on doing all major repairs at your house instead of taking your bike to the repair shop, then you need to invest in a solid repair tool kit. Bikehand is a well-known brand that designs reliable bike repair tools. Bikehand Complete Repair Tool Kit fully represents its name.
Your tools come in a highly-durable toolbox and virtually every tool you need to properly repair your bike. It comes with a hex wrench set, chain cleaner brush, patch kit, 13mm-19mm shop cone wrenches, spoke wrench, tire levers, screwdrivers, cassette, synthetic blend bearing grease just to name a few.
In addition, you have the security of a one-year limited warranty with Bikehand, so, if something goes wrong, you don't have to worry. Though this repair kit is large, it's a great addition to your workspace at home.
Related: If you're needing a bike repair tool kit that comes on the road with you, then you should look for one that works as a saddle bag. You won't need all the tools that are included in the Bikehand, just the necessities. In this case, Wotow repair kit can easily to clipped onto your bike and used in case of emergencies.
Venzo Premium
Weight: 6.4 lbs / 3 kg
Specific Features: durable plastic tool box, protective internal foam
The Venzo Premium is a high-performance repair tool kit for cyclists, whether they ride mountain, cruisers or road bikes. The Venzo Premium is the perfect blend of quality and affordability. You can use this toolkit at home or bring it with you to races – it's highly versatile, including every tool you could possibly need. The toolbox itself is highly durable and includes protective internal foam, ensuring that your tools are stored safely.
The 37-piece tool kit includes: tire levers, cotterless crank tool, freewheel remover, spoke wrench, hub cone spanner, headset wrench, crank installation tool and open-ended wrench, to name a few.
Related: It's recommended that you get yourself a bike stand so that you'll be able to efficiently repair your bike. That being said, the Pro Mechanic rack stand by Bikehand is one of the best bike stands on the market. It comes with a rotating clamp that can be clamped on top of the tube or seat post, plus, it's highly durable as it's made of full alloy aluminum.
Bikehand Repair Kit
Weight: 3.8 lbs / 1.72 kg
Dimensions: 9.8 x 8.3 x 2.9 inches
Specific Features: comes with all the essential tools, durable toolbox
Another exceptional product from Bikehand, the repair kit gives you everything you want in a repair kit. Bikehand Repair Kit is highly durable, so you know your tools will be kept safe and secure. In addition, if you're not a professional cyclist and don't want to invest in an expensive tool kit, then this is a great option. It provides you with all the essentials, and won't make a dent in your bank account.
It comes with 13 items including, cotterless crank extractor, tire levers, chain rivet extractor, freewheel turner, spoke wrench, philips screwdriver, hub cone spanner and a patch kit.
You'll be able to repair your bike at home with this kit, however, if you're looking for a kit to take on the road, this is not the appropriate size for on-the-road use.
Related: Now, if you're looking for a lightweight, multi-functional repair tool it that you can easily take with you on the open road, well, we found it. The GVDV is a 16-in-1 multi-functional cycling mechanic repair tool kit that can hit in the palm of your hand. It's highly portable and easy-to-use. It's made of high-quality carbon steels and ABS material which give you a durable and effective tool kit.
Included, it comes with a slotted screwdriver, 8-10mm hex wrenches, Phillip's screwdriver, spoke wrench, sleeve extension and 4 types of flat wrenches. You'll be happy you took this on the road with you.
Daway Repair Tool Kit
Specific Features: repair any bike, tire helper included, lightweight and portable
Many cyclists have a repair kit for home and another for on the road. Both kits have the essential tools you need to repair your bike, however, an on-the-road kit is lightweight, portable and easy to carry. The Daway Repair Tool Kit is a 16-piece kit that comes with 6 hexagon wrenches, 3 socket spanners, 3 flat wrenches, 2 screwdrivers, 1 spoke wrench and 1 sleeve extension rod.
You be surprised by the number of tools, but don't think you're going to be weighed down. In fact, this repair tool kit is small enough to throw into your bag or even pocket.
The tools are made of high-quality carbon steel and ABS material which make for durable and effective tools. It also comes with a tire repair helper which includes cold patches, tire levers, metal rasp, rubber glue, so you're fully covered.
Related: You may want to add in an additional tool to your kit which can come very handy when you're on the road or even at home. The mini bike pump by Vibrelli is a miniature bike pump that'll be able to support you wherever you are. It has a 120 PSI capacity extendable telescope, no valve changing is needed, comes with a super fit valve and can attach to your bike frame. So, you won't have to worry about a flat tire ever again.
Ironarm Tool Kit
Weight: 5.8 lbs / 2.63 kg
Dimensions: 12.4 x 9.7 x 2.8 inches
Specific Features: heavy duty toolbox, high performance kit
The Ironarm Tool Kit is another exceptional high performance tool kit which can be used for both professional and home use. It comes with a hardshell plastic carrying case that'll keep your tools nicely packed and secure. The tool kit includes basically every tool you need to carry out a basic repair, if you're looking to do more advanced repair tasks, you'd something more equipped.
The tool kit includes 3.2mm-4.0mm spoke wrenches, dust cap wrench, chain ring nut wrench, freewheel tool, chain hook, chain rivet extractor, hub spanner, tire lever, torx key set and more. A great kit if you're a beginner or intermediate cyclist.
Related: Now, if you're looking for a repair kit that is able to fit in your pocket or bag while you're on the road, then the Ironman toolkit isn't the one for you. That toolkit is more designed for home use. However, you can always opt for the Ohlily multi-function tool kit which is designed for on the road use.
It's a 16-in-1 repair kit with a 8-piece hexagon key wrench set. Made of stainless steel so you're ensured that it's durable and functional. The 16 piece kit come with a slotted screwdriver, Phillip's screwdriver, hex key, and spoke wrench.
Spin Doctor Tool Kit
Weight: 5.2 lbs / 2.3 kg
Specific Features: integrated bottom bracket wrench adapter, chain tool, 6-piece hex wrench set
The Spin Doctor Tool Kit is another great option which won't dig a hole in your wallet. Coming with a durable custom-molded plastic casing, your tools are safely secured and made easy to transport. This toolkit is really ideal for those who are entry-level cyclists, looking to make minor repairs and maintenance.
It comes with all the tools you need such as an integrated bottom bracket wrench adapter, flat head screwdriver, cassette lockring tool, 3-sided spoke wrench, crank extractor, and patch kit, just to mention a few. Now, this toolkit is ideal for at home use or during races. If you want a toolkit that clamps onto your bike, this isn't the kit for you.
Related: The LB1 High performance tool kit is the perfect option if you're looking for a toolkit that you can literally take on the road with you. It's a fully complete toolkit that is able to support you during an mechanical emergencies, so you know you'll be in safe hands.
The tools are high-quality and durable, so they'll be able to withstand the test of time. It comes with dual action pump and steel tire levers, as well as a triangle bag that can be easily attached to your bicycle frame with its Velcro straps.
Nashbar Essential Tool Kit
Specific Features: durable casing, integrated bottom bracket wrench, easy-to-use
The Nashbar Essential Tool Kit was designed to allow you to handle most maintenance and repair challenges that are brought your way. You'll be able to perform minor tune-ups to major overhauls with the Nashbar entry-level kit.
It comes with 18 tools, so you're well supplied with everything you need for performing home mechanical repairs. The set comes with screwdrivers, a wrench set, cassette lockring, patch kit, chain tool and chain whip.
The kit also has been updated to correspond with the changes made in both road and mountain bikes, thus, the integrated bottom bracket wrench and the Torx wrench. What's great about the tools are that they're ergonomically designed and highly durable. The tools are easy to transport as they come in a custom-molded tool box for organization and security. Overall, it's a great option if you want a reliable tool kit.
Related: For a toolkit that's more designed to accommodate you while you're on the road, you should look at the 4-function multi-tool kit. It comes with 24 tools and 10 in porous wrench. This multi-functional tool has everything you need but also can easily fit into your backpack. It's not fancy, however, it works like a charm.
Choosing the right bike repair tools
Now, before you run to the store and buy the first bike repair tool kit you see, you need to make sure you know what you need to perform general maintenance on your bike. In addition to choosing the right tools, you may want to invest in a bike stand. It'll make repairing your bike easier on yourself when it comes to accessing challenging parts of your bike.
Also, by knowing what tools you need, you'll be able to save yourself the time and money of going to a repair shop.
Essential bike repair tools you need
There are some essential tools that you should know and how they function. You can have them with you on the road or at home. Regardless, here are the basics that'll be in your tool kit.
Bike Repair Stand: As stated prior, this isn't a part of your bike repair tool kit, it's an additional accessory. However, we highly recommend you add it to your toolbox. You're given the ability to work around the bike with perfect access, so you can easily repair and remove parts.
Pump: You don't necessarily have to have a pump with you on the road, however, you should have a pump ready-to-use at home. You have the option of purchasing a mini-pump that you can easily pack with you or mount to your frame. Make sure that your bike's tire valves are compatible with the pump.
Open-end Wrenches: It's best if you have open-end wrenches simply because you want versatility in your tool kit. You want a couple various wrenches measuring from 6-17mm, so you'll be able to use them on your disc brakes and hubs.
Spare Tube: If you're buying a spare tire, you want to double check that the tube matches up. In addition, make sure that the tire's valve match the tube so that it'll go through the rim.
Patch Kit: If you're a road biker, you'll need a regular patch kit. However, if you're riding with low-pressure tires, example, a mountain bike, you'll simply need a glueless patch kit.
Chain Master Link: If you're on the road and your chain breaks, you'll wish you had a chain master link. You'll be able to easily repair a broken chain wherever you are. You just want to make sure that the chain master link fits your bike chain.
Spoke Wrench: It's a small wrench that you'll be able to use to adjust the tension. You'll need a durable spoke wrench that'll help fix a tweaked wheel.
Tire Levers: They're so simple in design, you're probably questioning if you even need one. Well, you do. Basically, tire levers are used to remove the bike tire. Most tires are held against the rims, so when removing them, they can cause a lot of pain in your hands. Remove the extra frustration and pain by getting one of these.
Rag: If you don't want to get your hands dirty, then take your bike to the shop. However, if you don't mind, then perhaps throw a clean rag into your repair kit. It'll come in handy when you have to clean up the grease off your bike or your hands.
What can you repair with a bike tool kit?
Good question. Now, if you need to weld or perform more complex tasks, you'll need to add a couple more pieces of equipment to your kit.
With a bike tool repair kit, you'll be able to repair flat tires, twisted wheels, a broken chain and changing cable or shift brakes. Now if you really want to expand your abilities, there are some other tools you can invest in.
Air compressor: When you're setting up tubeless tires, you'll be happy to have an air compressor in your hands.
Hacksaw: With a hacksaw, you'll be able to cut through steerer tubes, seat posts and handlebars. Though you won't be using this often, it's a multi-functional tool.
Metal file: If your bike is getting rusty, you'll be able to easily remove it with a metal file.
Derailleur alignment gauge: Derailleur alignment gauges are used to straighten derailleur hangers which help resolve shifting issues.
Shock pump: A shock pump is designed to fill a small space with high air pressure. You'll be using a shock pump to fill up your bike shocks.
Now that you know everything you need in a bike tool kit, it's about time you found out what the best tool kits are for you and your bike.
Conclusion
Now that you know what consists of a bike tool kit and what tools you should look for in a kit, it's time you went out bought one. Look at the tool kits we reviewed and recommended above. They all come with essential tools and have the bonus feature of being highly reliable and durable.
Let us know in the comment section below what tool kit you chose and how you like it!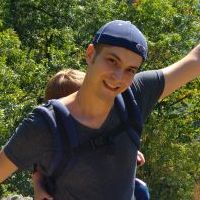 Daniel is a gear freak when it comes to hiking, climbing and camping. He went to REI Outdoor School to meet new people and learn best practices. Don't even try to argue with him about the latest backpack or ice axe, he tried most of them. Daniel's dream is to climb Mount Everest.