Cycling is a great sport for those who want something more than just running in place. Getting a taste for the great scenery that nature has to offer, burning those precious calories, and going farther than walking can be a great inspiration, especially to those who want to lose those winter pounds.
However, your cycling gear is only as good as you spend the time to maintain it, and one of the most essential parts is the chain. This is what helps to turn your tires when you pedal, so without this, you're going nowhere.
That's why it's recommended that you consider the best bike chain lube to keep your chain lubricated so that you're not struggling to get where you're going.
Note: We get commissions for purchases made through links in this article
Top Products on the Market
Now that you're aware of the various kinds of lubes that exist and which ones are best for your needs, it's time to take a look at some of the top rated products in the market.
Muc-Off 967NP Wet Lube
Amount: 4.1 fluid ounces/120 ml
The Muc-Off 967NP Wet Lube is designed to handle whatever nature decides to throw at you. It stays wet throughout your ride, minimizing the chances of rust developing on your chain. It does a great job at repelling any water or moisture in the environment, and even works against any mud that might splash onto your chain.
It ensures that each gear shift is just as smooth as the previous one, and reduces any friction in the moving parts of your chain. This means that you're not wasting energy while you pedal, so you're getting the workout you really want instead of waging a war against your bike chain to get it moving.
This wet lube is also biodegradable, so it's a great choice for those who are trying to lead a more green, environmentally-friendly lifestyle. And if you're worried about how often you have to reapply this lube, it's good for about 50 miles of riding, so you can spend more time in the seat than taking care of your chain.
Finish Line WET Lube
Amount: 4.0 fluid ounces/120 ml
One of the most used cycling lubrication in the world, the quality of the Finish Line WET Lube speaks for itself. It contains some of the highest quality ingredients you'll ever find, to the extent that one application will provide you with about 100 miles of riding before needing to be reapplied.
This wet lube provides great protection against wet conditions, so rust won't be a concern you have to worry about. It contains water-repelling polymers, quality synthetic oils with high viscosity, and additives designed to combat wear and tear of your bike chain. There's no concern for this lube to ever dry out, and will remain wet throughout your entire ride.
There are also plenty of purchasing options, if the four ounce bottle is not enough for you. It can also be applied in aerosol form, as not everyone is a fan of the drip-bottle form of application.
Muc-Off 966NP Dry Lube
Amount: 4.06 fluid ounces/120 ml
If you're looking for a dry lube that's not going to attract dust and dirt, then the Muc-Off 966NP Dry Lube is the product for you. This lube is formulated to hold up, even in extreme conditions. It penetrates every nook and cranny of your chain to ensure that it works properly and minimizes wear and tear.
It's a wax-based formula, so at the end of your ride, you're not going to find dirt and dust clinging to your chain, forcing you to have to clean it all over again. It's also biodegradable, so you're not harming the environment in any way with this product. You'll have no problems shifting gears, and you won't waste any energy forcing the chain to turn.
Finish Line Dry Lube
Amount: 4 fluid ounces/120 ml
The Finish Line Dry Lube is great at keeping your chain well protected by repelling moisture and minimizing any friction while pedaling. It applies wet but dries quickly to leave behind a waxy film that doesn't attract dirt or grime. Extremely versatile, it lasts as long as 100 miles of riding, so there's not need to apply or clean off after every ride.
It can be applied to other parts of your bike, such as the shifters, cables, and pivot points on your brakes. It's great for dusty conditions, but it can sitll hold up against slightly wet conditions. If you're not a fan of the drip bottle method, it's also available in aerosol.
Gorilla Ultra Premium Lube
Amount: 2 fluid ounces
Although the Gorilla Ultra Premium Lube is smaller than the others listed here, it's great at getting the job done. This high-tech bicycle oil only contains the best products to ensure that you get the most out of every dollar that you've spent on it. The price may seem like much, but this oil has been hydro-treated to eliminate any traces of petroleum, which has been known to create a build up in bike chains that can affect their performance.
Because of this treatment, this bike oil is also biodegradable, non-flammable, and non-hazardous, so your health and the environment are not in jeopardy. It's recommended that you clean and re-lube your chain with this product every two to five rides, depending on the conditions you've been in.
TERRA-RIDE R2 Advanced Bike Chain Wet Lube
Amount: 4 fluid ounces/120 ml
TheTERRA-RIDE R2 Wet Lube is guaranteed to keep your chain protected, even in the muddiest of conditions. The components are potent, meaning that it won't wear off after just a few rides, and will definitely reduce the wear and tear of your chain so that it prolongs the life of your chain.
It's great at repelling moisture, water and mud, and is eco-friendly, so it won't harm the environment if you drop some on the ground. This is a top choice for those who are interested in off-road biking, racing, and motocross.
White Lightning Clean Ride
Amount: 4 fluid ounces/120 ml
The White Lightening Clean Ride contains a dry lube that is self-cleaning, meaning that the dirt and grime you may encounter on your rides won't stick to your chain. The application process is very easy, and you won't risk wasting any of the product, as it goes exactly where you want it to and penetrates the inner workings of your chain to provide the best coverage.
However, keep in mind that this lube wasn't designed to last long, as the waxy film is quite thin, so you may need to reapply after every other ride. It's best for casual cyclists who are going for short rides.
Eco Sheep SHEEP ON THE ROAD
Amount: 7 ounces
Labelled as the EPA Safer Choice and USDA BioPreferred lube for road bikes, you're definitely getting a quality product that will last a long time. The Eco Sheep SHEEP ON THE ROAD comes with an application brush, which some cyclists have preferred over the drip and spray-on methods.
That means you use just the right amount of product, but you will have to ensure that you get all the parts of your chain for maximum coverage. This bike lube is biodegradable and eco-friendly, and is free of any petroleum that could damage your bike over time. It can even be washed off with just soap and water, so it's much easier to clean your chain between journeys.
WD-40 Bike Dry Lube
Amount: 4 fluid ounces/118 ml
The WD-40 Bike Dry Lube is designed to penetrate every tiny part of your bike chain, so there's no need to excessively glop on this product. It dries slowly over time to create an effective barrier against any dirt or dust you may encounter while you're riding your bike.
Special polymers have been added to increase this effectiveness, and won't cause any build-up in your chain over time. However, some customers have complained that despite it being a dry lube, it still picks up grime from the road. It's worth considering, depending on how much you're willing to spend on bike lube.
What does Chain Lube Do
Many people think that they don't need to consider investing in such a product, but chain lube actually does a lot to keep your bike in working order. First, it reduces wear on your chain so that the links are less prone to breaking. Secondly, it reduces friction. Because the chain is constantly being used as you pedal, it can wear down quite quickly from use.
By reducing the friction between the parts, you'll help to extend the life of the chain as well as achieve a smoother ride. Lastly, chain lube provides protection against corrosion, which is a real problem for cyclists who take their bikes out on the road.
Weather and road salt can all wear away the metal parts of any bike, so keeping them protected will save you a lot of money in the future in getting your bike repaired or even replacing it altogether.
Various Kinds of Chain Lubes
It would be easy if there was just one kind in the market, but that's not the case. There are various kinds of chain lubes for you to consider, each with their own pros and cons that make some a more attractive choice over others.
Wet lubricants
These are great for muddy or wet conditions such as snow, where rust can be a real problem. These kinds of lubricants, as the name suggests, remain wet in order to provide the most protection to your chain. They have a medium viscosity that will prevent them from being running, but are still liquid enough to get into all the small intricate parts between the chain links.
It's best not to use this kind of lube in dusty conditions, as the dust will stick to it and get between the chains. It's advised that you clean your chain often when you're using wet lubes. It's best used in cyclocross, urban riding, wet climates, winter cycling and long-term bike storage.
Dry lubricants
These usually consist of a wax-like substance that has been suspended in an alcohol-based solvent. When applied to the bike chain, the alcohol evaporates, leaving behind a waxy film that lubricates the chain. The biggest problem with this kind of lube is that it requires three to four hours to dry beforehand, so you do need to plan ahead as to when you'll be riding your bike.
However, this kind of lube won't collect any dust, so you won't have to clean your chain as often. This kind of lube is best used for road cycling, dry environments, mountain biking, and summer riding.
Hot Wax
This is considered to be the top-of-the-line standard for chain lubes, as it recreates the high quality of the factory lube used on chains when you first buy your bike. This process involves the removal of the chain and then dipped into a tub of hot wax to coat the entire chain.
The process does improve the functioning of the chain as well as extending its life. However, it does require a lot of special equipment and patience, so the process is not for everyone. The hot wax also doesn't last very long, so it does require regular reapplications over time.
The Spray Versus Drip Debate
Many lubes come in one of two forms: spray can or drip bottle. Which you choose is a matter of personal preference, but there are some advantages and disadvantages to both that may help you in your decision making process.
Spray cans – They are easy and fast to apply to your chain, but it's the messier process of the two. Because of the method of application, it can be difficult to keep the rest of your bike clean of lube, unless you spend a lot of extra time protecting the rest of your bike parts.
Drip bottles – They are mess-free and make it easier for you to get and keep the lube only on the parts of the chain. However, the process does take a bit longer, so it might not be the go-to option for those who are in a hurry.
What Not to Do
With all this in mind, there are two very important tips to keep in mind when you're lubing your chain. These tips will help you to keep your chain working at its best and reduce your chances of needing to replace them.
1. New chains are pre-lubricated from the factories the bikes were made in. Originally, this was merely a rust inhibitor, but nowadays, this lubricant is highly superior to anything you could find in the market.
It is recommended that you do not remove this grease from your chain – though you may remove an excess – until it is time to clean your chain. These factory greases are designed to last for several hundred miles, so it will be a while before the need for re-lubrication.
2. Never use regular WD40, motor oil or bike poly grease on your bike chain. These do not actually work to keep your bike lubricated, and could end up actually damaging your chain.
WD40 does have a light lubricant, but unless you're applying it every single time you ride, then it's not worth it. It dries out very quickly and could end up stripping your chain altogether.
Motor oil is made up of detergents that could end up causing your chain to corrode, and bike poly grease is only intended for specific use on certain parts of your bike, such as the pedal spindles, bolts, and seat posts.
The Conclusion
Keeping your bike in working order can be a little difficult, given how many things can go wrong with the many working parts it has. But your chain is definitely one of the more essential parts that you simply can't ignore.
By investing a little time and money into finding a bike chain lube that's right for your needs and riding style, you can ensure that it will last you a long time, so you won't have to spend money replacing it in the future.
Do you have a chain lube that you've had great experience with? Feel free to suggest it to us in the comments section below. We'd love to hear from you!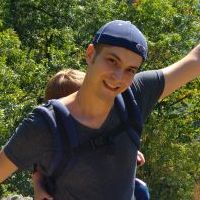 Daniel is a gear freak when it comes to hiking, climbing and camping. He went to REI Outdoor School to meet new people and learn best practices. Don't even try to argue with him about the latest backpack or ice axe, he tried most of them. Daniel's dream is to climb Mount Everest.