Packing for your camping trip should be easy, just bring the tent, food, and the most important thing to have, your first aid kit for camping. I made you a checklist with what you need to have inside your first aid kit.
You can buy one already made, these are some of the options I found. Or make a first aid kit yourself like I showed you here, as you know best what you need with you.
But today you're going to learn what are the essentials needed in a first aid kit for camping, and make sure you follow my checklists to not forget anything.
How to Build Your First Aid Kit for Camping
When you prepare your own camping kit, you are ensuring that you, your friends or family can survive injuries that can occur when you're camping or while in the wilderness.
Here are some things you need to consider when building your own first aid kit for camping:
The container needs to be big enough to hold all the essentials for your camping trip. It also needs to be waterproof and non-breakable.
Your first aid kit should be stored in a cool dark place away from direct sunlight.
Always check the expiry dates of medicines you put inside your first aid kit before leaving, especially if you don't go camping often.
Train family members how to use the first aid kit including any equipment you might have included in the kit.
Organize medicine and supplies to make access easier during emergencies. Example, organize medicines into pain medication, fever, burns, etc.
What To Put Inside
Your first aid kit for camping should include items that are needed to treat injuries during an emergency at camp. Anything can happen and it is best to be prepared.
Here are some items you should include in your basic first aid kit.
Scissors
Adhesive Tape
Assorted size bandages
Band-Aids
Gauze pads
Instant cold pack
Antiseptic solution and towelettes
Non-latex gloves
Thermometer
Antiseptic wipe packets
SAM Splint
Aside from these supplies you also need medicine. Basic medicine for your camping trips should include:
Fever relief such as Advil, Motrin or acetaminophen or analgesics
Mosquito bites ointment
Antihistamine for allergic reactions
Antibiotic ointment such as Neosporin
Antacids
Aloe Vera gel for burns or burn ointment
Anti-diarrhea
Bee sting ointment
First aid kits should also include general supplies:
Knife
Flashlights with battery
Spare Batteries
Packet of matches or flint starter
Safety Razor
Duct Tape
These last items might sound redundant since you will be packing most of them anyway. However, it is still good to have backup items in your emergency kit which you can use during injury or accidents.
Factors To Consider
Your camping survival kit should match your trip plan. Before heading off, you need to check your kit to make sure that the medicines are not expired and refill anything else that has been used.
If you are a frequent camper or an avid survivalist, you're probably gone a lot and go through supplies in your camping first aid kit more frequently.
In these instances you need to be sure that you are adequately stocked before heading off. Where you will be going should also be taken into consideration when refilling your first aid kit.
If you are going hunting, you need to update your camping first aid kit to include supplies that can treat penetration wounds from bullets or arrows in case somebody gets hit.
You will need to update the kit accordingly and include items like a tourniquet or space blanket to reduce shock.
If you're going fishing for instance, you also need to revise your first aid kit to include tools to make fish hook removal easier.
For mountain climbers, make sure to carry with you some altitude sickness medication. Bushwhackers need extra gauze, bandages and band-aids.
Another factor to consider is the number of days you will be gone. If you are planning to be gone for a long time, it is best that your camping first aid kit be well stocked to cover all days.
You won't need to go back to civilization to refill your pills, if something happens. Even if you're just going overnight, you should always make sure that your first aid is well-stocked.
Be aware of the number of people that is going with you on the trip. The more people that are going with you, the more supplies you should bring.
The Red Cross recommends that you should bring along 25 adhesive bandages for a group of 4. If more people are going on the trip, you should bring along more bandages.
Even if it's just you, you should still bring your camping first aid kit with you. Make sure that it has your prescription meds (if you have).
Check if it is adequately stocked with the needed supplies for the whole duration of your trip be it mountain climbing, fishing, hunting or just camping.
We mentioned training family members and friends how to use equipment in your first aid kit. Some of them might not know how to use the thermometer or SAM splint correctly.
Proper training is one of the components of survival readiness which could come in handy during emergency situations in the wilderness.
Personalizing Your First Aid Kit for Camping
One of the best things about building your own first aid kit is personalizing it. When you buy a kit it comes with generic equipment and medicines and they can be more expensive.
Building your own is better because you get to choose the container or bag and put medicine and equipment of your own choosing. And you'll always know where is what, if it's something specific you're looking for.
Personal camping first aid kits can also contain your prescription medication. Important personal medication, such as insulin, heart medication and other maintenance medicine should be included in your first aid kit.
This is to ensure that you have access to important drugs (and have a back-up) when you're camping or if emergencies situations occur.
Not all people have the same prescription medication for their illnesses. If it's a family trip, you should consider the medical needs of all your family members.
One child for example, might be allergic to a type of medication that is perfectly effective and suitable for another. Your husband or wife might also require different meds.
Equipment like blood pressure monitor or blood sugar monitor should also be included in case you have elders with you, and not only for them. Keep the number of their physicians, or nearest hospital or pharmacy, on hand.
Basically, make sure everyone that goes camping with you has everything they need. An EpiPen for anaphylaxis, may never be needed, but it is always good to have one in your first aid kit.
Your kit should also include asthma inhalers and other specialized meds that can help treat campers during emergency situations. For more tips on what to bring in your next camping trip, see our article on this topic.
Buying Your First Aid Kit for Camping
There's nothing wrong with buying a pre-assembled first aid kit. The ones sold by the Red Cross for example, come with the basic emergency needs of a group of 4. It is very convenient and comes in a red, easy-to-see, bag.
Why Buy a First Aid Kit for Camping
Buying a pre-assembled kit is more convenient. You can buy one online and it arrives to your house. No need to go to the store to buy a first aid kit.
A store-bought first aid kit for camping takes away all the guessing game. You don't need to worry about what's inside because Red Cross first aid kits are fully equipped.
It also contains things you might need but are hard to find. Like a CPR one-way valve face shield. And the right size of bandages and SAM splints.
Depending on what kind of outdoor activities you are going for, there are basic first aid kits you can purchase cheaply. You can buy a few and give everyone their own.
How Important Is a First Aid Kit
Your first aid kit for camping is a must-have that you would need to treat minor emergencies during your camping trip. No matter if you buy it or make it yourself, it is better to be safe than sorry.
Here are other reasons why a first aid kit is important during camping.
Small Storage Space
A first aid kit has all the necessary supplies you'll need to treat an injury. Everything in one place so it will be easy to find if you need anything from it.
As a rule, you should place your first aid kit in a location that is easily accessible by everyone in camp, and let everyone know where it is and how to use it.
Access to Emergency Supplies
Having access to emergency supplies while camping can help save lives. Even a small fever can be dangerous in the wilderness. Having a first aid kit will earn you time to bring them to a real hospital.
Sometimes nature is not in your favor. Heavy rain, winds, tornadoes, can take you by surprise and can put your life in danger. Cuts, abrasions, fractures and other injuries can occur, and having a first aid kit might prove to be crucial.
Protect the Kids
Kids can get into a lot of trouble when you're camping with them. They are prone to scratches, cuts and even burns just because they're kids. Having easy access to help ease their pain can make your whole camping trip more enjoyable.
Unpleasant things can happen when you're camping or out in the wilderness. That's why it's smart to learn basic first aid before you leave home.
During accidents and emergencies is important to have basic first aid knowledge. You can check your local health center, hospital or Red Cross chapter for basic first aid courses.
Accidents will always happen. That's why it is better to be prepared even when you just want to relax and unwind during your camping trip.
Having proper training and bringing with you a well-stocked camping first aid kit during your trips can help you treat simple injuries before they become severe or prevent fatalities as a result of emergency situations.
Let me know if you ever needed to use your first aid kit for camping. If there are things that you add to your kit and I forgot to mention, write me in the comments bellow. I want to make sure I have a complete checklist.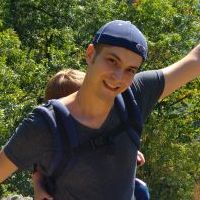 Daniel is a gear freak when it comes to hiking, climbing and camping. He went to REI Outdoor School to meet new people and learn best practices. Don't even try to argue with him about the latest backpack or ice axe, he tried most of them. Daniel's dream is to climb Mount Everest.