Whenever you're going hiking, or to the gym, or do any other sport activity, you're going to need the best hiking sports bra for you.
We all know that if we forget to put it on, the result is sore muscles and joint pain. These are just a few things that can come from not wearing a sports bra for hiking or any type of physical activity, actually.
To avoid the pain and discomfort, every woman should invest in at least three sports bras (be sure one is a champion sports bra) so she can have one with her at all times either in her car or back pack to be ready for a quick hike or trip to the gym. Better be prepared than sorry!
Sports bras are available almost anywhere in this day and age from large department stores to the internet.
Before a woman buys a sports bra she should decide if she wants a suppression or encapsulation sports bra because each style offers something different for her bust size.
To purchase the right sports bra it's important for every woman to get her bust size measured first just so she can have confidence that she's going to purchase a sports bra that will fit her just right. This is one of the most – if not the most important factor to consider.
I went looking for the best hiking sports bra because I needed more than my two old ones, and made a list to help anyone that needs some pointers about what is best out there on the market. Check them out below!
Please note: We get commissions for purchases made through links in this article.
Moving Comfort Fiona Bra
Designed for high-impact sports, the Fiona features combined encapsulation and compression support.
The encapsulation bra cup construction surrounds the breast to give support and shaping, protecting the breast tissue from horizontal, vertical, and circular motion during sports.
Great material combo (polyester and lycra) and a great fit if you choose the correct size. Even though I have to say that it doesn't look extremely fancy, what matters is that it gets the job done and you'll have no reasons to complain about it!
No longer in stock, redo but reuse descriptions
La Isla Racerback Sports Bra
Stay cool and fashionable during workout with this La Isla new bra. This sports bra blends comfort and support in a fit that works for nearly any body type.
Click here to check it out & purchase options.
Moving Comfort Vixen A/B Sports Bra
This sports bra provides high impact support for women with A/B cup sizes, while maintaining a flattering feminine look and shape. The Vixen is built for high impact activity including running, soccer, horseback riding, and hiking.
Click here to check it out & purchase options.
Xtra Support Running Bra
This Sports Bra features a patented 5-point internal support web and cross-over racer back. Coolmax and stretch tricot fabric offer comfort and breath-ability.
Click here to check it out & purchase options.
Moving Comfort Juno Bra
This highly evolved sports bra is as strong as it is beautiful. Built for maximum support and comfort, Juno is a perfect match for C cup-plus women who want a racerback style that covers, supports, and is fashionable.
Click here to check it out & purchase options.
Moving Comfort Rebound Racer Bra
Rebound Racer offers powerful support for any sport in a sleek, seam-fee design.
Click here to check it out & purchase options.
Maia Maximum Control Sports Bra
It provides comfortable support with no bounce. This bra "lifts and separates" and keeps the breasts where they're supposed to be, providing a nice, healthy silhouette that even encourages you to stand up straighter.
Click here to check it out & purchase options.
I hope my suggestions get you inspired to buy the best hiking sport bra that fits your needs. Come back later to tell us what you think about these options we found – and which one of the models recommended above you chose.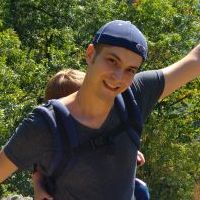 Daniel is a gear freak when it comes to hiking, climbing and camping. He went to REI Outdoor School to meet new people and learn best practices. Don't even try to argue with him about the latest backpack or ice axe, he tried most of them. Daniel's dream is to climb Mount Everest.